Normally when I come back from holiday, I come back with a bunch of photos of places I've been to and food I've eaten, This time my Thailand trip photos includes a lot of people and not that much food and places. This time is definitely different.

---
Friends
I started out in Thailand with quite a lot of reservations, not having met 95% of the people before. I'm not a chatty person and certainly not a social butterfly in anyway. Normally I find making small talk a chore, but at SteemFest it was different. Perhaps it was because I knew quite a bit about some people already through their posts. Perhaps because we had something common to talk about. Or perhaps it was simple because they were a bunch of easy going friendly folks. At the end of the 5 days, I think I have probably spoken to maybe 50% (?) of them.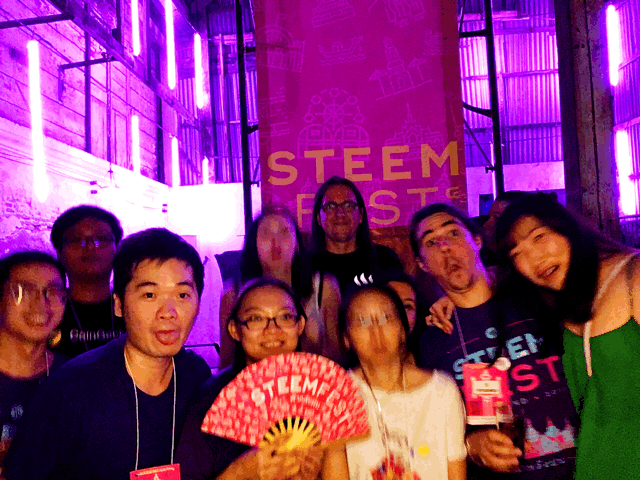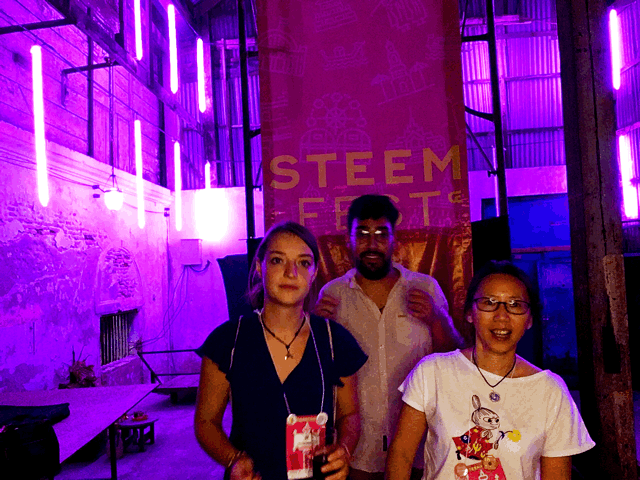 Credit : https://www.simplebooth.com/gallery/YJUwj9Y7HJEs-steemfest-bangkok
What's changed? I came back knowing many people whom I want to call friends - hopefully the feeling is mutual
---
Big boys stuff
Before I went to Thailand, I was a normal Steemit user, active in a few communities, chatted online with a few people frequently, everything else in the bigger community wasn't really my concern. All the what I call big boys stuff like hardforks, newsteem, witnesses chat, Steem Inc, SMT, hivemind, Steem Proposals etc really didn't have much to do with me. I had no influence over the direction of things and most stuff was too technical for me. I stayed in my little safe corner.
During SteemFest, a lot of these techy stuff came up on the presentations. To be honest, I skipped quite a few of them as I was chatting to other people. I figured I can't talk to people F2F once I leave Thailand, but the presentations are still going to be on YouTube. The fact that so many people travelled across the world to listen to these presenations, must mean that there is something in them? I'm still slowly going through all the presentations now trying to grasp exactly what its all about.

What's changed? Hopefully I can bring the big boys stuff down to little girls level. I'm starting to make progess, but I know there are people whom I can ask if I'm stuck
---
Witness
I always thought witness = techie = geek = whales = beyond reach = two different worlds = what do I have to say to them. They are, after all the important guys and gals who keep the platform running. Then I met @stoodkev in Taiwan a few months ago. He wasn't some of those things, but to me witness was still another type of creature. At SteemFest I met more witnesses, and you know what? None of them had I am a Witness written across their forehead, they look just like normal human being, sometimes even crazier.
If no one said, I wouldn't even know they are a witness, and that certainly was the case with @gtg. He was one of the first people I saw on the first day by the pool, this tall guy who had longer hair than me. He didn't have his badge on, and when he did it said Gandelf, which was just another ramdom name to me. People have weird handles on Steemit. I can't remember when I realised this guy with longer hair than me was one of the top witness. But by then, to me he wasn't a witness. He was a normal guy albeit with long hair. And now I am proud to call him an honourable LadiesofAsia and a bestie.
What's changed? People are just normal people on Steemit. Everyone is very approachable.
---
So what's really changed?
A lot of what I've talked about is about people and technology, the software and hardware of Steemit. Steemit is built on technology, of 1 and 0. It can do a lot of clever things, but only if people code it to do the clever things. Once it's been coded, then again you need people to bring it to life, otherwise its just coding running on servers. The two strands are intertwinned. And that's what I learnt from SteemFest.
Before SteemFest, I was sitting in front on my computer (like I am now) engaging in my own circle of communities and friends, minding my own business, oblivious of anything outside of my comfort zone. After SteemFest, I can say my horizon has broadened. I am aware that I am part of a much larger platform where there is a lot of stuff happening.
I can continue to stay inside my communities, or I can choose to be part of a bigger platform.
---
Check out all my travel posts here on Steemit Worldmap, and also my latest project @LadiesOfAsia where we share fun and cultural diversity across Asia Pacific.