On my way home from SteemFest4, I stopped to give a lecture at Chengdu University 成都大学 about Digital Media Arts and Blockchain. I wanted to keep things very high level so that future leaders will be able to think clearly about the possibilities and limitations of blockchain.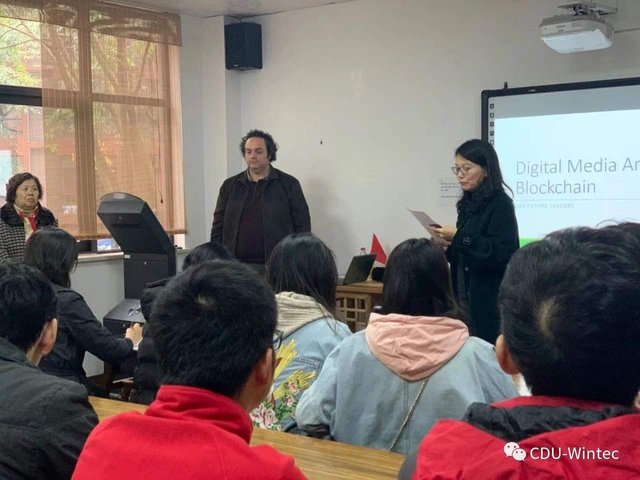 As a high level concept it is common to think about blockchain (and DLTs) as a shared store of truth. We need a similarly high level concept to describe a smart contract. I came up with:
Smart Contracts are automated bureaucracy.
I like this phrase because it describes what smart contracts are best suited for and doesn't pretend that smart contracts are a substitute for governance. We will still need governance to oversee, change and decide on new smart contracts.
Smart contracts have the potential to lower friction, such as reducing time, cost and inconvenience. Lowered friction will lead to more innovation because more activities will be lowered than the friction threshold.
I was asked two questions. The first from a student who I have known for 3 years. She asked about job losses. We don't actually know. But, there has never been a technological revolution in history that resulted in fewer jobs. Yes, there were painful adjustments and some types of jobs disappeared. Many clerical positions will go. Jobs that involve creativity, culture, personal services, higher maths, science and engineering will do well. That seems like a net win for humanity imo. When I was at this University 3 years ago I was asked a similar question about AI and back then I said that human experiences will become more important. I still believe that.
The second question was from a student concerned about privacy if all information was available on the internet. The Chinese government has already indicated that they are considering consortium blockchains. This allows for better access control over private data where it is desired without having privacy concerns hamper or slow use cases where privacy is less of a concern.
The rest of the talk was about possibilities specific to media arts. I'll write about those if people are interested. I felt my talk was perhaps still too advanced for the audience but I did hear students outside discussing the topic with each other. Perhaps I should improve my Mandarin and deliver the speech in Chinese instead.
Overall though, I am happy coming up with the term automated bureaucracy. Right now, I am waiting for my flight home.
Until next time.