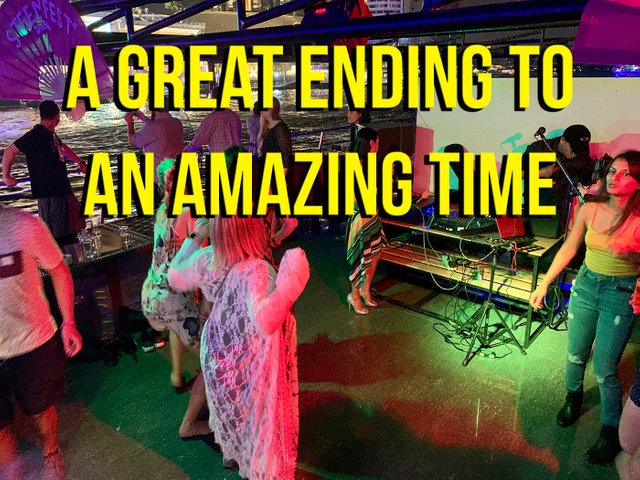 Photo taken by me @derangedvisions
Such a great night with amazing people

Last night was the ending of Steem Fest 4, but it was the beginning of a bunch of new friendships for my wife and I. Since we have been here, we have met so many more amazing members of the Steem community and gotten to know the human behind the usernames that we all see on posts.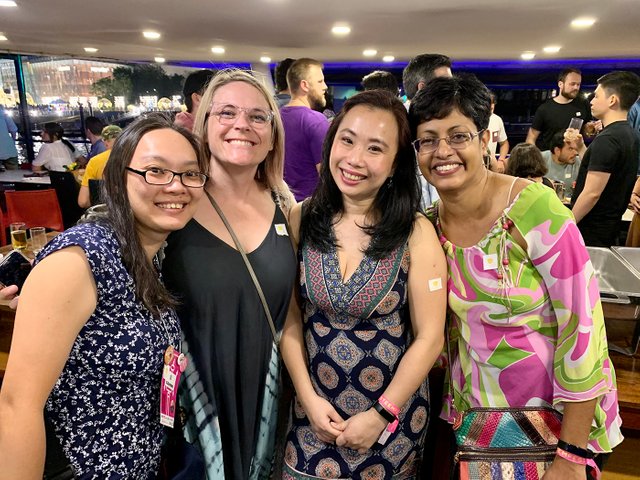 Photo taken by me @derangedvisions
@elizacheng, @khimgoh, and @kaerpediem have been amazing friends to my wife. When my wife first joined Steemit a while ago, these ladies were some of the first to welcome her into the Steemit Mamas community so long ago and have always been so friendly to us. Everyone in Team Malaysia is awesome and have so much love for everyone here on the blockchain.
They have also had so many different little treats and gifts that they have been giving out, which made me think ahead to next year's Steem Fest and @faitherz33 and I are going to be start planning our stuff for the goodie bags again and some other treats to pass out throughout Steem Fest.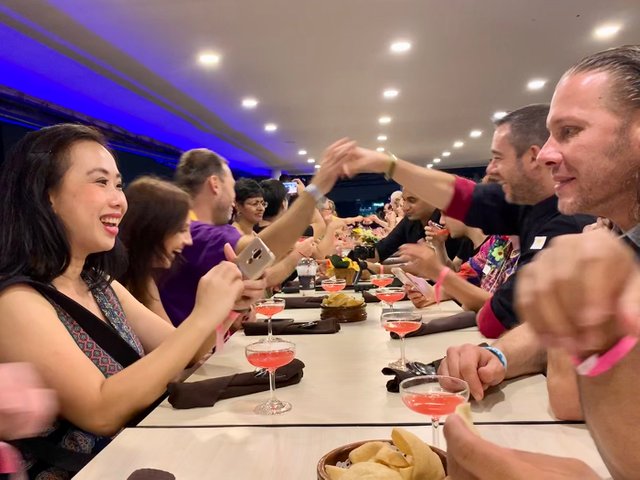 Photo taken by me @derangedvisions
The night started off with a dinner and a cruise along the Chao Phraya River. The food was pretty great, but the company on the ship was amazing. Over the past few days, I feel we have all become a lot closer and gotten to know each other a lot more than last year. This Steem Fest we had about half of the amount of people attend compared to last year, but the atmosphere here was far more positive than it was at Steem Fest 3.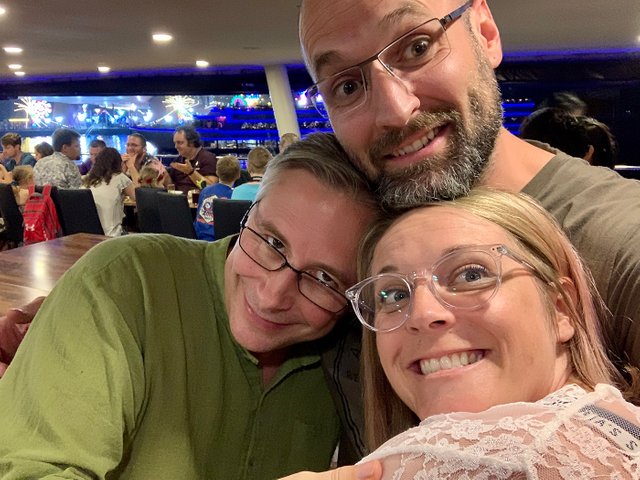 Photo taken by me @derangedvisions
The whole #proof-of-hug concept with the Meet the Steemians contest has been a lot of fun. @arcange really knows how to get people having a great time together. You can tell that he really does care about the people here on the blockchain.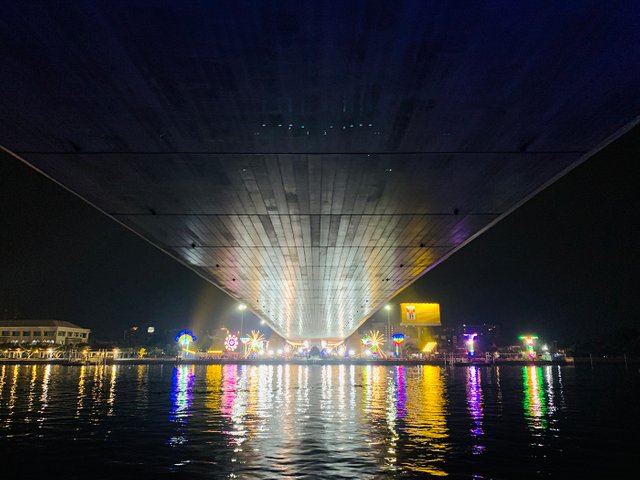 Photo taken by me @derangedvisions
The city looked beautiful as we floated down the river. During the day it has a hustle and bustle to it, but it really comes to life at night.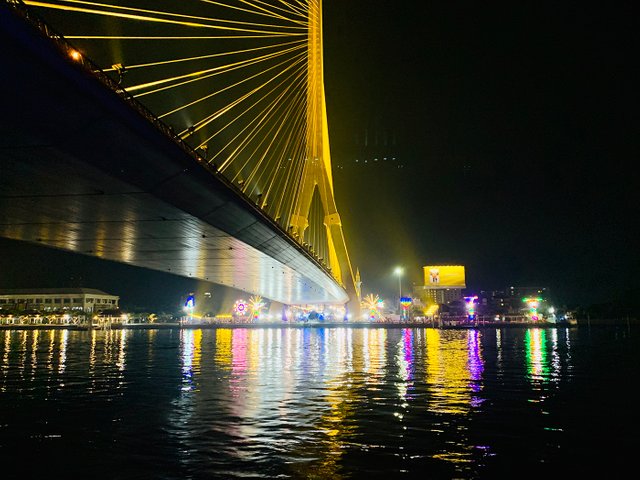 Photo taken by me @derangedvisions
It was really cool to see the lights on all of the temples. It really made them stand out among all of the other buildings in the city.
Photo taken by me @derangedvisions
After we were done with dinner, the band that was playing started taking requests for some karaoke. The Steem Fest crew pressured @firepower to go up and sing a song, but he didn't know what to sing and didn't really want to sing, so Faith went up there and requested Bohemian Rhapsody.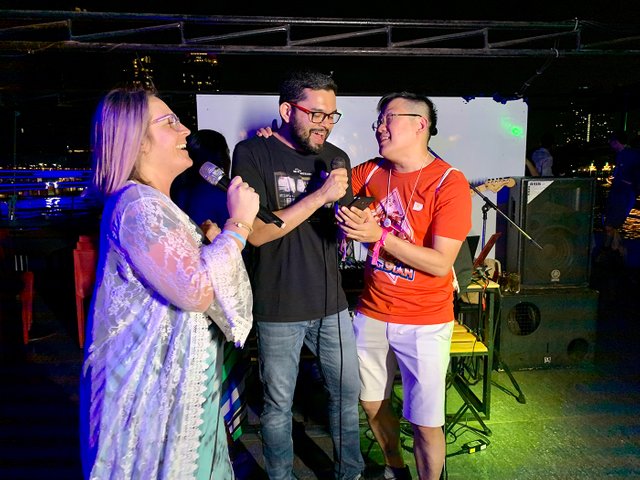 Photo taken by me @derangedvisions
Once the song started, everyone started to make their way over to the stage. There is something about Bohemian Rhapsody that gets everyone singing. @buzz.lightyear, @stoodkev and I joined in the singing on stage and then the party really started.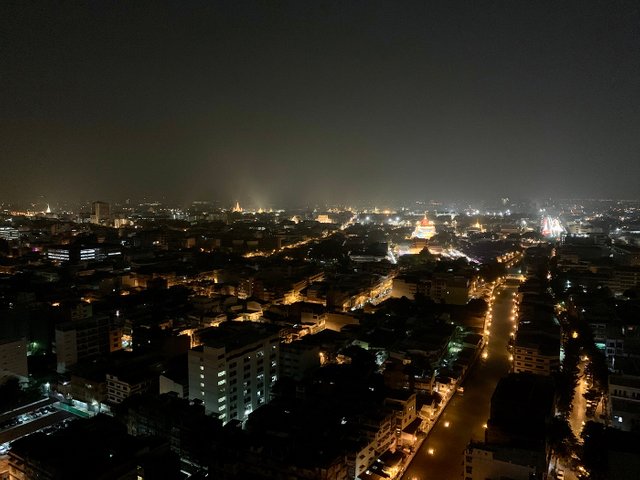 Photo taken by me @derangedvisions
After dinner was finished, we all headed back to the Prince Palace for closing drinks up in the presidential suite. The view of the city was amazing from the 24th floor of the hotel.
At about 1 am, we said our goodbyes to everyone and let them know we will see most of them again next year, where ever Steem Fest was. There is a Travel Feed event tonight that I am planning on attending, so we will see some more people before everyone parts ways.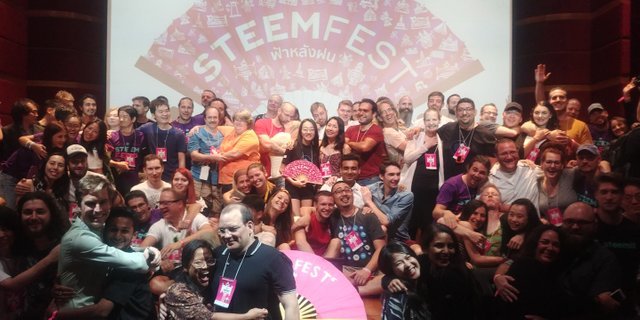 Steem Fest 4 has been a breath of fresh air. The vibe here has been amazing and I hope that those of you that could not make it are able to feel the positivity that we all feel towards the future of this amazing blockchain. Thank you for stopping by and checking out my post. You are awesome.