No, no. No reason to be sad, amigos.
Post Steem Fest blues, after Steem Fest deppression, back home sadness... I've read many posts talking about the mood most (if not all) of SF4 attendees is experiencing at the moment.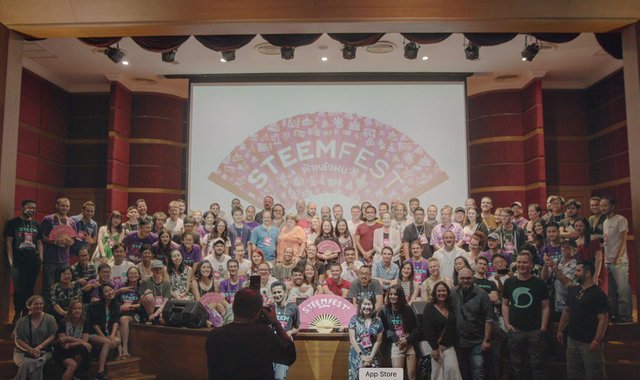 I get it. I'm in a van right now waiting to take the ferry from Koh Chang back to Bangkok - well, at least I was at the moment of writing this, now I'm in my hostel retyping this from my notebook to a busy.org post - and I'm beginning to feel a little nostalgic and starting to realize SF is pretty much over for me. I left the last survivors in Koh Chang and I can't help but feel a bit of the same reactions and understand some of the telegram SF group.
Suddenly, I get why a lot of you guys don't want to say good bye, why I keep reading those I want to jump in a plane and go back to you friends kind of feeling. But it's not worth coming back to Thailand mates, there's no point in trying to relive everything we did over the past few days, I don't see a single reason to try to reenact or emulate what Steem Fest made us feel. It's all over now,
Or is it?
Granted. We - as in, each of us - are not the same person who arrived in BKK on the fifth of November, we are probably a whole new different person. We got to make real life friends our of some strangers from weird parts of the world, we actually managed to put a face to those usernames we spent so many hours a week interacting with all year long, in fact, if not for Steem, we wouldn't have been in Thailand over the past few days and we would've never, ever, met each other, that's a fact. We were lucky enough to have several once in a lifetime experiences and unique conversations in the span of just one week or less... perhaps too many of them for just a few days, maybe it was too much for our little brains to process it all.
That has to change you, forever. I would like to assume that for you, just as it was for me, it changed me completely, it molded who I am today and influenced me into being who I am right now, all of it in a good way.
I hope that your new self has grown, both personally as professionally, perhaps even spiritually but most importantly, I hope that your general Steemian mindset is even harder, better, faster, stronger than ever, especially more so than before this event and that now, just as you are beginning to settle down back home you just can't wait to get in front in your PC and start getting everything in action, begin the wheels rolling and let the building and interacting on chain retakes its previous course, but in steroids.
Because in fact, Steem Fest IS NOT OVER
If you have ever attended Steem Fest you might understand what I'm about to tell you, but if you attended this SF, there's no way in hell you won't relate 100% to this:
Steem Fest is so much more than just a few days sharing time, experiences and beers with strangers who become friends and family.
Experiencing this event first hand gives you a new perspective of how things work on Steem and the potential we, as a coin, a blockchain and a community have and how much can we achieve.
Steem Fest is not only an event. Steem Fest is an attitude towards Steem, an acquired attitude that, no matter where you are, it stays with you forever. An attitude that stays behind your head, with its own little voice telling you...
Steem Fest is not over until you say it's over
Because as long as you keep onboarding new people, as long as you stay focused on your Steem projects and keep building and no matter what, you mantain your strive to create a sense of community and interact with said community, then Steem Fest will still be alive.
Thats how SF and its attitude stays alive.
Because wherever there are 2 Steemians together, no matter if it is working towards a shared goal, building an app or developing a project, talking about how to improve the community or better a process, maybe they are just discussing how to bring new users or how to improve engagement, perhaps it's just about hanging out and sharing a couple of beers... but wherever there's two Steemians with the right attitude then Steem Fest will still be happening in hundreds of parts of the world.
So, what are you waiting for? Get that sad gaze of your face because SF is over,keep building, keep organizing meetups, don't loose focus in onboarding potential users, keep talking about Steem to your grandma, because...
Steem Fest is not over until you say it's over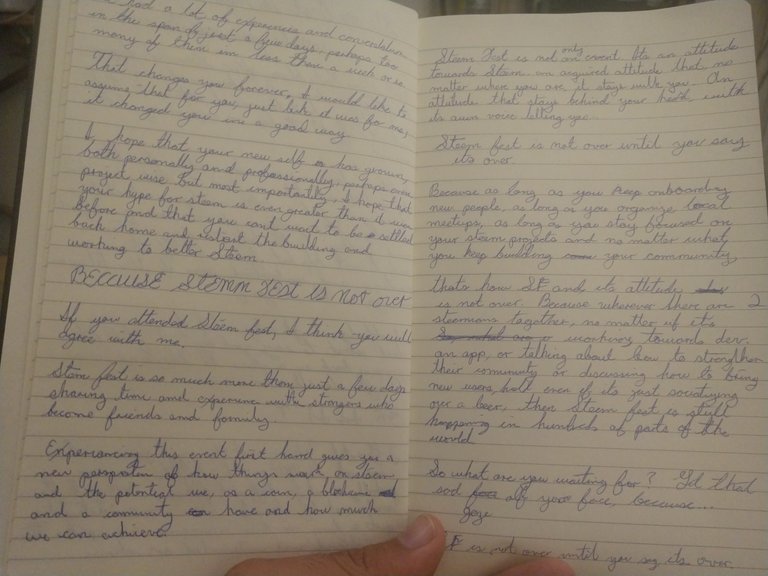 Pay no attention to this, it's just a photo of my post draft just so you can see how my creative process in a van goes. I usually write like this when I have too much time in my hands without phone battery :P