Steem is getting some publicity of late. The Hard Fork that is coming up is getting some attention. It is nice to get some recognition for the progress being made. What this will end up translating into is anyone's guess. One thing it does do is let people know Steem is still around.
That said, there is something that was posted on one of the more popular cryptocurrency sites that kind of went unnoticed. It pertains to an announcement that was made a month or so ago. While one part of the story hit the airwaves, few focused upon the second part.
Erik Finman is known as the youngest Bitcoin millionaire. He made a deal with his parents that he could skip college if he become a millionaire by the age of 18. To do this, he invested in Bitcoin when it was $12 along with some other cryptocurrencies. This helped him turn $1,000 into a million, 6 years later.
https://www.investopedia.com/news/who-erik-finman-bitcoin-millionaire-teenager/
Even though he is still rather young, he is not afraid of bold claims. He is asserting that he has the Libra killer in his Metalpay project. He is the co-founder and feels that this token can serve the masses in the same way Libra can. The problem for Libra is the regulatory battles it has to fight.
He also feels that Bitcoin is confronted with a number of challenges. This means that the goal of Bitcoin being a global payment system is not in the cards. There still might be value there but the original vision was trumped by technology. Interesting view from someone who minted a fortune off that token.
Matalpay seeks to unite all aspects of cryptocurrency together. This image shows how it operates.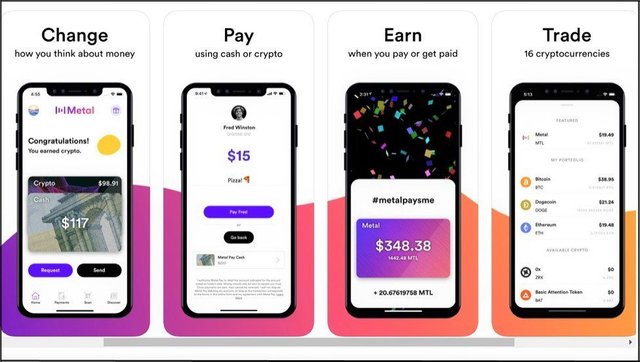 Metalpay has accounts where fiat can be deposited. This is FDIC approved in the United States meaning that all accounts are insured up to a few hundred thousand dollars.
From there, people can make payments using this application. This earns them the Metalpay tokens (I believe it is 5%). After that, the tokens can be traded for a host of cryptocurrencies.
This is an all-in-one package.
It is also a unique merging of fiat with cryptocurrency. We still live in a fiat world where payments are required in either the USD, JPY, etc. Having people earn cryptocurrency for the fiat payments gets them into the crypto world without many barriers. This is a simple and, possibly, very effective way to get people on-board.
https://www.ccn.com/erik-finman-kill-libra-replace-bitcoin/
If Metalpay sounds familiar to some of you, it should. Steemit Inc partnered with this company a couple months back. The move went largely unnoticed but I feel it is starting to take on new meaning.
Finman is stepping things up with Metalpay. He is investing more money after putting a small stake to get it started.
Though Finman is willing to put in his entire "400 something" bitcoin fortune to fund Metal Pay's growth, the 20-year-old told CoinDesk.
"We're looking to beat bitcoin," Finman said.
We will have to see how viable any of this is. What we can determine is that Metalpay is off to a good start.
Founded in September, Metal Pay has processed approximately $11 million in total payments from nearly 130,000 registered users across 38 states. On a monthly basis, the company processes $1 million in crypto or fiat for around 30,000 active users, according to Hayner.
https://www.coindesk.com/why-the-youngest-bitcoin-millionaire-is-willing-to-stake-it-all-on-metal-pay
For such a young company, this is impressive growth. But how does all this pertain to Steem?
To start, STEEM is one of the 17 currencies on the Metalpay platform that the MTL can be converted to. Essentially, this is another feeder system into STEEM while also providing a fiat-to-crypto source.
https://steempeak.com/crypto/@metalpay/attention-steemians-steem-added-to-metal-pay
While this was exciting news, there is something else that could provide a much greater impact. One of Steem's greatest asset is the social media aspects to the platform. Steem is its own marketing platform. Many feel that posting about Steem on Steem is akin to talking to ourselves.
This is not entirely true and another facet of the Metalpay story pops us.
The application has a "Discover" section. This is what is separating Steem from everything listed on the Metalpay platform.
Metal's debut meanwhile comes a month after a form of partnership with crypto-based social network, Steemit. Along with adding the latter's native token, Steem (STEEM), Metal allowed Steemit to add content to its app.
"We also allowed Steem to take over the Discover section in the Metal Pay app — a first for us — where we linked to tons of interesting content to familiarize our users with the Steem blockchain and its publishing platform, Steemit," officials wrote in a blog post at the time.
This was noted in a blog post by the team last month.
https://blog.metalpay.com/metal-heads-up-july-2019/
However, the quotes above come from a story on Cointelegraph.
https://cointelegraph.com/news/bitcoins-youngest-millionaire-launches-crypto-based-libra-killer
So while everyone was focusing upon the news about Hard Fork 21, another piece was gaining some publicity that could foretell about the future of Steem. Here we have an application that seeks to become a major player with a few million going into it immediately. The idea is to spread this platform as quickly as possible.
There was another piece that popped up on Steem that also is interesting. The Metalpay account put up a post by the aforementioned Erik Finman. It basically covered what was published elsewhere but it is intriguing to see it posted on Steem. I am sure it is being fed into the Metalpay application for those users to read.
https://steempeak.com/crypto/@metalpay/introducing-erik-finman
As I posted in a video yesterday, the tentacles of Steem are reaching out. They appear to be going in a thousand different directions at one time. This is a good thing. We never know what is going to take off or where the next "surge" will come from.
Being the platform that is listed on the Discover section of an application like this could net huge rewards down the road. If Finman and the rest of the team are successful in marketing this "digital bank app", it could be explosive. It appears they have the development of the platform advanced enough to be a major player.
We will see if they can scale which is always an issue with applications in this industry. However, the fact that they are tied to Steem in two ways can only help this ecosystem. Libra sent shockwaves through the legacy banking system because of its potential. If Metalpay can achieve .01% of what Libra seeks to do, we could see a major windfall for Steem.
We will have to watch this project closely since we now have a much bigger vested interest.
By the way, I use Android and the app is only available for IOS. Anyone who used the app, please post your experience in the comments.. Also, how is the Discover section?
---
If you found this article informative, please give an upvote and resteem.