I just saw this post about Power Down period.
https://steemit.com/steem/@steemitblog/feedback-wanted-4-week-power-down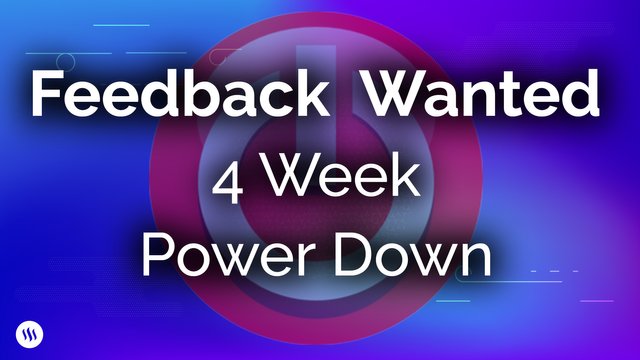 source
There is a proposal to shorten the Power Down period from 13 weeks to 4 weeks.
I am still newish to this steemit platform and I don't really know all the pros and cons about this change.
I haven't even done Power Down yet, and I am not planning to do so.
So it is not a big deal for me if it is 13 weeks or 4 weeks.
However, I always thought it is kind of strange that your fund is locked up for 13 weeks.
It is your fund, you should be able to put it in and take it out anytime you want unless it is your saving account that you have to put your money in for a certain period of time and you can't touch it for that time frame or something...
This post points out some concerns and risks about the change.
My biggest concern is the security risk.
Security Risk
An implicit feature of Steem Power is that it time locks funds.
If your account were to be compromised, it takes a week for some of your Steem Power to even be available to the attacker and 13 weeks for them to access it all.
By reducing the power down time, an attacker could have access to a larger portion of your funds after just 7 days.
もしアカウントがハックされてパワーダウンされてしまったら、今まで資金を引き出されるのに13週間かかってたところが4週間と短くなる事で、同じ期間内(7日間)により多くの資金が盗まれる可能性があるというようなことが書いてあります。
セキュリティーのリスクがあるのは分かりますが、個人的には論点がちょっと違うかなという気がします。
busyとかesteemとかモバイルとか、他のいろんなアプリを使用するためにアクティブキイを使わないといけなかったりするので、steemitの作り自体の問題のような気がします。
I understand this logic and it is a risk related to this topic but the same time, this is a huge issue by itself I think.
We kind of have to use 3rd party apps all the time and we give them access to our active key, hoping that those apps are secure and not malicious...
So this part to me is more of a steemit design issue.
If I really think of it, why do we even need to Power Up/Down in the first place...🤔
But anyway, I think everybody needs to give them feedback and vote for or against this proposal.
You can vote on this proposal from the Steemit Wallet https://steemitwallet.com/proposals.
I think this is the right one?



パワーダウンを4週間に変更する提案にはここから投票できます。
Also read these posts too.
PROPOSAL IN FAVOR
PROPOSAL AGAINST