Satoshi's Treasure Hunt Key 17 is all about giving to charity. The team/ clan who donates the most to charity in any given week wins one key, and there are four weekly donation periods, so four keys in total up for grabs. The four donation windows (as I understand it) are:
Key 1: June 30th 11:59pm - July 7th 11:59pm,
key 2: July 7th 11:59pm - July 14th 11:59pm,
key 3: July 14th 11:59pm - July 21st 11:59pm,
key 4: July 21st 11:59pm - July 28th 11:59pm,
(all in GMT-4, Eastern Time, New York Time).
For more details you can read the Satoshi Treasure instructions here.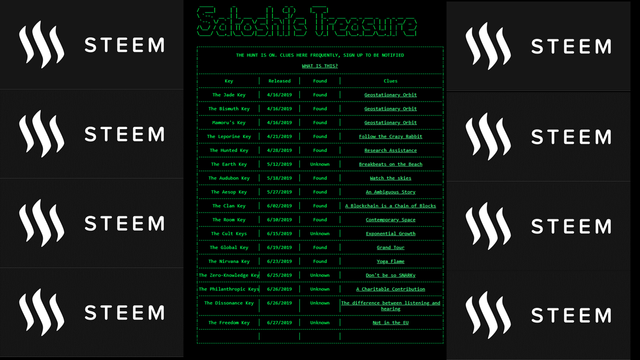 As with previous keys @steemclan is co-ordinating a collective effort on this task, taking donations from Steemians so they can make one larger charity deposit. There are three ways you can contribute to block charity fund raiser

You can also send money to the Steem Clan PayPal account (yes there is such a thing!) - see the post above for more details.
The rules of the competition also allow you to donate independently straight the binance charity wallet (and using the appropriate Satoshi team name when you do so), but it seems more sensible to pool all the money on Steem first and then make one mass donation/
Do we have any chance of winning any of these keys?
I've seen a few concerns about this on Discord - there was a mention of one of the other teams having shed loads of money to just chuck at this and thus win easily, compared to our meager resources.
HOWEVER, even if we have no chance of winning this is still a worthwhile thing to do, even if it's a bit mercenary (give to charity for a chance to win $1m BTC)
So if you'd like to help with this key, and donated to charity even if we don't win, then drop a nice upvote on this post or donate here.
If you're further interested in helping out with some of the tasks, Discord Server here, or just follow @steemclan. There's Satoshi Tokens up for grabs for anyone that contributes anything useful. NB there is a clearing process on the Discord server, so you'll need to wait for approval!
Best strategy... aim for just one of the four keys?
My own personal opinion on the best strategy for donating is to nominate one week and dump all of the money into that. I'm thinking week 3 or 4 are going to be the obvious ones - to max out the collection time. Week 3 might be better than week 4 as every other team will probably target week 4 too.
Then again, every other time might think like I'm thinking and so make a large 'all-in' donation at the very end of week three.
Maybe Flip a coin on which of the later two weeks?
NB - just my thoughts here, no idea what the actual strategy is....
Tagging a few people I know or vaguely know with large-ish or MASSIVE in case they want to donate:
@slobberchops, @pennsif, @steevc, @starkerz, @abh12345, @nanzo-scoop, @goblinknackers, @felander, @tarazkp, @meesterboom, @exyle, @coruscate, @meno, @blewitt, @adetorrent
Postscript: reservations about this key and joining Satoshi's Treasure Hunt?
I've seen a few comments outlining reservations people have about being manipulated by the company running the Hunt - it does seem like there's a lot of hoop jumping, and this particular key isn't really about problem-solving, then there's the whole issue of them collecting data on people... previous keys have asked for phone numbers and for videos of oneself to be posted to Twitter.
For this particular key people might be put off by not having control over where the money goes to.
I can fully understand why people might have reservations about this, so if it's not your thang, no worries.
But if you just see this as a bit of fun and a great marketing opportunity for Steem (massive block donation to charity) then drop a nice upvote on this post or donate here.