STEEMCHURCH INTERNATIONAL MINISTRY UPDATE AS OF OCTOBER 31, 2019

WELCOME TO THE STEEMCHURCH INTERNATIONAL MINISTRY BLOG
May all the brothers who make up the community of Steemchurch be blessed. At the end of the month we want to share the updates of the church and encourage them to continue working for the benefit of our neighbor.We are in a stage of growth, I firmly believe that God is clearing the way for the great things that come.
It has been a time of lessons and learning, seeing the protection of God in every moment, now is the time to continue working with discipline and excellence in the unconditional love of Christ.
In the next days of this year we will have an educational agenda and some meetings in our locations, the official inauguration of our project Give wings to freedom, education without limits, based on the promotion of blockchain technology since childhood, will be held We established a schedule of activities in three educational centers in two regions of Venezuela, in turn, these communities of teachers, students and representatives will also join Steemchurch Telos.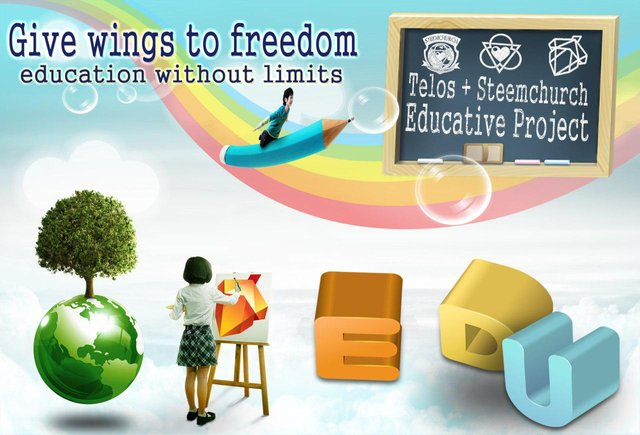 We want children to interact comprehensively with values, agriculture, technology, recycling, ecology and that a large part of their environment is involved as family and friends.In one of the educational centers there is a computer room that has been inactive due to lack of maintenance, we have carried out a general evaluation and it is possible to restore this room to start some personalized meetings with the children, thanks to @mariela, @mildreduh, @coronadoedgar , @xioran, who have contributed their professional knowledge to carry out this task.
We invite all active members of the Steemchurch International Ministry to continue expanding our vision across communities, following the records in Telos Blockchain.We now have strategic alliances that will allow us to reach more territories with Bread From Heaven and the educational project on a global scale, being part of the Descentralized Chapter Venezuela group, covering universities throughout the country and the @eblockchain for children.
It is important to support all the people who enter Steemit and Telos through our community, we have seen how we can cover territories and spaces, in a short time.Now we continue the race, we will be helping to recover and configure your Telos account, we appreciate @sirknight for always being aware of us and giving our best for this community.
Then we will leave the updates of the church, and today give way to what our brothers in Nigeria have been doing through the 3speak platform.(@threespeak)
DARLENYS

Author
Blog
sc-v
https://steemit.com/steemchurch/@sc-v/jesusvenezuelastilllovesyou-h4bdtrptll
Steemchurch
https://steemit.com/steemchurch/@steemchurch/decentralized-university-of-nicosia-begins-its-chapter-in-venezuela
Sc-v
https://steemit.com/steemchurch/@sc-v/thefirstmeetupdecentralizedchaptervenezuelarelatedtosuccess-wzr8i8i372
darlenys01
https://steemit.com/steemchurch/@darlenys01/today-i-invite-you-to-sazonate-the-earth
maxdevalue
https://steemit.com/steemchurch/@maxdevalue/steemchurch-meetup-went-successful
Ricci01
https://steemit.com/sc-v/@ricci01/being-an-immigrant-is-not-a-dream
mhm-philippines
https://steemit.com/steemchurch/@mhm-philippines/18th-in-this-series-jesus-in-every-book-of-the-bible-2-kings-12th-book-of-the-bible
Uyobong
https://steemit.com/threespeak/@uyobong/rqpwdmgz
glotokens
https://steemit.com/threespeak/@glotokens/rqmemltl
uyobong
https://steemit.com/threespeak/@uyobong/zfzyupuk
gloriouskids
https://steemit.com/threespeak/@gloriouskids/rnunyntj
shinersfamily
https://steemit.com/steemchurch/@shinersfamily/our-vision-for-2020-guidance-and-counselling-activities-also-a-recap-from-recent-session-xlnv482x
bigssam
https://steemit.com/threespeak/@bigssam/fahfkcvw
oppongk
https://steemit.com/threespeak/@oppongk/arqoaqgi
maxdevalue
https://steemit.com/goldencenserchallenge/@maxdevalue/golden-censer-challenge-14
oppongk
https://steemit.com/threespeak/@oppongk/neuxjmma
fatherfaith
https://steemit.com/threespeak/@fatherfaith/bzqrusuk

Featured blog today:

https://steemit.com/steemchurch/@maxdevalue/rebuilding-the-wall-or-or-restoration-for-steemchurch

Remember to follow our accounts and the leaders of the parishes:
@sirknight: Founder of Steemchurch
@darlenys01: Apostle of Steemchurch
@ricci01: leader of @sc-v
@Uyobong: Leader of @sc-n
@biggsam: Leader of @sc-g
@mhm-philippines: Leader of @sc-philippines

We wish that all people who wish to know about our church can enjoy all the valuable content that is daily in the steemchurch or any of its parishes, get updated information and can participate at any time with a broad vision of our objective.

What can we do to help?

Changes can be made in everyday life - at home, in work and in the community-, supporting farmers or local markets and making sustainable decisions on the feeding, supporting good nutrition for all and struggling
against the waste of food.

IMPORTANT STEPS

Work together
Ensure effective citizen participation, improve coordination mechanisms, facilitate dialogue.

Reduce the costs of malnutrition

Improve access to nutrition and nutrition education, protect children and ensure that adults have what they need to live healthy and productive lives.

Partner with the academic field
Build strategic alliances with academic institutions and research, generating information to face the challenges of life.

Reference: FAO

---

---

THANK YOU TO ALL WHO WRITE EVERY DAY IN OUR COMMUNITY!

We thank all those people who have contributed to our community to grow @pennsif, @luppers, @redes, @hanshotfirst, @theycallmedan, @redpalestino, @wilx,@curatorhulk,@ripperone,@penguinpablo,@newhope,@jackmiller

EXPRESS THE LOVE OF JESUS THROUGH:

Each time you support with some delegation you will be collaborating with the feeding, education of thousands of children, the restoration of the family, and the promotion of blockchain technology in the world
---
---