WELCOME TO THE STEEMCHURCH INTERNATIONAL MINISTRY BLOG


Beginning this message wishing a happy day to all the friends and brothers that make up this community, on the next date from December 03 to 10, 2019 we will be in the anniversary week, celebrating two years of founded our beloved church, for this reason we will be making some activities related to the Ministry.
It has been two years full of challenges and expectations, now we can say that until today God has accompanied us, sure that Steemchurch has gone through the lives of many and has left traces, some have left and others have arrived, we continue to grow with bases solid because we are built on the rock that is Jesus.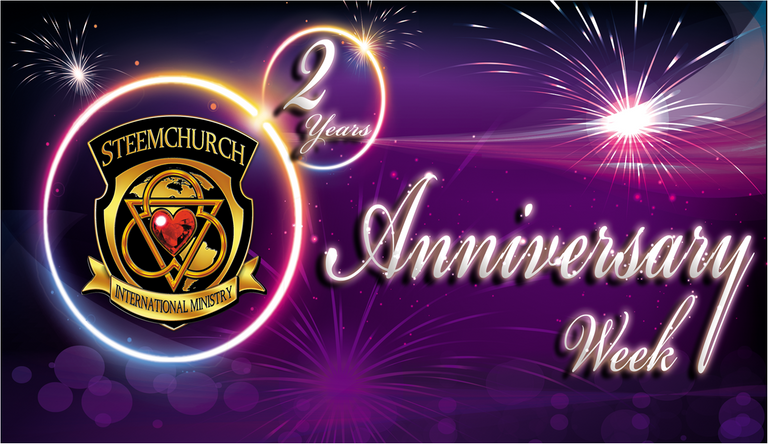 Thank you @edxserverus for the promotional image
THE MEANING OF THESE 02 YEARS


The number 2 since creation has a connotation of division, confirmation, transition and help. on day 2 God said: "Let there be expansion in the midst of the waters, and separate the waters from the waters" (Gen. 1: 6). In this year, we were led to the expansion of our territories. In the scriptures the number 2 appears 808 times.
We all have a story to tell before and after steemchurch and I am sure it is a story full of blessing, this is the Ministry, which God settled on this earth for the benefit of mankind, his main vision: expansion of the kingdom.
Now, from this moment, feel free to do any activity, blog, video, etc. that talks about your experience in this community, also ideas and suggestions of what you expect for year #3.
We will be giving promotional gifts on our anniversary week to the most outstanding tickets, courtesy of Steemchurch.
WHAT WE EXPECT FROM OUR PARISHES AND PARISHIONERS.


1.- It is no accident that our church was founded just an important month and as beautiful as December is, I think we can all take a thanksgiving that special day, in our communities, with neighbors and close friends, thanking God for these two years and stating that year three will be a better year.
Praying for each other, asking for wisdom and direction for the next challenges. As the word says: let's act under the power of the agreement, I think it would be a great blessing that we can all raise that prayer for our Ministry. Don't forget to Pray for our leader and guide @sirknight so that God strengthens him every day, because a long road remains.
2.-Choose an anniversary day of the week and make a work or gesture of help with a friend, neighbor and mark your life with a word of encouragement.
3.-You can hold small meetings to introduce Steemchurch and the tools we use to address communities like Telos, steemit.
4.-Make a summary of what you did in this week so special for your life and ministry, no, don't forget to participate in the goldencenser and be blessed with the word of God.
5.-You can make a newsletter.

OFFICIAL CHURCH PROGRAM AT ITS ANNIVERSARY WEEK


1.-Recreational-educational activity at the mission base, Eulalia Buroz educational center located in Barcelona Anzoategui State.
12/04/2019
2.-Steemchurch International Ministry Meetup, real-time recruitment for the blockchain platforms with which we interact (steemit, Telos)
Place: Puerto La Cruz Anzoategui Venezuela
Date: 12/6/2019
3.-Opening of the dining room # 4 Bread From Heaven in the "Vision of Jesus Christ" church
Place: Barcelona
Date: Saturday 7/12/2019
4.-First delivery of promotional notebooks to the children of the educational center "Mother Teresa of Calcutta".
Date: 09/12/2019
5.-Celebration of thanksgiving commemorating the second anniversary of Steemchurch International Ministry.
Date: 10/12/2019

THE COMING YEAR


The year that we will begin is number # 3 and as Apostle of this Ministry I have marked it with a prophetic word "year of the divine fullness" I feel in my spirit and in my heart that this new period is based on the fulfillment of what is has projected, year of multiplication and creativity without limits, the number 3 represents perfection, the trinity and in this sense and under this word we will walk in faith.
When I was thinking of the word for the church in this new year it came to my mind, there are three who give testimonies in heaven: the father, the son and the holy spirit, the third day was that of the resurrection, so year 3 we will see the powerful manifestations of triune God in our lives, and everything that has been dry is going to green again, we just have to strive, be brave and believe in our hearts that a new time is coming.

Let's continue creating opportunities in our world, building a future for children, don't forget to register to get a telos account with the suffix "jc" and interact with our token "heart" in the following form:
https://goo.gl/forms/TOJ4cCDiMT4KlM0g2
If you want to know more information about Telos visit:
https://www.telosfoundation.io/
Additional considerations
There are channels available for more information:
https://t.me/joinchat/JfcYQRZKH3Fu0M9kIzcjjw
darlenys@steemchurch.org
You can join our Steemchurch community:
https://t.me/steemchurch_telegram
We thank all those people who have contributed to our community to grow @pennsif, @luppers, @redes, @hanshotfirst, @theycallmedan, @redpalestino, @wilx,@curatorhulk,@ripperone,@penguinpablo,@newhope,@jackmiller
EXPRESS THE LOVE OF JESUS THROUGH: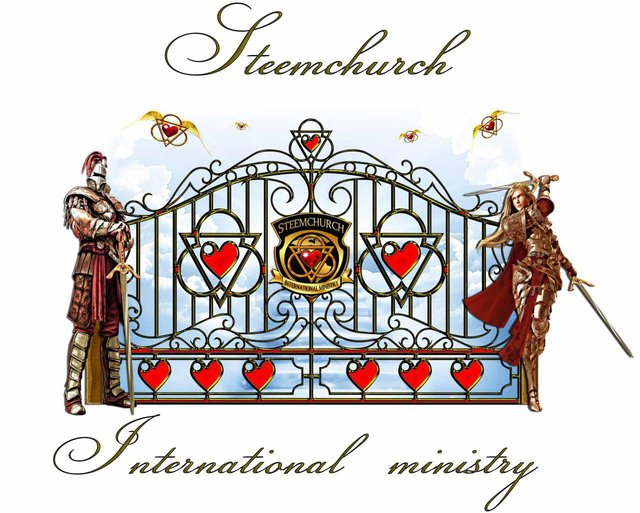 Each time you support with some delegation you will be collaborating with the feeding, education of thousands of children, the restoration of the family, and the promotion of blockchain technology in the world.
DARLENYS