We believe that in order to worship we must be anointed by the Holy Spirit, to meet his presence inspires us to be an instrument of worship.
2 Chronicles 7 Reina-Valera 1960 (RVR1960)
7 When Solomon finished praying, fire came down from the heavens, and consumed the burnt offering and the victims; and the glory of the Lord filled the house.
2 And the priests could not enter the house of the Lord, because the glory of the Lord had filled the house of the Lord.
3 When all the children of Israel saw the fire and the glory of the Lord descend upon the house, they fell on their faces on the pavement and worshiped, and praised the Lord, saying, Because he is good, and his mercy is forever.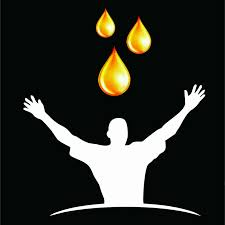 Source
When the glorious presence of the Spirit of God filled the temple, each fell on the ground and worshiped the Lord. So powerful is the anointing of worship in his presence, that it is very difficult to stand.
When they came into their presence in worship, the priests had difficulty keeping up their work (2cr 5: 13-14). When the Apostle John worshiped in the spirit, the anointing was so great in the presence of the Lord that John prostrated himself at his feet and worshiped him. Hezekiel also had the same encounter with the spirit when the glory of the Lord appeared to him.
We worship God in spirit. The anointing that brings when the holy spirit dwells in us, raises us and empowers us to worship God. We have communion of Spirit to spirit with the living God (1Cor 2: 10-12). True worship always leads us to the presence of God through the anointing of the Holy Spirit.
---
---
Reference: Bible of the Americas