Personally I like reading books, these days someone gave me a book with a very beautiful romantic story, I spent several days delighting in it, but this story also made me reflect on our lives.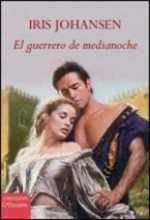 The protagonist is taken as a slave against her will and given to a follower of the conqueror as spoils of war. He orders him to save the life of his wounded friend with his extraordinary healing powers. An extraordinary story of love and adventures in the forests of Wales. Reading all this context I went to the real world, and I put this message: "A midnight warrior", is the way we face our battles in silence and with the power of God.
---
---
There are several Bible verses that I want to take to develop the message, one of them is found in Job.The woman in this story left at midnight to enjoy a wonderful sky, but like the verse of job, the good she expected became darkness.
Job 30:26 New International Version (NIV)
26 When I expected good, then evil came;And when I expected light, darkness came.
She had a divine impartation of authority and healing, as a result of that gift she was taken as a slave, at that time she had to face her fears, the fear that constantly paralyzed her and fight for her freedom, All things to those who love God they help him well, he saved the life of a man who was hurt, God connected them in a love story.
We all have great battles to face, we can never think that there is no spiritual world to overcome, our struggle is not against flesh or blood, but against principalities, posts, governors of darkness and host of evil in the celestial regions. This story led me to recognize that we are midnight warriors, those nights in which we cannot sleep, in which we fight in the spiritual world for our freedom, the world, people do not know what you and I may be going through, but God knows, he understands us and gives us the strength to fight.
How much captivity there is in our lives! I have understood that only God can give us the strength we need to overcome, I know that there are people who feel they can no longer with the circumstances they have been living, but there is a new dawn for those who They wait on Christ.
Brothers, how tremendous it is when we have walked by the hand of God, and suddenly, things happen in our lives that blur us and take us out of the way, I have ministered the life of other women, and I have given him word in the name of Jesus so that they may be free from any bondage, and I have felt the support of God in what I do, however, in a moment I touched human weakness, I lost strength in the spirit because I placed my eyes in the natural.
Elijah, the great prophet of God who brought down fire from heaven, declared a word that it would not rain for three years, received the news that Jetzabel would look for him to kill him, he thinking that his life was in danger went through the desert for two days.
many theologians and scholars of the word say that the great prophet Elijah was afraid, but today I understand that Elijah was more than afraid of depression, he was disappointed, notice this text:
1 Kings 19 Reina-Valera 1960 (RVR1960)
Elijah flees to Horeb
4 And he went through the desert one day on the way, and came and sat under a juniper; and wishing to die, he said: Enough now, O Jehovah, take my life, for I am not better than my parents.
This is where the word confronts me, when pain and depression touch us we want to die, nobody knows what goes through our body, soul and mind, the enemy has gained ground in our path, but what should we do about it?
We trust in God? Do we go ahead or let Satan end our lives?
I have fought my best battles on my knees in my room, it is a terrible struggle between good and evil, it is a spiritual battle that does not yield until we assert our authority in Christ.
The word of God is spirit and they have the effect on our soul, breaking yokes of slavery, today you have to get up and shine, I speak to men and women who are marked by a prophetic word, and who the enemy knows, asks us to shake us. Every time God is going to take us to higher levels, the tests are also more difficult, I know what pain, physical wear and fatigue are, but I also know who God is and his word will always be fulfilled. .
I had to draw my sword at midnight, and tell the enemy: you will not be left with anything God has given me, all thoughts of defeat and discouragement take him captive to the feet of Christ, every time the fear, fear paralyzed me, I pondered the word that one day the Lord gave me and I said as the psalmist: God, do not forget the word you have given your servant and in which you have made me wait, even In the midst of pain, of brokenness, I await your healing, salvation.
God will never despise a contrite and humiliated heart, nor the prayer of his son, he will send angels to help us, and in that great test he will make presence, but not to judge us, but to rise, says the scripture that God will be appeared to Elijah,
12 And after the earthquake a fire; but Jehovah was not in the fire. And after the fire a still small voice.
13 And when Elijah heard it, he covered his face with his cloak, and went out, and stood at the door of the cave. And behold, a voice came to him, saying, What are you doing here, Elijah?
This is where I want to get midnight warriors, God will appear to you in the midst of your pain like a gentle whistle, and when your spirit recognizes its voice, you will be raised, that voice that our interior receives and recognizes because we are his children, it will strengthen your bones, your body and your spirit, it will return you to the path that he set for you.
This is a new season, I know that the dark night does not last forever, there is dawn to those who with hope and faith believe that Jesus rose again and has the power to do a miracle in your life.
Like the woman in the book, God brings reward, after the test comes an award, resists and perseveres, do not take your eyes off the author and finisher of the faith that is Jesus Christ.
We all have to learn from this, even our physical aspect must be renewed, just as the face of Moses changed when he met God on the mountain, in the same way ours must shine, I am changing my aspect as established by God. .
It is the time to leave the cave that has kept us prisoners for years, with soul ties and remember that God does not pass us through the fire to remain the same, but to glorify his name.
Finally this message for those people that the frustration generated by not being able to take out what is in their heart make their desks or work tables beaten, it is time to be free.
In this new time of process that I have passed, God is preparing me for the nations, when I close my eyes I can see in my spirit how a great sword has been placed in my hand to overcome in the name of Jesus every spirit of depression, discouragement and mental strengths.
A ministery of fire has to be tested, multitudes will know Jesus through our testimony, the pulpits of the peoples and cities of the world will be shaken by the transforming power of God through us, Hell will not be able to face a man or a woman who carries scars on her body and in her soul, when the enemy sees us, she will also see the marks and recognize that we are survivors of a great trial that wanted to kill us but we were victors.
Enjoy this beautiful melody, God of the valley is the same God of the mountain, he is with us until the end.
In the name of Jesus we will bring freedom to the captives !!
---
---