In love with chess (Deutsch*English) Verliebt in Schach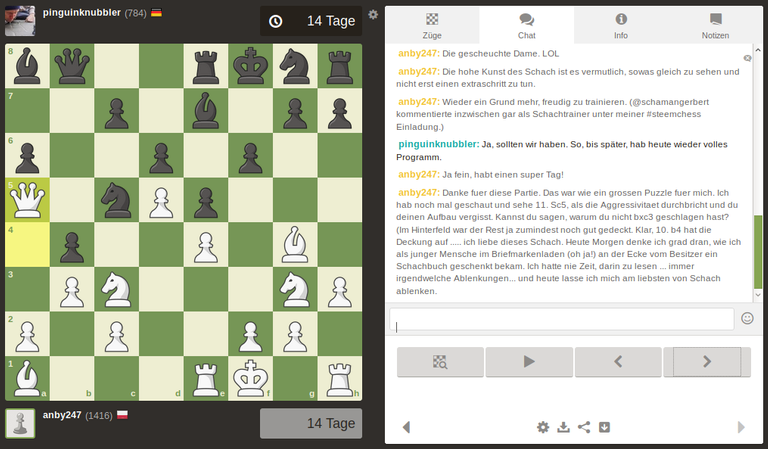 Image caption from the chat: Thanks for this game. It was like a big puzzle for me. I looked again and see 11. Kc5 when the aggressiveness breaks through and you forget your setup. Can you say why you didn't beat bxc3? (In the backfield the rest was at least well covered. Sure, 10. b4 has given up the cover ..... I love this chess. This morning .. [and the story goes]
In love with chess
I love chess. The other morning, when finishing up this game with a good friend, I'm just thinking about how as a young fellow of maybe 10 years I was presented with a chess book by the owner of a stamp collector's shop (oh yes!) on the corner. I never had time to read it ... always got some distractions ... and today I prefer to be distracted by chess.
Let me show you one thing of why I love STEEM. And there is more, yet this is about the rewards. And I don't mean how to become rich at first, but to learn how to become influential and giving back to others for being socially interactive. Well, sure, if you are on STEEM for a while already, you may know all this. Now this is for the newbies through the eyeball of a not quite newbie.
So I gave this invitation to play chess puzzles last week, and so far no one joined in. But that is ok. I am living in the now, and whenever you are good to join in that's fair enough.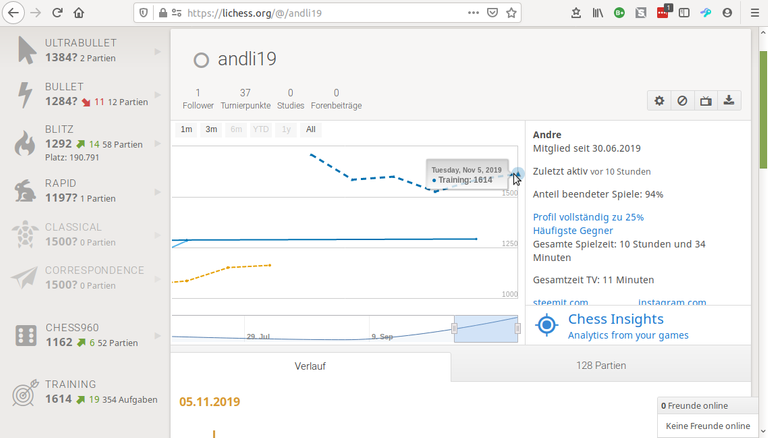 When the 7-day time period from the invitation had been elapsed I annotated the results in a comment below the registration and calculated the number of slices needed for the split of the rewards. Here we had one first place, so all four of the slices for this player (me). If we would have had two players it would have been seven slices, and so forth just like mentioned in the invitation.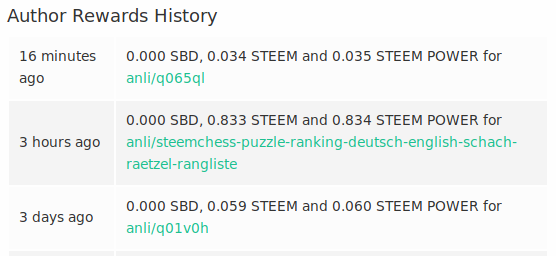 Then I went to my steemitwallet and noted down the author rewards for the invitation posting, which had been 0.833 STEEM and 0.834 STEEM POWER. The fluent share is the STEEM, so one slice for eveny participant would had been 0.20825 STEEM and additional slices for those ranking three to one.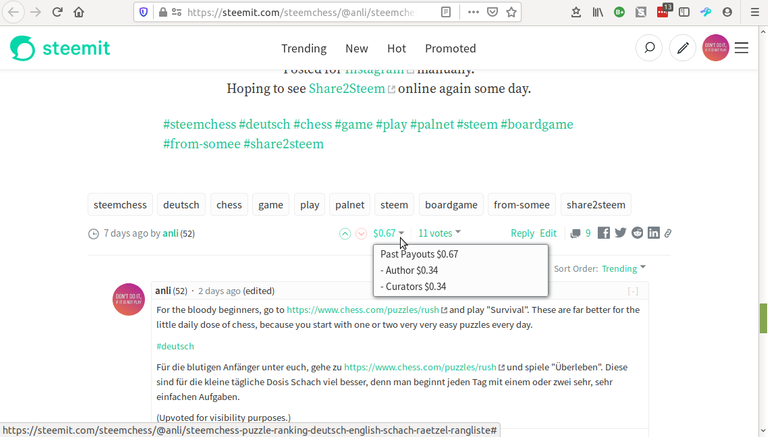 A word on the payout. When you look below a posting you see the past payouts - and it's the only payout for this posting. Well, is this the corresponding market value in Steem-Dollar or US Dollar? And I'm not sure whether this is at the time of payout or the present market value. Since this is a screenshot, at least the latter time will tell. But maybe someone soon helps me out with this in the comments. The Author part is STEEM plus STEEM POWER, as enumerated above when I mentioned the steemitwallet. So me as an author receives this ammount of invested STEEM POWER on top my slices of STEEM for playing. This is why you may be interested to copy this game idea, like mentioned in my prior invitation. And this does not be on chess!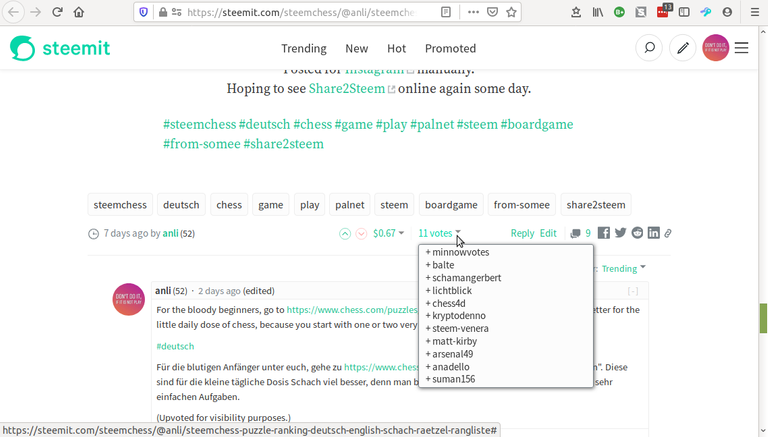 When you look into "votes", you see how the total reward came to be. The upmost mentioned account holds the most ammount of STEEM POWER. The more STEEM POWER in favor of a posting, the more reward. @minnowvotes as being the first here is a voting bot that I am going to mention later again.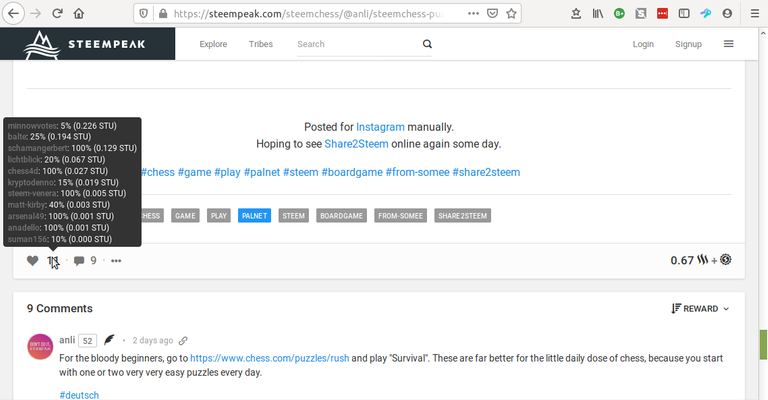 Now when you go to steempeak you can get some more detail on all of this. With the upvotes you see the vote weight in percent, meaning when e.g. @balte would have given a 100 % upvote, instead of a 25 %, it would have been weighted four times the weight of STEEM POWER in his possession. Now as you can see 25 % from @balte is more STU (which I translate STEEM UNITS) then @schamangerbert voting 100 %. And when you have lots of STEEM POWER to your possession you know why and when it is appropriate to tweek this quantifier. So thanks to every one of all of you for every single percent of your vote weight!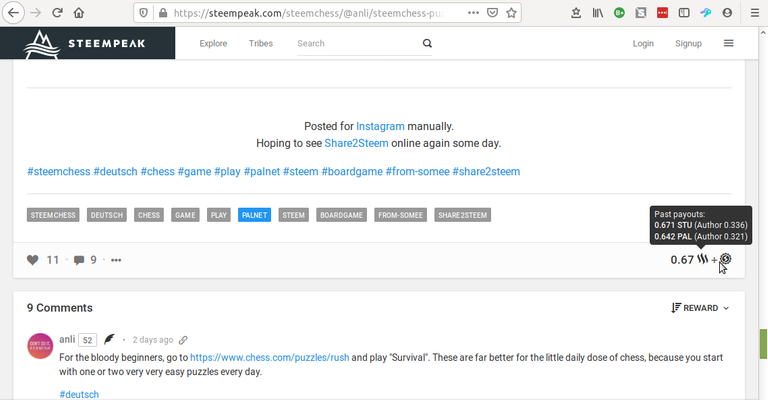 On the matter of past payouts with steempeak you even see additional tribe coins. We'll go into this next. Yet what you see here as well, compared to the steemit frontend, is the payout in STU. And frankly, I do not have a clue why this equals the ammount of Dollar - and this is what gave me doubts on whether the above mentioned is actualy US Dollar. Anyway, we see a third decimal place here, compared to the statement on steemit with only two.

When we now look into the tribe frontend www.palnet.io, we can see the details on the PALcoin. I don't want to go into this here, yet I don't wanted to miss the opportunity to mention it. There are more and more tribe coins coming up. We may even initiate a coin on chess puzzles. The possibilities are endless.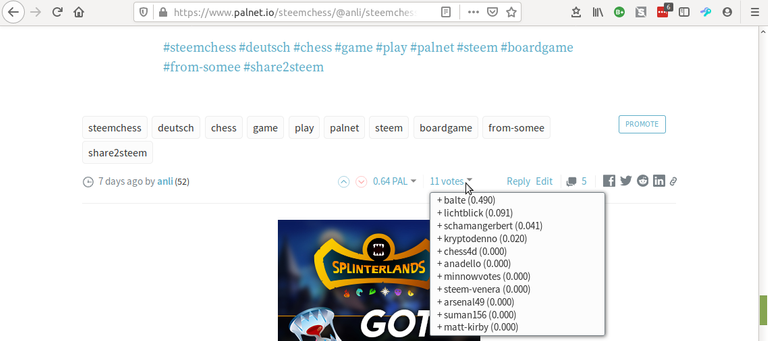 Now, when we look into the votes on PALnet you see the vote value of PALcoins according to the amount of PALcoins staked to the appropriate account that is voting. Staked PALcoin to PALnet is like STEEM POWER to STEEM. As I mentioned already I don't want to go more into this here other then showing you a little glimpse, while the example is excelent, because you can see that @minnowvotes did not hold any noticable ammount of PALcoin staked at that time.

And last I wanted to mention how I took the chance to promote a.k.a. boost my posting via @minnowvotes myself. I wanted to do this with @booster as well, but obviously did a mistake in not giving the whole url as a command. So 2 STEEM invested into @booster so far, without having an upvote back. And I hoped to help promote the idea of spliting the share to the players. Anyhow, I wanted to at least mention these 0.500 STEEM I invested into @minnowvotes, so that you have a better idea on how payouts on your own or on other people's postings can be influenced without possessing lots of STEEM POWER yourself first.
---
And now that I had invested some hours to craft this posting, I want you decide for yourself if you find this has been worth it.
I further want announce that there is going to be another invitation for a 7-day run on chess puzzles soon, so please keep an eye on #steemchess or even better on steemit.com/created/steemchess, because this is where you find every single new posting on this matter. It is going to be not only for lichess, but for any chess platform that does rated puzzles, including chess.com, chess24.com, chesskid.com and any that you may throw into the mix.
This posting will be on SoMee as well, see https://somee.social/profile/posts/96660
Grow up collectively, see bio:
come and chat with us on Telegram
Experience (social) free media and receive value for your time spend online
see PS on a missing companion
---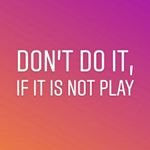 ---

Posted for Instagram manually.
Hoping to see Share2Steem online again some day.

Verliebt in Schach
Ich liebe Schach. Neulich morgends, als ich dieses Spiel mit einem guten Freund beendete denke ich grad dran, wie ich als junger Mensch von vielleicht 10 Jahren im Briefmarkensammlerladen (oh ja!) an der Ecke vom Besitzer ein Schachbuch geschenkt bekam. Ich hatte nie Zeit, darin zu lesen ... immer irgendwelche Ablenkungen ... und heute lasse ich mich am liebsten von Schach ablenken.
Lass mich dir eine Sache zeigen, warum ich STEEM liebe. Und es gibt noch mehr, doch hier geht es um die Honorierungen. Und ich meine nicht, wie man zu Beginn reich wird, sondern wie man lernt, einflussreich zu werden und anderen etwas zurückzugeben, wenn man sozial interaktiv ist. Nun, sicher, wenn du schon eine Weile auf STEEM bist, kannst du das alles wissen. Nun dies ist für die Neueinsteiger durch den Augapfel eines nicht ganz Neueinsteigers.
Ich habe also letzte Woche diese Einladung zum Spielen von Schachrätseln gegeben, und bisher hat sich niemand beteiligt. Aber das ist in Ordnung. Ich lebe im Jetzt, und wann immer du bereit bist, daran teilzunehmen, ist das gut genug.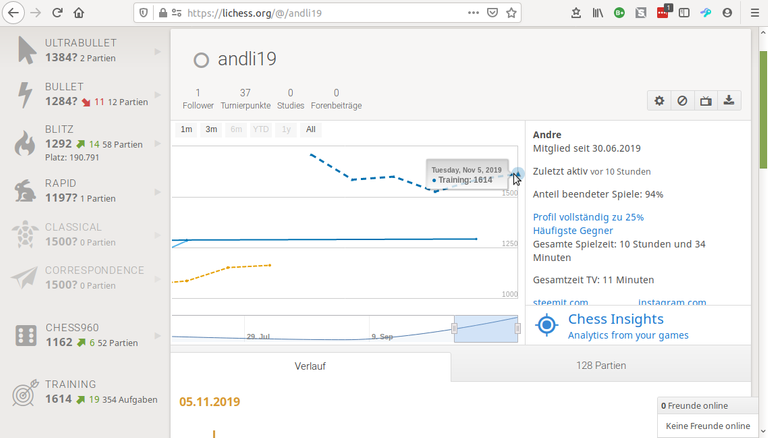 Als die 7 Tage nach der Einladung verstrichen waren, habe ich die Resultate in einem Kommentar unter der Registrierung notiert und die Anzahl der Teile berechnet, die für die Aufteilung der Prämierungen benötigt wurden. Hier hatten wir einen ersten Platz, also alle vier Anteile für diesen Spieler (mich). Wenn wir zwei Spieler gehabt hätten, wären es sieben Teile gewesen, und so weiter, wie in der Einladung erwähnt.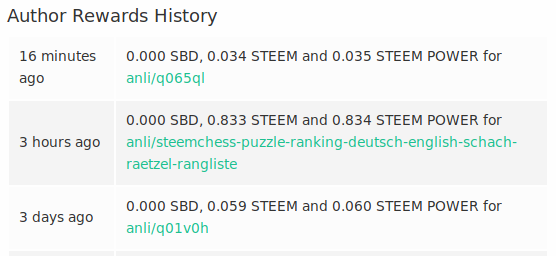 Dann ging ich zu meinem Steemitwallet und notierte mir die Autorenhonorierung für die Einladung, welche 0,833 STEEM und 0,834 STEEM POWER betragen hat. Der flüssige Anteil ist das STEEM, so dass ein Teil für jeden Teilnehmer 0,20825 STEEM betragen hätte und zusätzliche Teilstücke für diejenigen, auf den Plätzen drei bis eins.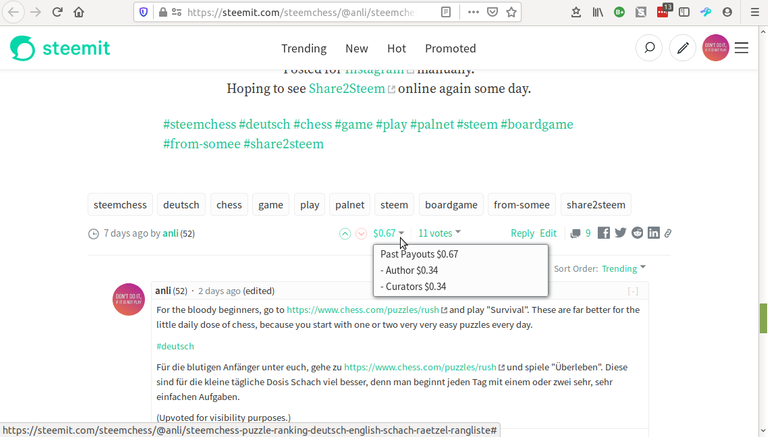 Ein Wort zur Auszahlung. Wenn du unter einen Artikel schaust, siehst du die vergangenen Auszahlungen - und das ist die einzige Auszahlung für den betreffenden Artikel. Nun, ist das der entsprechende Marktwert in Steem-Dollar oder US-Dollar? Und ich bin mir nicht sicher, ob dies zum Zeitpunkt der Auszahlung oder zum gegenwärtigen Marktwert gegeben ist. Da es sich um ein Bildschirmfoto handelt, wird zumindest letzteres die Zeit zeigen. Doch vielleicht hilft mir bald jemand damit in den Kommentaren. Der Autorenteil ist STEEM plus STEEM POWER, wie oben beschrieben, als ich das Steemitwallet erwähnte. So erhalte ich als Autor diese Menge an investierter STEEM POWER zusätzlich zu meinen Teilen von STEEM fürs Spielen. Diese investierte SP ist der Grund, warum du daran interessiert sein könntest, diese Spielidee zu kopieren, wie in meiner vorherigen Einladung erwähnt. Und das muss ja nicht Schach sein!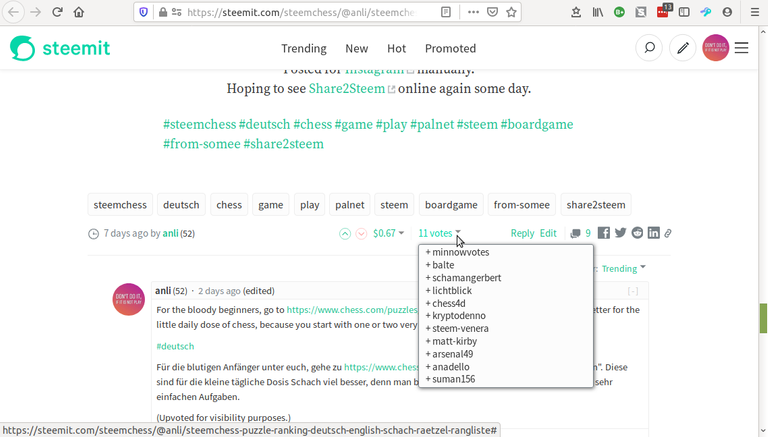 Wenn du dir die "Stimmen" (votes) anschaust, siehst du, wie die Gesamthonorierung zustande kam. Das erstgenannte Konto enthält den größten Anteil an STEEM POWER. Je mehr STEEM POWER zugunsten eines Postings, desto mehr Honorierung. @minnowvotes als erstes hier ist ein Voting-Bot, den ich später noch einmal erwähnen werde.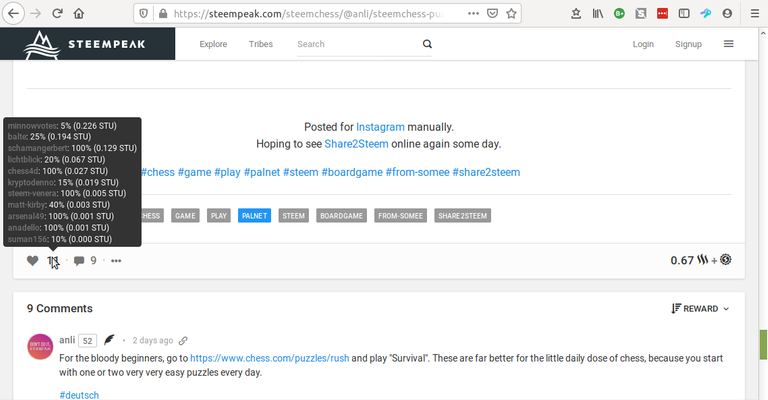 Wenn du jetzt zu Steempeak gehst, kannst du mehr Details zu all dem erfahren. Bei den Upvotes siehst du das Stimmengewicht in Prozent, d.h. wenn z.B. @balte einen 100 %igen Upvote abgegeben hätte, statt eines 25 %, wäre es das Vierfache des Gewichts an STEEM POWER gewichtet worden, das in seinem Besitz ist. Nun, wie du sehen kannst, sind 25 % von @balte mehr STU (was ich übersetze mit STEEM UNITS) als @schamangerbert mit 100 % hinzustimmt. Und wenn du viel STEEM POWER in deinem Besitz hast, weißt du, warum und wann es angebracht ist, diesen Regler zu drehen. Also vielen Dank an jeden von euch allen für jedes einzelne Prozent eures Stimmengewichts!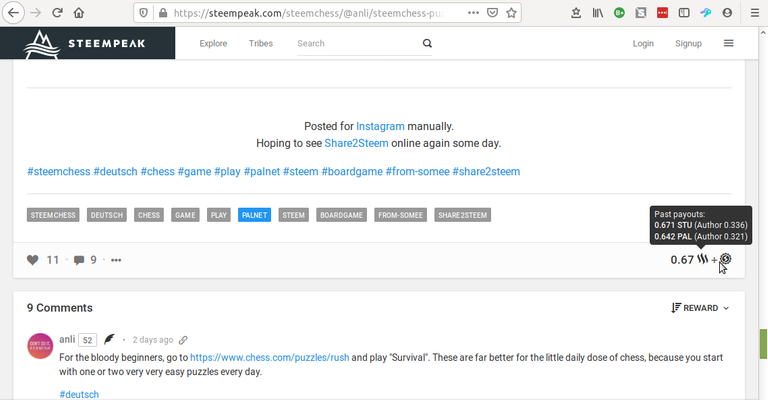 In Bezug auf vergangene Auszahlungen siehst du bei Steempeak sogar zusätzliche Tribe Coins. Dazu kommen wir als nächstes. Was du hier jedoch auch siehst, verglichen mit dem Steemit-Frontend, ist die Auszahlung in STU. Und offen gesagt, habe ich keine Ahnung, warum dies dem Betrag in Dollar entspricht - und genau das ließ mich daran zweifeln, ob der oben genannte Betrag tatsächlich US-Dollar ist. Wie auch immer, wir sehen hier eine dritte Dezimalstelle, verglichen mit der Angabe über steemit mit nur zwei Stellen.

Wenn wir uns nun das Frontend des Tribes www.palnet.io ansehen, können wir die Details der PALcoin sehen. Ich will hier nicht darauf eingehen, aber ich wollte die Gelegenheit nicht verpassen, es zu erwähnen. Es tauchen immer mehr Tribe Coins auf. Wir können sogar einen Coin für Schachrätsel initiieren. Die Möglichkeiten sind endlos.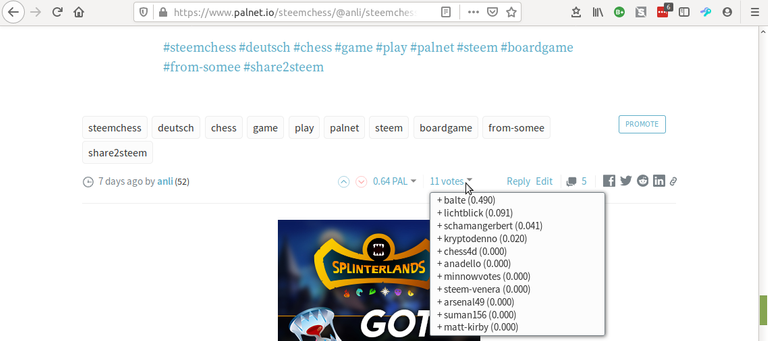 Wenn wir uns nun die Votes auf PALnet ansehen, dann siehst du den Stimmenwert von PALcoins entsprechend der Anzahl der PALcoins, die auf das entsprechende Konto, das abstimmt, eingefrohren (staked) wurden. Staked PALcoin ist für PALnet wie STEEM POWER für STEEM. Wie ich bereits erwähnte, möchte ich hier nicht weiter darauf eingehen, sondern dir einen kleinen Einblick geben, wobei das Beispiel hervorragend ist, denn du kannst sehen, dass @minnowvotes zu diesem Zeitpunkt keine nennenswerte Menge an PALcoin eingefrohren hielt.

Und schließlich wollte ich erwähnen, wie ich die Gelegenheit ergriff meinen Artikel selbst zu promoten, auch genannt boosten, via @minnowvotes. Eigentlich wollte ich das auch mit @booster machen, aber offensichtlich habe ich einen Fehler gemacht, indem ich nicht die ganze URL als Befehl angegeben habe. Also 2 STEEM bisher in @booster investiert, ohne einen Upvote zurück zu erhalten. Und ich hoffte, die Idee zu fördern, den erhaltenen Anteil auf die Spieler aufzuteilen. Wie auch immer, ich wollte zumindest diese von mir in @minnowvotes investierten 0,500 STEEM erwähnen, damit du eine bessere Vorstellung davon hast, wie Auszahlungen deiner eigenen Artikel oder der Anderer beeinflusst werden können, ohne vorher selbst viel STEEM POWER zu besitzen.
---
Und jetzt, da ich einige Stunden investiert habe, um diesen Beitrag zu erstellen, möchte ich, dass du selbst entscheidest, ob sich das gelohnt hat.
Desweiteren möchte ich ankündigen, dass es bald eine weitere Einladung zu einem 7-tägigen Lauf mit Schachrätseln geben wird, also bitte behalte #steemchess im Auge oder noch besser steemit.com/created/steemchess, denn hier findest du jeden einzelnen neuen Beitrag zu diesem Thema. Es wird nicht nur für lichess sein, sondern für jede Schachplattform, die bewertete Rätsel bereitstellt, einschließlich chess.com, chess24.com, chesskid.com, und alle, die du vielleicht noch nennst.
Dieser Beitrag wird auch auf SoMee sein, siehe https://somee.social/profile/posts/96660
Zusammen erwachsen werden, siehe Steckbrief:
Komm und chatte mit uns per Telegramm
Erlebe (soziale) freie Medien und erhalte einen Gegenwert für deine Online-Zeit
siehe PS über einen vermissten Gefährten
---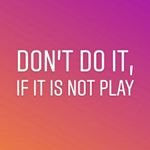 ---

Veröffentlicht für Instagram von Hand.
Hoffentlich sehen wir Share2Steem eines baldigen Tages wieder online.

#steemchess #deutsch #chess #game #play #palnet #steem #boardgame #from-somee #share2steem