Get Your Ad on MSP Waves!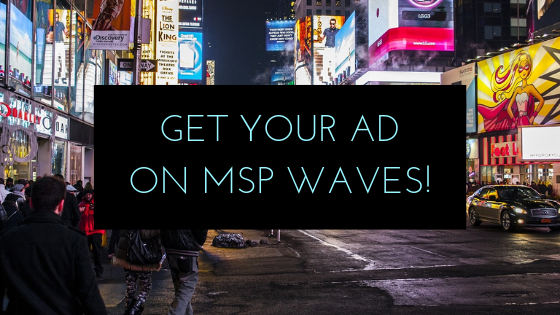 The MSP Waves interactive social broadcast network is happy to announce we're starting up an ads program.
Do you have a business or community on the blockchain? Do you have an ICO? Do you want real, crypto savvy people to hear about it, click links, and go to sites? Then we can help!
We're starting this process with an auction in the comments.
What we're offering
At the start and end of every show for a full week you'll be able to have your 30 second promotional clip played. This includes all shows on the network for that week.
If you need a 30 second recording created simply give us a script, $20, and we'll record it for you.
What we're expecting
We'd like to get paid for this so we can burn PAL. If you'd like to help PAL and get your project in the PAL limelight here's a great way to do it. Simply bid higher than other people in the comments and you'll win the auction!
Steembay
We're using the @steembay service to run this auction. Simply put in the amount of Steem you're willing to pay for the promotional rights. We'll convert all the steem we collect to PAL from the market and burn it.
(We'll accept other cryptos too, but we're pricing the auction in Steem).
How to bid
Simply type bid 15 in the comments of this post to place a bid for 15 Steem for the ad spot. The highest bidder when the post closes will have 1 week to make an audio ad, and we'll start playing it on the station at the start and end of every show.
Start your engines!
Bids start now! The ads will last an entire week. The winning bidder will have the option to continue on at the same price or we'll run the auction again. If someone wants to bid more we can work with them in following weeks.