Holybread is a new RPG style browsergame on steem that has just been released on 27 January 2020.
Holybread has just posted about its buyback of 187 millions of breadcrumbs(HBC) using approximately 1189 steem. The buyback was done in two waves instead of four waves of last week.
It also shared that it has banned 401 automated accounts from Holybread that tried to farm items, heroes and breadcrumbs with the intend to earn Steem so that it can protect the value of its real players' ingame assets.
You can read the latest post updated using the link below.
https://steemit.com/holybread/@holybread/buyback-bot-bans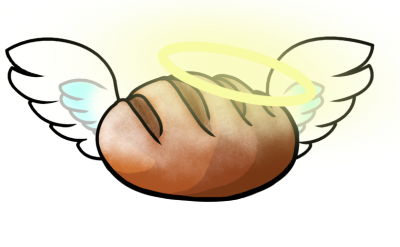 First Error Message At Quest On Mobile Phone
I have been using mainly my mobile phone to play Holybread and it was the first time I had an error message.
After completing a quest, I tried many times to claim the reward but I was not able to do so.
I left it alone and went to bed. After waking up, I tried to claim again but it was still unsuccessful and it directed me to steemconnect.
Even after keying in all needed, there was still error message.
I finally solved this problem by logging out on my mobile and login again through steemconnect.
If you happen to face this similar problem, you can try to log out and login again. It did work for me.
Arena Zone
From rank 14 yesterday, I am at rank 12 at the point of this post.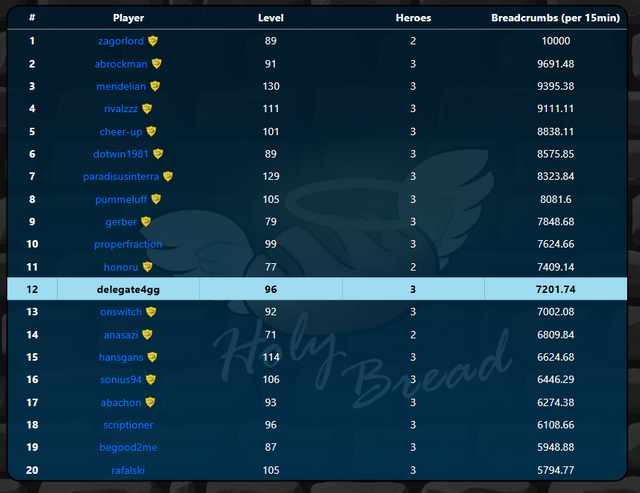 I did manage to get into top 10 yesterday but everyone at the top ranks is actively playing so the changing of rank is happening even while I am doing this post.
I actually spent quite a bit of steem to move myself up yesterday.
Below is my recent fight history.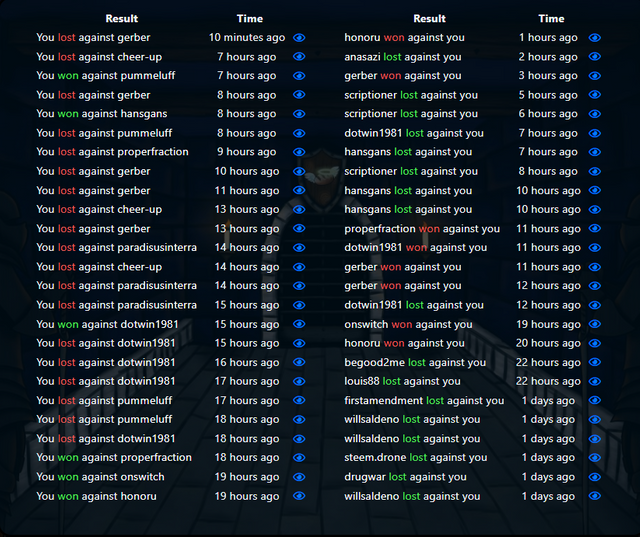 Character Status
My character status had an increase from 42 to 43. I only managed to increase by 1 level again.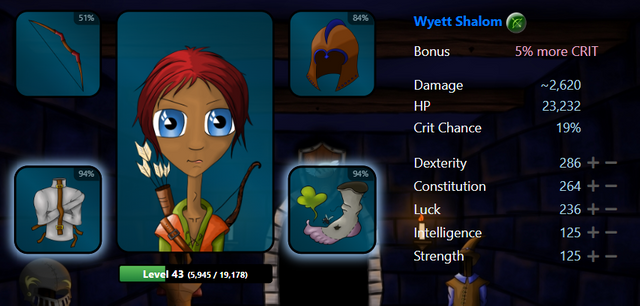 Damage Increase: From 2443 to 2620
HP Increase: From 21930 to 23232
Crit Chance Increase: From 17% to 19%
Dexterity Increase: From 266 to 286
Constitution Increase: From 255 to 264
Luck Increase: From 201 to 236
Intelligence Increase: From 80 to 125
Strength Increase: From 80 to 125
I had increase in my status for all mainly by buying new items using steem.
Spending steem does help to get more steem into the prize pool that holybread would use 20% of it for its buyback of breadcrumbs every Sunday.
Thanks for reading my status update for my game play of holybread.