This is my first initiative to work on spreading the words as promised in my post
In my last post I gave my honest opinion on what I can do to make Steem2020 a reality and today I took a small step to get started on it. I called @amanprem and asked for some time , to help him understand how things have changed in #newsteem and how much potential it can bring for him. And he was convinced to give me some time. So I landed in his office and spent few hours explaining all the recent changes, and different opportunities. Especially I conveyed him, how much potential steem is going to bring, once the SMTs / Communities are out.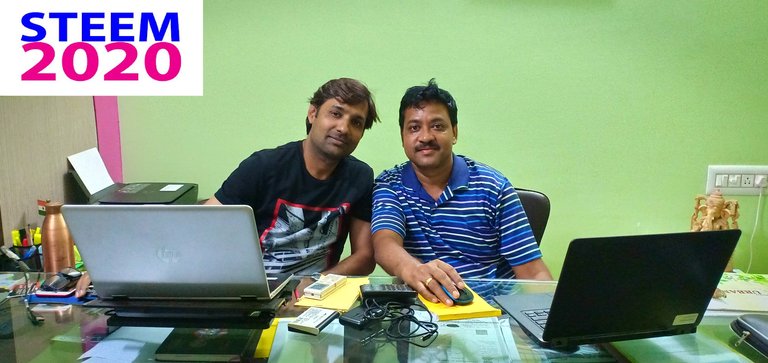 @amanprem is running a successful news site https://atrnews.in/ and it runs on wordpress. So I educated him to integrate steempress-io plug-in made by @steempress-io in his news site, so that all his posts would automatically land on steem blockchain. He is now earning a decent income from views of his site, and some of his articles are going above millions of views. So I have advised him to add an advertisement in his site on Steem blockchain as well as https://steempress.io/ . Since the steempress.io has already taken the initiative to onboard the masses, it will help a lot to bring in users onboard there. I have told him, to put links to https://steempress.io/ for the banner in his site. He has promised, his team will work on it and have in their site soon.
You can see a post from him today. I was not knowing that today is National Press Day, and coincidentally it was a all done today, so what a great day to remember to onboard atrnews on a censor free platform.
Though, his news site publishes regional news in my native language odia, the key is to educate the masses. And if his site is getting such a decent views, I am sure, we will be able to bring in more quality content creators from my place on steem blockchain. We also discussed about putting an add to educate people free on steem blockchain on his news site, so that we can meet the people quickly , once they show interest.
And if all these were not enough, he showed interest in even investing some steem. He is willing to invest a decent amount of Rs 100000/- INR on steem. So that showed the result of encouragement.
@amanprem is a great photographer and has his own studio, where he is promoting his daughter to create a unique show named as The Tamanna Show. And after hearing that, I advised him to use https://3speak.online/ to post his video contents. So we went and tried to get that set for him but while doing so we realized he did not have enough steem. So I gifted him 30 steem to get on-boarded today itself. And he has already one post live from 3speak. Hope it will be unique and get some attention.

While the Steem2020 contest is closed and the judging has begun by @pennsif , @theycallmedan and @exyle , I thought to post my first step for the commitment I made towards that.
I believe we all can help in some way steem reach its fullest potential in 2020, Wish us all success in 2020. I will continue working on my commitments and post them here.
And I just noticed, https://steemit.com now allows more than 5 tags :)