First the news. I posted yesterday about the Steem price being up. It has been up and down since then, but is still doing little better than some times recently. One the crypto charts it ranks in the mid 80s, but could be top 50 if the price could double. There is another #SPUD (Steem Power Up Day) this weekend. If we all bought some it could help the price and that has an effect on activity here. You know I will keep posting regardless.
Before joining Steem I was not paying much attention to #comics. I was aware of their cult status, but I was only reading a few online 'funnies'. Since I have been here I have encountered quite a few artists. The joy of this platform is that you can give them instant support with a vote. They do not need to rely on ads or subscriptions as everywhere else. Here are several that I have supported.
@katharsisdrill has been putting out his Phill from GCHQ comic on Steem for over three years. We sometimes have to wait a while for a new page, but they are always worth it. Like the others I will list he deserves to have far more followers. He posts a lot of other art. I have bought a couple of things from him with Steem including a digital print and these fine 3D printed models of his characters.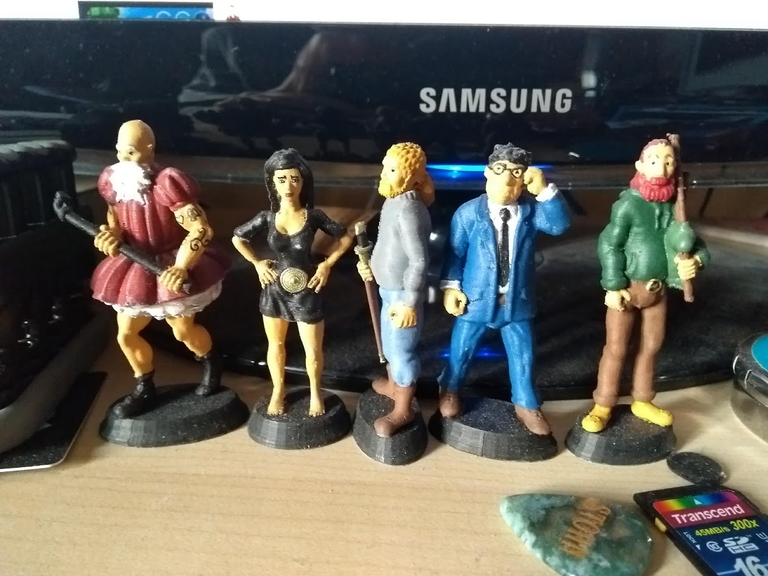 @kommienezuspadt takes some great photos (some may be NSFW), but is also creating a comic called Copper Coins. This has a crowdfunder on Indiegogo if you want to get it. It needs more backers to reach their target.
Another crowdfunded comic is by @drwatson. I have not bought a physical copy, but my support via Steem got me digital access.
I was thinking that we need a Steem-based crowdfunder, but @bryan-imhoff has been using @fundition for his zombie comic. I need to look into how that works.
I have bought some comics for Steem from @arseniclullaby. There is a fun story of the little 'bonus' I got in my package.
There are other comics that are purely digital. Some of these appear at least weekly, so why not add a few to your feed and say thanks with a vote. Here are some to check out:
@northwestnomad does a geeky strip featuring some retro gaming references.
@sidekickmatt has two comics on the go with other posts of behind the scenes and other projects.
I just found @mrpumpkinface. Some edgy work there, but good to see he links back to Steemit on his own site.
There have been a few others that came and went. If we can show that comics do well here then maybe they will come back. It helps if they can trend.
Please feel free to do your own #FollowFriday post to support those who need it.
Steem on!
The geeky guitarist and facilitator of the 10K Minnows Project.