There were some interesting ideas in @pennsif's Thinking Out Aloud post yesterday, one of which is his view that the pulse of Steem is weakening. I think something else is happening.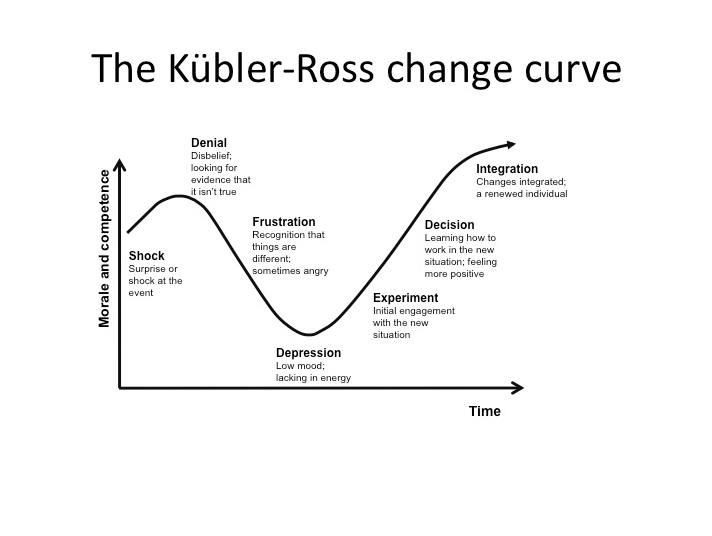 Source
I think we're going through the change curve and, after the initial elation after HF21 and 22, shown by the upward curve on the left of the chart above, we're settling into learning what the new situation is all about and how it might work in the future.
Some things were easy to deal with, some things are not and a war of attrition is waging. There seems to be a lot of anxiety about #newsteem and circle-jerking and retaliation for what is seen as circle-jerking. And we know that SMTs and communities are on their way, but they're not here yet. There's uncertainty about the Steem price and some people are hedging their bets, waiting to see if the price drops further before making any more big purchases. We're watching and waiting.
Meanwhile, many other things are happening, new ideas, businesses and use cases are developing. Like any start up, the amount of work involved in each venture is enormous. Progress may seem slow as small pieces of the model are put in place, or held up because pieces are missing, or there may be a sudden rush of activity which then plateaus.
I had my own frustrations this week, as I tried to bring a friend to Steem. What I noticed was the kindness I received as I struggled to sort out a new account and deal with my feelings. I was reassured and comforted and, through another person being kind, I found the resilience I needed.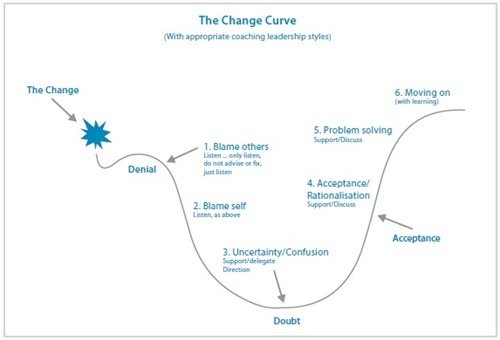 Source
Here is the same change curve, but considered from the point of view of supporting people going through change. I'm guessing that we're on that long downward slope and maybe @pennsif's vocalisation of his sense that the pulse of Steem weakening indicates that we may have reached the Trough of Doubt at the bottom of the downward curve.
This is only a model, an idea about what may be happening when people go through change. Not everyone will go through these stages, or go through them in an orderly fashion and all at the same time, in a nice neat straight line from start to finish. Some people will go back and forth between stages and others will stay locked in the early stages. I find it helpful as a tool for thinking about what's going on. For example, maybe the focus on circle-jerking is an articulation of stages one and two, a way of avoiding the yawning chasm of doubt and uncertainty?
Providing direction is a way of supporting people through that valley of doubt, and @pennsif's proposal for Regional Leaders is one idea that provides that. It's structured and has a rationale and potential resources through the community and the Steem Proposal System. Some people have already stepped forward, one person has submitted a formal application, others may be in the pipeline. But, even so, @pennsif was hoping for a stronger response.
Maybe we're not quite there yet and, alongside plans and rallying calls, some of us may need to settle for a time in the place of not knowing. The place of not knowing is where we've left the old certainties, however imperfect, but we haven't yet grown into the new environment. It is full of uncertainty: we don't know what's going to happen, it can feel like things are dying or their pulse is weakening. It's an uncomfortable place to be and one response can be to rush into something, anything, even to rush back to where we were (at least it was something).
Alternatively, we can accept the place of not knowing as part of the process of change and the place of opportunity. We don't know yet what innovations might occur if we allow ourselves to stay with the place of not knowing, continuing to interact with our friends and contacts, being kind to each other and curious about this new environment.
I suspect that, being de-centralised, as circles and communities grow and become more resilient, many innovations will emerge, many will be small, many may be local to certain cultures. The tribes offer huge potential, it's much easier to bring a new person to a tribe, in spite of my challenges in helping someone to get an account. It takes time for things to evolve, for each of us to feel confident in this latest manifestation of Steem.
It may not seem likely that there would be wisdom hiding in this vague, fuzzy, hard-to-describe [place of not knowing], but there is. That's exactly where the wisdom is: not in what is already clear and known - that's old information - but in what is emerging ... the knowing that is coming into awareness, right now. Source.