All in the loosest, and least-automated sense of the word possible.
I mean I recently published this post: 'Functionalism in Pictures', which may look like a bit of a cheap-post, as it really is just a bunch of pictures I nabbed from online (claiming the 'educational use' clauses to get around the copyright thing) which illustrate concepts, but having done it I thought 'competition'....
So I added in a little competition section @ the end - in which people can submit their own picture-concept pairs and win prizes, in the form of REVISE tokens, which can then be redeemed against any of the products I sell on sellfy>.
---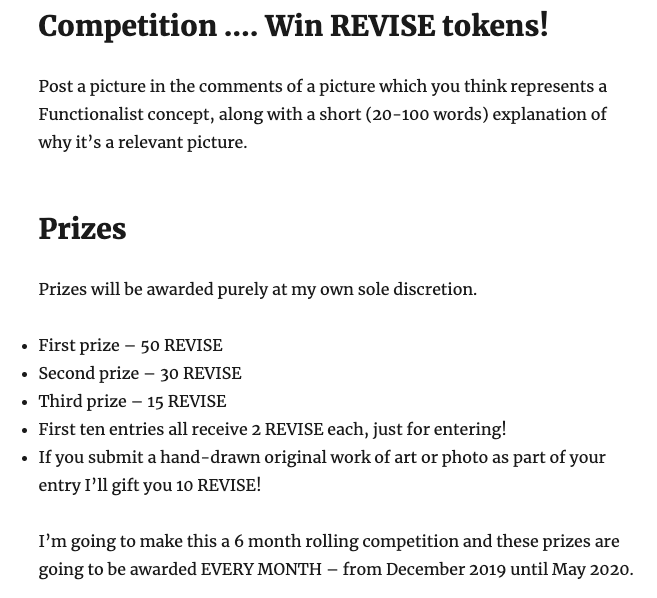 ---
The problem I've got is that my main blog isn't on Steem (it's on WordPress) and so in order to actually win (let alone redeem) and REVISE tokens, users will need to:
Open a Steem account
Wait two weeks if they're not prepared to pay or get me to gift them one.
Get their head around steem
Give me their Steem user name so I can send them the revise tokens
Send them back to me so I can give them the appropriate discount on purchases.
It's hardly click and collect is it?!?
The struggle to explain Steem etc.
I had quite a struggle to explain the whole process:
---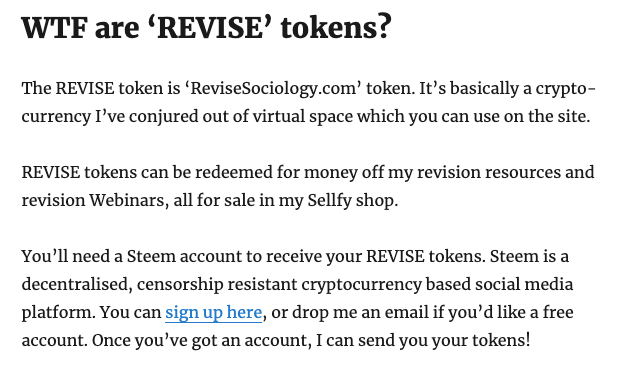 ---
And it all got a bit more 'involved' (read 'no one's ever going to bother to do any of this') after...
---

How could all of this work more effectively?
in two words I need better integration and automation - I need for all of my blog users to have Steem accounts and maybe to use Steem more, maybe I should be encouraging more users to use it from the outset?
Secondly, i need for users to be able to redeem tokens for a discount code somehow on auto-pilot, so I don't have to be involved.
Maybe I need to bring the interactivity element of my blog over to Steem and then I wonder if the guys at @steem-engine could work some magic with my REVISE token to make it more usable, or maybe an SMT is what I need to take this to the next level. There's lots more uses I can think of for the REVISE token.
The problem is I think it costs a small fortune to get a proper token up and running rather than a 'just for laffs' token!
In the meantime it would amuse me HUGELY if I did actually get any traction. NB Anyone reading this needn't take pity on me by heading over to main blog and posting an entry!