WOW! She looks so YOUNG! You must be thinking! (I hope...) For those who have met me of course... But I didn't turn 70 or anything. Not quite yet.
It's another milestone. My Steem Reputation went to 70.
Funny, because I was watching it like a hawk when it was at 68, 69, 69.5, 69.85, 69.95 and when it finally hit 70 I missed it!
But I saw it earlier today (well, yesterday) and it took me
2 years, 2 months and 1 day or
2 Years, 62 Days or
26 Months, 1 Day or
113 Weeks, 1 Day or
792 Days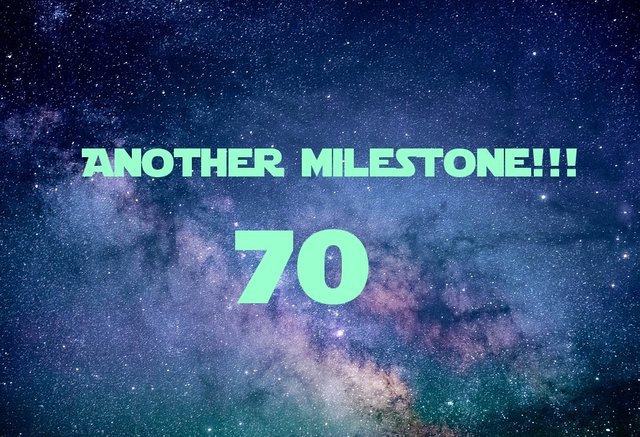 Because I am into numerology I threw the days into the Gematrinator tool (check www.gematrinator.com for that) and ended up with 18 or 9 fully reduced. That's a nice number. 221 is too. And of course, that big ole 70!!!
What does this mean?
To a lot of people, it means nothing. And there's really no 'real' value to it, nor does it show anyone's 'Steem-wealth' or much else. Shitposters can have a high rep, no doubt. I hope I'm not one of them.
But either way, to me it means a lot.
I worked hard for the 70. Not every day, and not all the time, but hard nevertheless.
It also represents the 792 (now 793) days that Steem and all of you great people have been in my life, and have even become a big part of it.
I live, sleep, dream Steem. Ask my kids if you don't believe me. Trust me, 794- or 795 days ago and before, I would have never thought that a social media platform would have such great influence in my life, even to such an extend that it's become one of the most important parts of my life. NEVER! And yet, here we are.
And I would like to thank all of you for getting me there and being here with me on our individual and collective journey.
This is what numerology says about the number 70:
The numerology number 70 is a number of introspection and inner wisdom. It has seemingly infinite potential.
The energy the number 70 represents is is perceptive and astute. It's able to analyse problems to find viable solutions.
Acquiring ever more knowledge of self is an intent of the number 70 energy.
source
It can be a coincidence, but this is exactly where I am in life these days, on a personal level. If I believed in coincidences...but I don't.
Now, on to the next 792 days...
Thank you for reading!