I got Badge of honour for voting 30 witnesses for Steem Blockchain. Oh, feel so honoured like been knighted or something...ha!!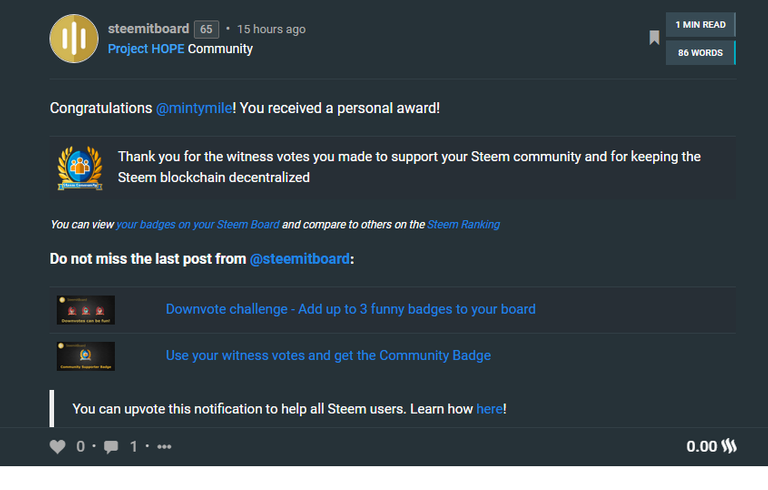 Looks like the climate is become pleasant for a Truce for now??
Yesterday, I spent time trying to see if there is any progress in the Steem Blockchain Dilemma. And got news that Binance and Houbi began powering down. Cool!!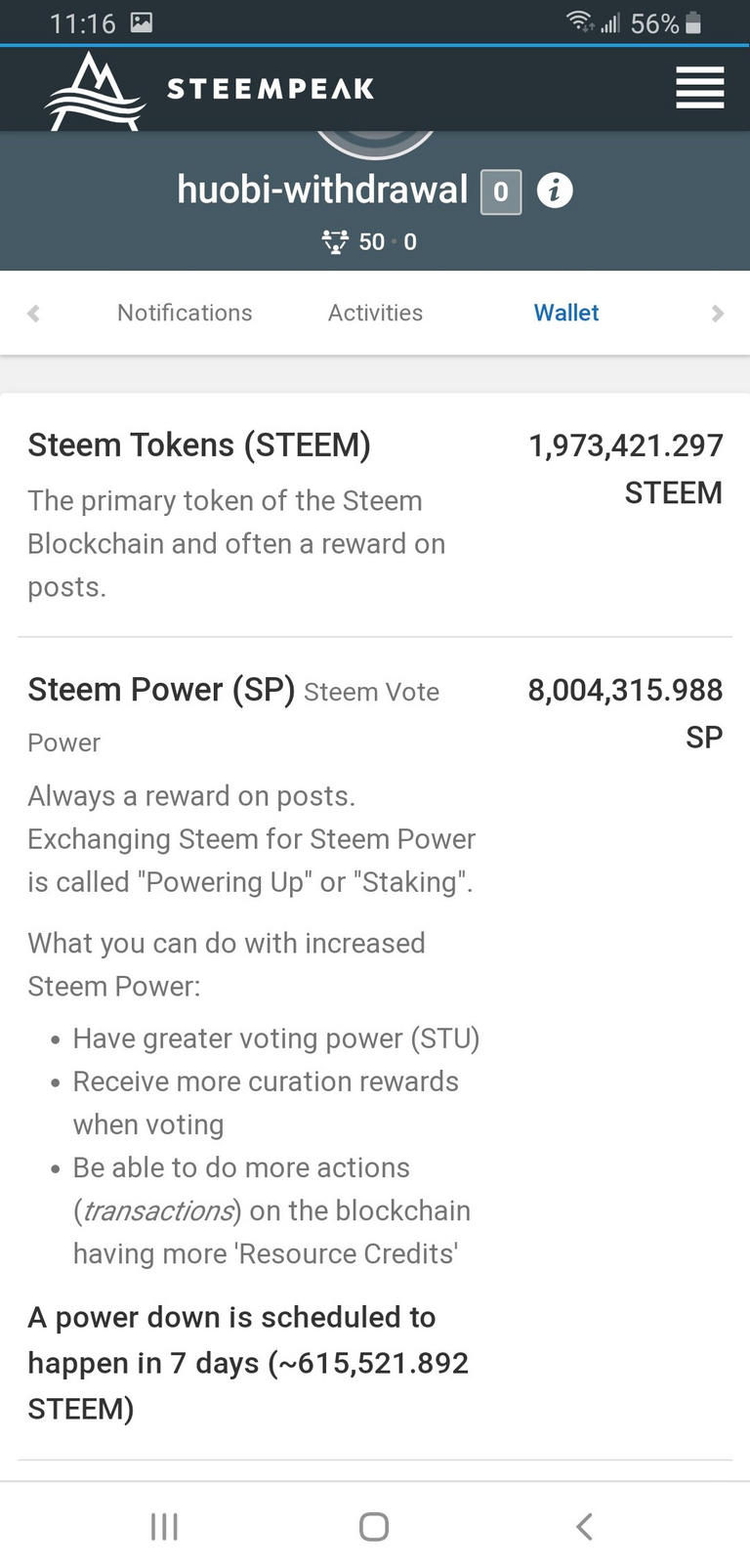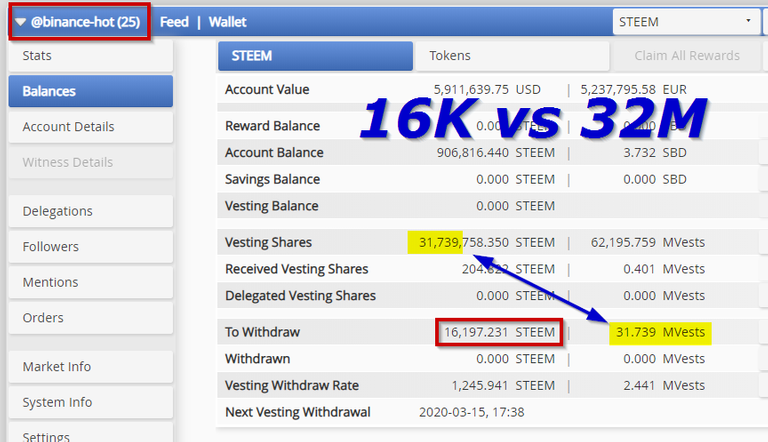 From March 7th there has been updates on twitter from both Justin Sun and Binance's CEO CZ making their stance and issues relating to Steem Blockchain clearer.
Justin Sun as usual, talked about how it was unfair that witnesses did the soft fork which made him undertake an appallingly indignant move of talking over Steemit Blockchain, I skip this as it's old news.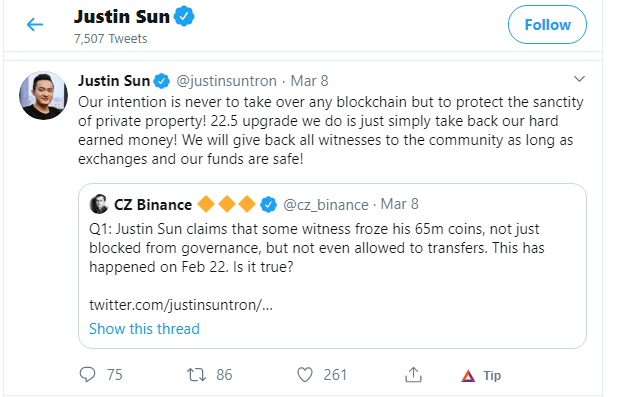 Steem Witnesses have Freeze Power to override Tron's Steem Power
Newer news, is that he was not happy with the freezing power of the Witnesses as they froze accounts of Binance, Houbi and Poloniex mainly because these accounts were used to vote Tron puppet witnesses and as long as these accounts were there, Justin Sun owned Steemit Inc had huge inputs of Steem Power to vote Tron puppet witnesses.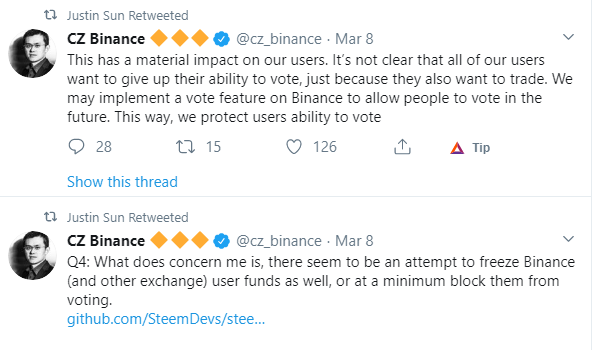 So, Steem Witnesses were using freeze power against Justin Sun Tron's source of Steem Power, to keep Steem Blockchain in their control.
Justin Sun, is not happy with witnesses having this freeze power, and he tells that he wants de -escalation of the situation and he appealed to the Steem Community not to support witnesses who are using freeze power to freeze accounts. Ha...ha… ha.
Check out his communication here - https://medium.com/@TronFoundation/the-truth-behind-steem-takeover-38179feba963
Binance's CZ too responds
Binance's CZ, CEO of my favorite exchange Binance responded as well. He says it was not correct on his part to have got involved, but he felt that unfairly Justin's funds was frozen by some small bunch of witnesses, he thought this power up was for a regular hardfork.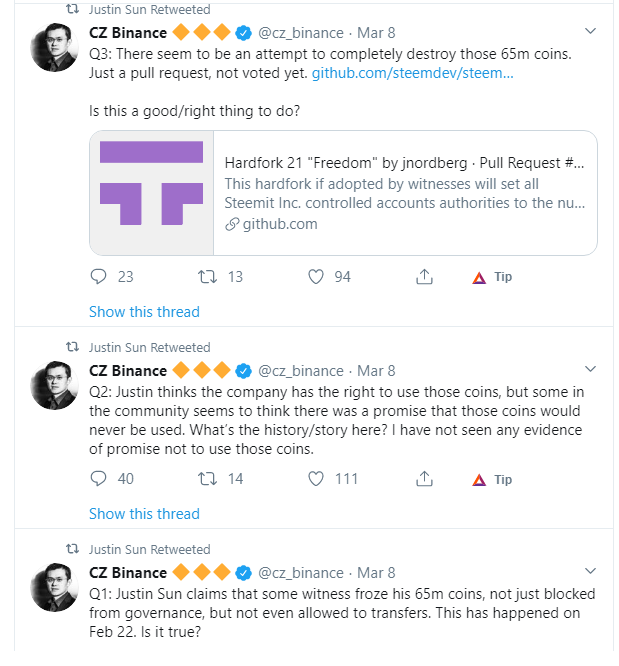 There were tweets by which he implied that that the ninja stake that witnesses say is not to be used for any other purpose other than Steem Blockchain's development, had not been mentioned in any agreement documents, so Justin feels that Steemit Inc's funds that they froze were his funds.
CZ also unhappy with the freeze power of Steem Witnesses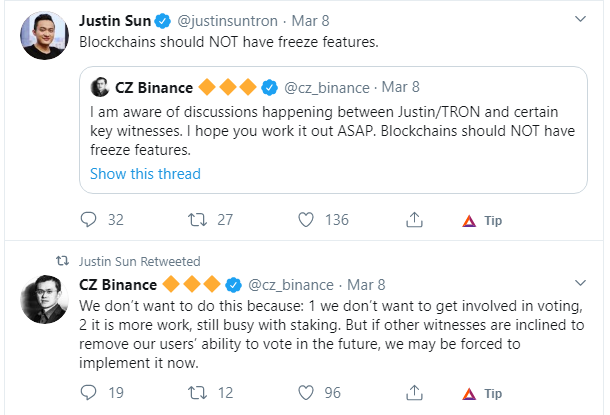 CZ is also not happy with Steem witnesses' freeze power because Binance account was frozen and that account cannot be used to vote on Steem Blockchain(: Ha… Obviously CZ was worried about Binance Steem Funds that were used to power up because they were all customer's Steem funds(sorry Binance customers, I know how it feels, but your funds will come back to you, I too am a Binance user, but I forgive CZ, he apologized!!).
CZ did not know that a Steem Power Down takes 13 weeks
Also, CZ was not aware, about Steem's Power down time and I think through Justin Sun earlier the request was put to have Steem Power down to happen in one day, so exchanges that powered up to vote in Tron witnesses can power down and get back their customer funds used for powering up. However, reducing power down to one day was not going to be approved by Steem witnesses(: , because they were sure it would destroy the Steem Blockchain. So,13 weeks it would be for Steem to power down as of now.
Steem Community used vote power to support Steem Blockchain
Steem Community members including myself have been voting for witnesses, with the sole purpose of getting those Tron Puppets lose out top positions with the result that top 8 witnesses positions are not occupied by Tron puppets (as of the time of writing this article), they all have Steem witnesses, meaning Justin Sun's control over Steem Blockchain been reduced, thanks to Steem Community voting for real witnesses.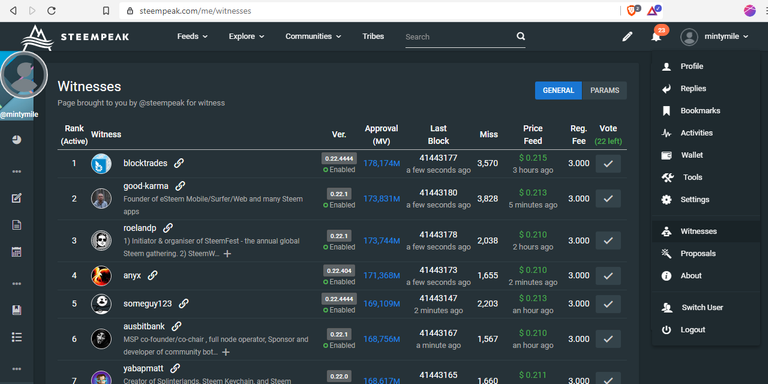 Steem Blockchain reduced in reputation in CZ's eye
CZ also mentioned that this issue between Steem witnesses and Justin Sun has to sort out because Steem is losing out in reputation and the only reason the Steem price held up is because everybody has been powering up to vote and vote out witnesses.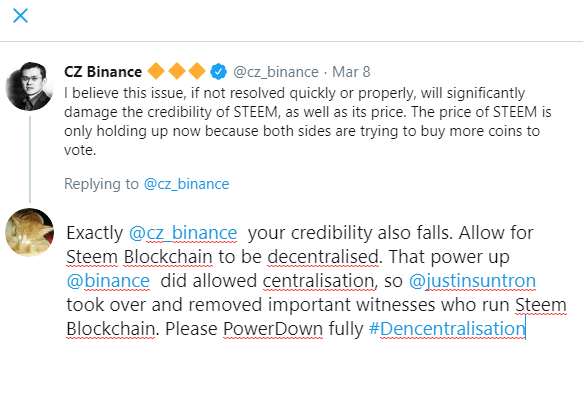 He also said that right now he would not like listing Steem in his exchange(if it was a new listing proposal) because of the issues it has(ha... again, as if CZ was not a player for Steem acquiring this bad reputation).
Yup...so much action and reaction all this time at Steem Blockchain I tell ya… thrilling to see to some extent, witness position updates and stuff like that.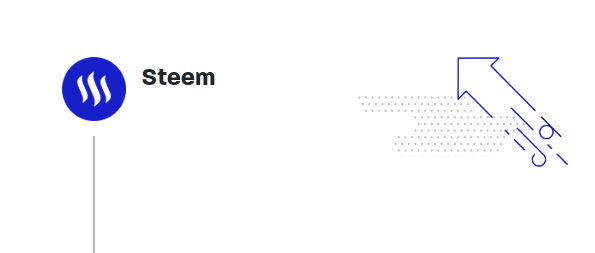 All in all, I feel Steem Community has fought to keep Steem Blockchain stay in control of Steem witnesses and perhapes we all helped to keep Steem Blockchain from getting taken over by Justin SUn. Looks like for now, Steem Blockchain is going to be intact. It's quite something that Steem Community did not FOMO,( ha…now you know I follow crypto investor's psychology) but many powered up just to vote for witnesses to save Steem Blockchain.( What a community spirit, I tell ya!!)
I would also like to mention that CZ favours Justin because Justin supported Binance's Charity wing through donation, he is a loyal friend of Justin indeed.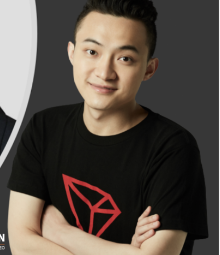 Justin Sun, atleast you donate to charities, good job, for all the scrupulous things you do, you will be forgiven for your good deeds of your donation for good causes, much appreciated.
I encourage you to act as a good whale and support Steem Blockchain to grow like you say, so you make money(some of which you give to charity) and small stakeholders of Steem like me who have earned Steem through hard work, bit by bit through long periods of time benefit. There are Venezulans who depend on Steem they earn from here for their livelihoods, so it will be so good to have Steem Blockchain intact indeed!!