Seems its good time for @theycallmedan and his project 3speak again ;)
@IvanOnTech the biggest live streaming youtubers cannot post new content nor do lives for now.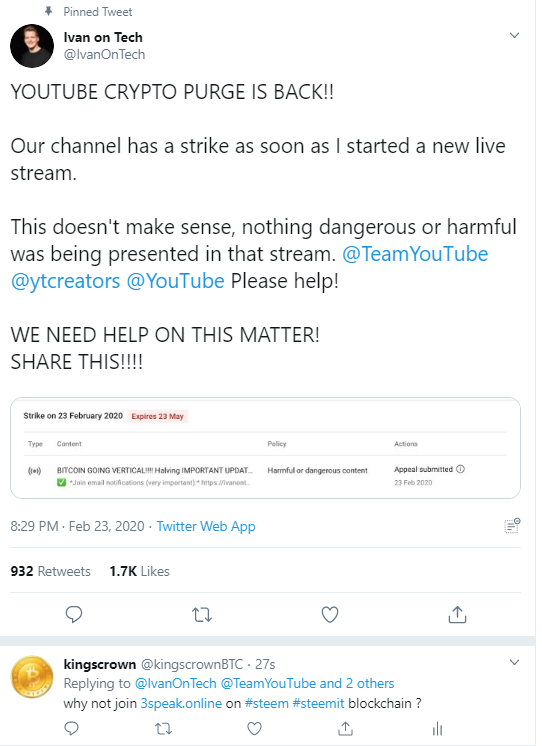 ##, Of course, i did reply to join 3speak you can retweet it
https://twitter.com/kingscrownBTC/status/1232106410940469253 so Steem and 3speak get more eyes on them and maybe Ivan notices too.
We need those big users to be here.
His channel:

Other affected channels are smaller

And Chico got unbanned today after 3 days.


Yet this is not the first or last time this happens so those guys should really have other distribution channels.
Some people say the bans were because all channels spoke badly about EOS as all channels did but i assume that may be too far guesses especially that now ChicoCrypto is unbanned and he roasts Binance and EOS all the time.
At the same time, commenters noted that paid or sponsored content was rarely flagged, and the YouTube algorithms did not specifically build a blanket ban. Interest in commentary and content has been rising in relation to the upcoming Bitcoin halving.
We can expect more bans close to halving as this topic could takeover YT popular tags and such which seems some people don't want.
REAL WAYS TO MAKE PASSIVE INCOME FROM CRYPTOCURRENCY - DOWNLOAD FREE EBOOK NOW