Interesting video by Scott Cunningham (scottcbusiness) on bitchute.com - there is STEEM incide 😉
Dies ist ein interessantes Fundstück aus dem Netz, in dem die STEEM Blockchain - pünktlich zu Weihnachten 😉 - sehr gut wegkommt. Ab 5:34 geht es um die STEEM Blockchain...
Steem is very big... they are definitely the leader in this space...
German below...
GROWTH OF CRYPTO & BLOCKCHAIN SOCIAL PLATFORMS IN 2019 - 14 minutes - enjoy the video!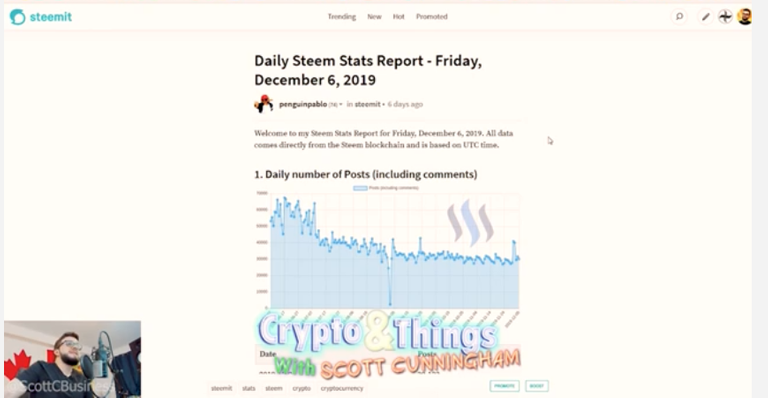 ENG
Hey everyone, today I'd like to go through the growth over the past year for both crypto-monetized and blockchain social platforms. Let's compare them to get an overview of how they all performed and grew.
So, we are going to dive in briefly to each platform to take a look at their statistics/user growth charts and or any information I can query from their staff.
https://www.uptrennd.com/stats - By far the most impressive for a new platform. The last two months they saw more than 13,000 users joining and have gone from just over 8,000 users in August to hitting 50,000 this month.
https://batgrowth.com/ - By far the most adoption and growth overall (not a social platform necessarily, but relevant to this conversation). They have over 346,353 users. From October 28th to December 6th they gained over 20,000 YouTubers alone. Congratulations to Brave & BAT.
https://www.publish0x.com/stats - Treading along steadily growing averaging between 2,500 and 3,500 new users per month. I'm actually surprised it's not more!
https://steemworld.org/ - According to Steemworld there are currently 1,345,487 accounts. https://steemit.com/steemit/@penguinpablo/daily-steem-stats-report-friday-december-6-2019 - This says they are getting about 300 new users a day on average and 9,000-10,000 a month
https://lbry.tv/ - As per my request on Twitter they made a temporary link which may or may not work for you at the time of posting: https://traction.lbry.com/public/question/eeed5322-ef18-42f0-9c2b-9d0d1e8401a3. They were able to share with me the distinct network user accesses per month for 2018 and 2019. The blog version of this will share the images detailing this and I cover it in the video.
https://www.minds.com/ - Unfortunately, I couldn't get any statistics and given they are a quasi-public company they cannot share this information ahead of their formal announcements, but the Co-Founder John Ottman said to me when asked about this "we are adding tens of thousands of news users monthly."
https://bittubestats.com/dashboard/user/bittubers/adoption - BitTube's new site has only been up since July and since then they've gained about 20,755 users averaging to about 4,151 per month which isn't bad considering how new it is and how small the community is.
https://beta.cent.co/+hhaev5 – According to their Thanksgiving update they started the year with 5,000 users and are now at 40,000. This means on average they've gained 2,916 users per month.
For Trybe and Sapien I couldn't get any information on the users or any statistics. Apparently Sapien used to list it on their homepage but have since removed it.
One of the Trybe staff members was able to share with me that over the past 90 days they've had 1,000 new users join averaging a little over 300 a month.
https://flote.app/ - Doesn't have any statistics listed and it's very new so I just wanted to include this because I think it's a great platform to consider using. The staff let me know that they launched Flote on July 21st and have been growing over 100% month over month with over 6,500 members today.
GROWTH OF CRYPTO & BLOCKCHAIN SOCIAL PLATFORMS IN 2019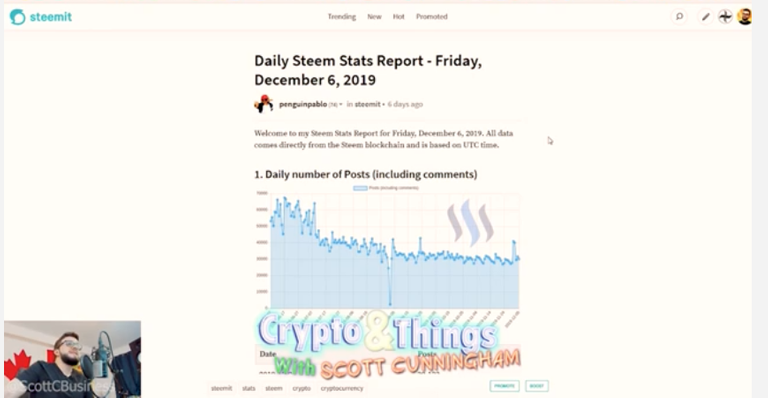 DE
In diesem Video gibt es einen interessanten Überblick über das Wachstum /die Entwicklung sowohl für krypto-monetarisierte als auch für Blockchain-Social-Plattformen in 2019.
Dafür werden Statistiken und Benutzerwachstumsdiagramme zu jeder Plattform genutzt und mit allen Informationen ergänzt, die von ihren Mitarbeitern geliefert wurden. Hier Scott's Vorschau-Überblick:
https://www.uptrennd.com/stats
Bei weitem die Beeindruckendste für eine neue Plattform. In den letzten zwei Monaten wurden mehr als 13.000 Benutzer angemeldet, von etwas mehr als 8.000 Benutzern im August auf 50.000 in diesem Monat.
Bei weitem die größte Akzeptanz und das größte Wachstum insgesamt (nicht unbedingt eine soziale Plattform, aber relevant für diese Unterhaltung). Sie haben über 346.353 Benutzer. Vom 28. Oktober bis zum 6. Dezember haben sie allein über 20.000 YouTubers gewonnen. Herzlichen Glückwunsch an Brave & BAT.
https://www.publish0x.com/stats
Mit stetig wachsendem Durchschnitt zwischen 2.500 und 3.500 neuen Nutzern pro Monat. Ich bin eigentlich überrascht, dass es nicht mehr sind!
Laut Steemworld gibt es derzeit 1.345.487 Konten und bei @penguinpablo finden wir...
Daily STEEM-stats-report-friday-december-6-2019 ... dass durchschnittlich 300 neue User pro Tag und 9.000-10.000 pro Monat dazu kommen.
Gemäß meiner Anfrage auf Twitter haben sie einen temporären Link erstellt, der zum Zeitpunkt der Veröffentlichung für Sie funktionieren kann oder auch nicht: https://traction.lbry.com/public/question/eeed5322-ef18-42f0-9c2b-9d0d1e8401a3. Sie waren in der Lage, mir die verschiedenen Netzwerkzugänge pro Monat für 2018 und 2019 mitzuteilen. In der Blog-Version werden die Bilder dazu im Detail vorgestellt und ich berichte im Video darüber.
Leider konnte ich keine Statistiken bekommen und da es sich um eine quasi öffentliche Firma handelt, können sie diese Informationen nicht vor ihrer formellen Ankündigung weitergeben, aber der Mitbegründer John Ottman sagte mir, als er dazu befragt wurde, "wir fügen monatlich Zehntausende von Nachrichtenbenutzern hinzu".
https://bittubestats.com/dashboard/user/bittubers/adoption
BitTube's neue Seite ist erst seit Juli online und seitdem haben sie etwa 20.755 Benutzer im Durchschnitt auf etwa 4.151 pro Monat gewonnen, was nicht schlecht ist, wenn man bedenkt, wie neu sie ist und wie klein die Gemeinschaft ist.
Laut ihrem Thanksgiving-Update sind sie mit 5.000 Nutzern ins Jahr gestartet und liegen nun bei 40.000. Das bedeutet, dass sie im Durchschnitt 2.916 Nutzer pro Monat hinzugewonnen haben.
Für Trybe und Sapien...
...konnte ich keine Informationen über die Benutzer oder irgendwelche Statistiken bekommen. Offenbar hat Sapien sie früher auf ihrer Homepage gelistet, aber inzwischen wieder entfernt.
Einer der Trybe-Mitarbeiter konnte mir mitteilen, dass sie in den letzten 90 Tagen 1.000 neue Benutzer mit durchschnittlich etwas mehr als 300 pro Monat hinzugewonnen haben.
Es sind keine Statistiken aufgeführt und es ist sehr neu, deshalb wollte ich das nur aufnehmen, weil ich denke, dass es eine großartige Plattform ist, die man in Betracht ziehen sollte. Die Mitarbeiter haben mich wissen lassen, dass sie Flote am 21. Juli gestartet haben und mit heute über 6.500 Mitgliedern Monat für Monat um über 100% gewachsen sind.
Viel Spaß mit dem Video!(14 Minuten)

Merry christmas everybody!
Ich wünsche euch allen eine interessant-entspannte, geruhsam-schaffige und heiter-besinnliche FeierZeit! Für alle ein weihnachtliches

Kadna


Übersetzt mit Unterstützung von www.DeepL.com/Translator (kostenlose Version)
Bild: Screenshot von der Webseite