Steem may be about to make its next move up
Several days ago, steem finally broke out of a long sideways period.
It turned from a downtrend to mostly sideways action many months ago and has been basically going sideways ever since.
All that changed a couple days ago though, when steem went up some 50% in a single day.
More on that can be seen here:
https://steemit.com/steem/@jrcornel/steem-up-50-on-the-day-currently-sitting-usd-22-on-bittrex
The price ultimately peaked right around $.22 and then drifted back to about $.16.
Something many could have anticipated might happen.
Though, I am sure many were hoping for a little better holding of those gains.
As I type, we may be started the next leg up from that initial rally
We just broke out of the downtrend created after that $.22 peak a few days back.
Check it out: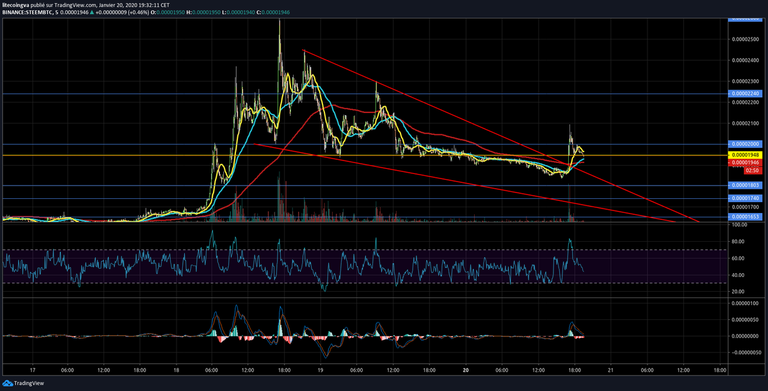 (Source:
1219327326359638023) twitter metadata:bGl0ZWNvaW5ndmF8fGh0dHBzOi8vdHdpdHRlci5jb20vbGl0ZWNvaW5ndmEvc3RhdHVzLzEyMTkzMjczMjYzNTk2MzgwMjMpfA== ~~~
The breakout was on a high volume which is exactly what you would want to see.
The above chart is in bitcoin terms, but in USD terms it looks like there could be room up to the $.30's, with an outside chance of $.40.
The measured move also indicates we could see those kinds of numbers on this next surge.
There is no way of knowing for sure if this breakout has any follow through or not, but from a charting perspective, so far it is behaving exactly how you would expect for the next leg up...
A breakout after a consolidation period, then a slight pullback to retest the previous resistance, then off to the races.
I don't know about you, but I'd love to see some $.30 steem again!
Stay informed my friends.
-Doc