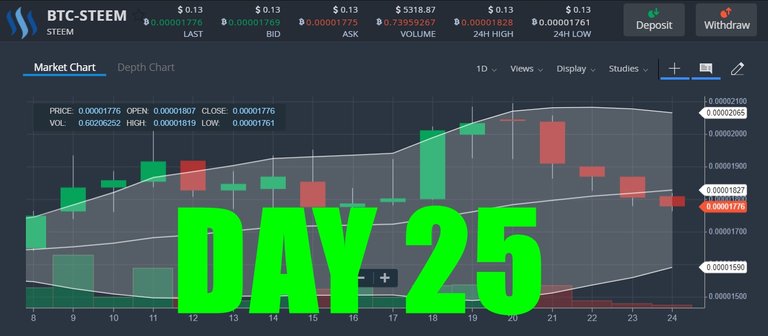 Another day another STEEM trade. This time things are getting interesting, as there has been a massive wave of censorship coming from YouTube all of a sudden. There have been reports of almost every major crypto channel receiving strikes and having videos taken down...
What this all means for crypto? Probably not a whole lot but it has definitely shaken up the community while we figure out what's next.

Trading strategy rules:
Use approximately 10% of the starting reserves (in BTC) per day to BUY STEEM when the price is BELOW a set value. In this case that will be the moving average (center line) on the Bollinger Bands using 1-Day candles on the chart. Each 10% chunk will be considered a "unit".
Sell ALL STEEM when the price is above the upper range of the Bollinger Bands (1-Day candles), or 10% per day when ABOVE the moving average (1 unit).
After 5 consecutive days of buying, reduce buy quantity in half (5% or 1/2 unit).
If price is within 10% of the ALL TIME LOW, and there is 50% (5 units) or less reserve BTC, then I am allowed to "go all-in".
"Buy below, sell above" is the golden rule.

The Moving Average is still moving up slightly due to the tremendous run up we had last week. It is sitting at 1827 Satoshis and the price has finally dropped below today after correcting for 5 days straight.
I was able to buy in at 1776 Satoshis and got 82 STEEM tokens.
Today's Trade:
12/25/2019
Buy 1 Unit
Price: 0.00001776 BTC
Quantity: 82.00220170 STEEM
Total Cost (with fees): 0.00146000 BTC

Trade History:
Day 1) Buy 1 unit- Price: 0.00001611 BTC, Quantity: 84.20909241
Day 2) Buy 1 unit- Price: 0.00001636 BTC, Quantity: 82.92227865
Day 3) Buy 1 unit- Price: 0.00001599 BTC, Quantity: 84.84105558
Day 4) Buy 1 unit- Price: 0.00001615 BTC, Quantity: 84.00052500
Day 5) Buy 1 unit- Price: 0.00001592 BTC, Quantity: 85.21410042
Day 6) Buy 1/2 unit- Price 0.00001618 BTC, Quantity: 41.92238809
Day 7) Buy 1/2 unit- Price 0.00001614 BTC, Quantity: 42.02628496
Day 8) Buy 1/2 unit- Price 0.00001632 BTC, Quantity: 41.56275976
Day 9) Sell 1 unit- Price 0.00001670 BTC, Quantity: 84.107
Day 10) Sell ALL units- Price 0.00001824 BTC, Quantity: 462.59148487
Day 11) NO TRADE
Day 12) NO TRADE
Day 13) NO TRADE
Day 14) NO TRADE
Day 15) NO TRADE
Day 16) NO TRADE
Day 17) NO TRADE
Day 18) NO TRADE
Day 19) NO TRADE
Day 20) NO TRADE
Day 21) NO TRADE
Day 22) NO TRADE
Day 23) NO TRADE
Day 24) Buy 1 unit- Price: 0.00001818 BTC, Quantity: 80.10776139
Day 25) Buy 1 unit- Price: 0.00001776 BTC, Quantity: 82.00220170
Current Holdings:
BTC: 0.01172836 (8 units)
STEEM: 162.10996309 (2 units)
Merry Christmas everybody! Make sure to call/text your friends and family today, remind them that you're thinking about them :)
*Disclaimer: I am not a financial adviser and this is not financial advice. This information is for entertainment and educational purposes only.