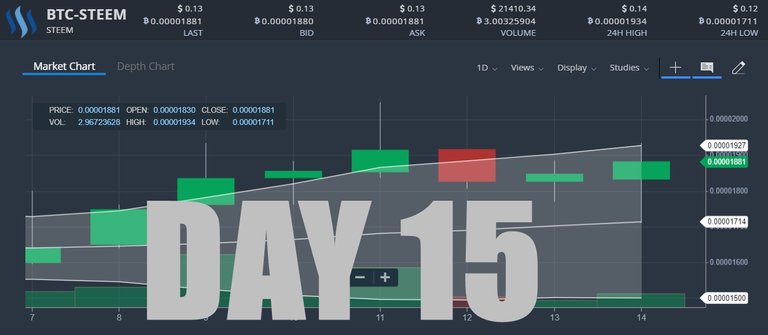 Today there was some increased volatility in the STEEM markets but there wasn't much volume so the price has remained stuck in this resistance/support range.
The price had a temporary drop all the way down to 1711 Satoshis but I wasn't online to catch it unfortunately. It quickly rebounded to over 1900 Satoshis before settling in in the high 1800 range.

Trading strategy rules:
Use approximately 10% of the starting reserves (in BTC) per day to BUY STEEM when the price is BELOW a set value. In this case that will be the moving average (center line) on the Bollinger Bands using 1-Day candles on the chart. Each 10% chunk will be considered a "unit".
Sell ALL STEEM when the price is above the upper range of the Bollinger Bands (1-Day candles), or 10% per day when ABOVE the moving average (1 unit).
After 5 consecutive days of buying, reduce buy quantity in half (5% or 1/2 unit).
If price is within 10% of the ALL TIME LOW, and there is 50% (5 units) or less reserve BTC, then I am allowed to "go all-in".
"Buy below, sell above" is the golden rule.

Since I was unable to catch the price right when it dipped to 1711 Satoshis (at 5:45 am) I was unable to make a trade. The Moving Average has been going up and is now at 1714 Sat. If there is another price dip I will be able to scoop something up for once this week.
Today's Trade:
12/15/2019
NO TRADE
Price: N/A
Quantity: N/A
Total Cost (with fees): N/A 

Trade History:
Day 1) Buy 1 unit- Price: 0.00001611 BTC, Quantity: 84.20909241
Day 2) Buy 1 unit- Price: 0.00001636 BTC, Quantity: 82.92227865
Day 3) Buy 1 unit- Price: 0.00001599 BTC, Quantity: 84.84105558
Day 4) Buy 1 unit- Price: 0.00001615 BTC, Quantity: 84.00052500
Day 5) Buy 1 unit- Price: 0.00001592 BTC, Quantity: 85.21410042
Day 6) Buy 1/2 unit- Price 0.00001618 BTC, Quantity: 41.92238809
Day 7) Buy 1/2 unit- Price 0.00001614 BTC, Quantity: 42.02628496
Day 8) Buy 1/2 unit- Price 0.00001632 BTC, Quantity: 41.56275976
Day 9) Sell 1 unit- Price 0.00001670 BTC, Quantity: 84.107
Day 10) Sell ALL units- Price 0.00001824 BTC Quantity: 462.59148487
Day 11) NO TRADE
Day 12) NO TRADE
Day 13) NO TRADE
Day 14) NO TRADE
Day 15) NO TRADE
Current Holdings:
BTC: 0.01464834 (10 units)
STEEM: 0 (0 units)
*Disclaimer: I am not a financial adviser and this is not financial advice. This information is for entertainment and educational purposes only.