Yep, @mmmmkkkk311 is really having at it, with a vengeance. "Destroying" this post.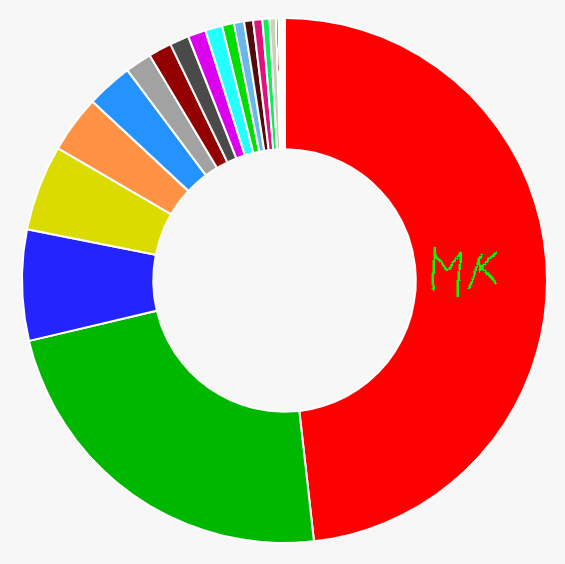 Almost half of all the votes combined? I would agree if I was @haejin and I would have hundreds (or even tens) of euros worth of votes on that post.
But alas, I am not @haejin, or @berniesanders, and I don't get rewarded unfairly for my posts, even if I sometimes get voted proportionally more by the SBI than I get from my organic voters. SBI doesn't vote at the same rate indefinitely, as there is a limit to how big votes you can get during one week. So I might get a 30 cent upvote every now and then if I'm not very actively posting, but then if I get active the rate will get lower each time.

The truth of the matter is that even if I do get some small upvotes from the SBI, I still have to rely on organic voters instead, if I wanted to get actual real rewards from my posts.
I am a huge proponent of organic voting, but sometimes you still prefer a safety net, or an encouragement factor. I used to be making 0 cents on most of my posts. This is definitely an improvement. And I do dare to ask, why @mmmmkkkk311 wants to disagree.
(I bet he would like that any post that isn't a Pulitzer prize winner shouldn't get anything.)
In a developed country like mine, 15 cents doesn't really amount to much but an encouragement, but if I were in a poor 3rd world country, that might just enable me to live for another day. If that were taken away, I'd probably be crying murder.
Now think about it, while you downvote away all of my potential 50 cents of rewards. Doesn't it make you feel good about yourself? You, @mmmmkkkk311 are a real Hero.
I however am not intimidated by your revenge campaign, and am not going to stop sponsoring people on Steem. No no, I am going to continue with a passion. I have now sent SBI sponsorships to some 30 commenters in my posts. I have also delegated 1000 SP more to the cause via @ambyr00.
I hope you like swans. They are cute.
Now that you have regarded mainly those who support people through SBI sponsorships (instead of "the innocent victims" of said sponsorships), I will do the following: As long as I get insightful comments on my posts, I will try my best rewarding them, by sponsoring them through the SBI. It may cost me some money, but I am prepared to do this as long as your vendetta goes on.
I am not going to let the blockchain to fall over and diminish into another shitcoin because a bad actor like you, who wants to impose his own rules on the community. I fought others before you, and I will now take you on. Your challenge @mmmmkkkk311, has been accepted.
Here are those people who I recently sponsored:
@pardeepkumar @theguruasia @fraenk @omsoc @emdivs @kaminchan @lanzjoseg @markkujantunen @celestal @eveuncovered @tarazkp @oldguyphotos @cryptoandcoffee @pearlumie @rehan12 @xawi @apsu @insaneworks @jokinmenipieleen @thenordicway @borran @thenordicway @katharsisdrill @felixgarciap @davidke20 @magnata @kaerpediem @varunpinto @dswigle @njord @blazing @turpsy @daabi2006 @ddrfr33k @tristancarax @wongbraling @fleur @glastar @elizabethbit @practicaleric @jonnyla08 @ninahaskin @jorgebgt @teenagecrypto @daabi2006 @cwow @improv @stever82 @evernoticethat @r2cornell @funnel @flaxz @emergehealthier @justlee87 @j85063
And @mmmmkkkk311... But I hear that he's been blacklisted and can't get any SBI upvotes. Anyhow, those have fortunately been burned for the benefit of others.
At this note I will leave this post.
See you!