A few days ago navigating the ecosystem I found this publication that proposes the reduction of Power Down time from 13 to 4 weeks, I must confess that immediately this caught my attention and I read several publications: Vote for 4 Weeks Power Down! Vote for @thecryptodriveWitness!, that support the proposal, I decided to join, vote for @thecryptodrive as a witness, vote on his proposal and write this publication inviting you to consider the proposal and join it.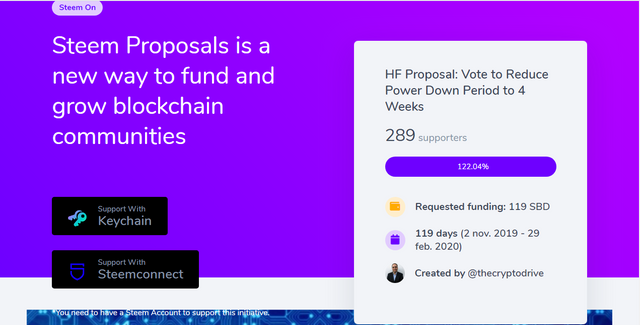 Reasons why I joined.
Personally I think that the arguments used to present this proposal for later implementation, make a lot of sense and are very relevant. If we take into account the decentralized nature of this platform, those who invest money want to have full control of their resources, logically respecting the regulations that may exist, in this case the blocking of funds for 13 weeks.
The reduction of this period can be an attractive incentive for more investors to come to the platform, knowing that they can dispose of their investment in a relatively short period of time.
"The premise behind this change is to reduce the barrier to entry for investment into Steem and PoB SMT's, currently it is daunting for investors to lock-up their capital for 13 weeks. While 4 weeks is still high compared to other chains like EOS , it is a positive incremental iteration in the right direction, with low risk of market sell-off. It can be further reduced in a future hardfork if proven to not have adverse market effects. "
@thecryptodrive
How to join and support this proposal?
If you want to support this proposal you can do it in a simple way, there are three platforms through which you can access to support this proposal:
https://steemitwallet.com/proposals
https://steempeak.com/proposals
https://steemproposals.com
---
In my case, use https://steemproposals.com and I want to show you how you can do it by accessing this link, then select the option of the proposal.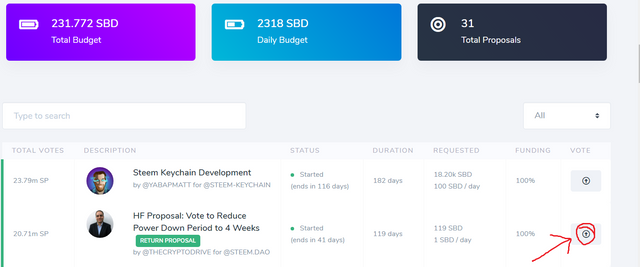 ---
In the next step you must enter your username and choose Steem Keichan or Steem conet to authorize your vote, I chose steem conet.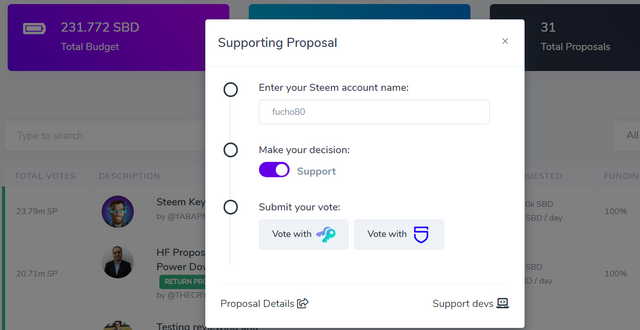 ---
Then it will ask for your username again and your active cave to complete your operation.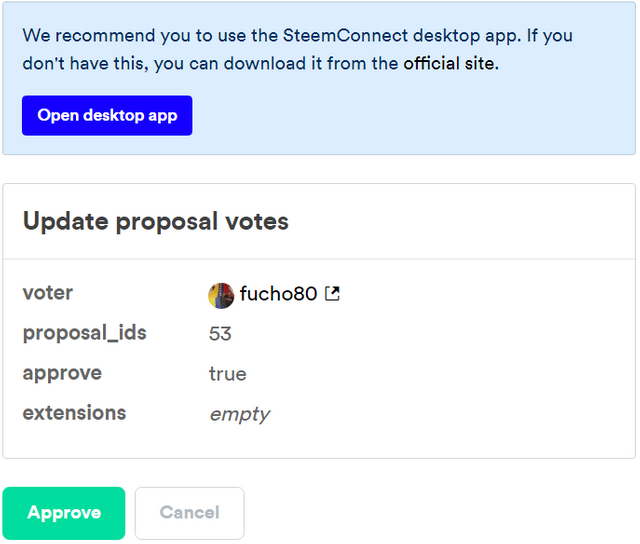 ---
With these simple steps you will be supporting this proposal that will serve to attract more investors to this platform.
Currently the proposal has received the support of 289 users, so you have time to join and present this proposal to others if it seems feasible.
If you want to have more information on this topic, I invite you to read the original publication that contains the proposal.
HF Proposal: Vote to Reduce Power Down Period to 4 Weeks
Thank you for your support of this proposal .
---
PROJECT #HOPE An Initiative to give hope!
---
Partners supporting my work:
---
Visit our website

---