Hi,
My dearest Vital Statistics, My dearest Friends here I am again sharing the wonderful Sundate together with my family. Yesterday my husband go to the see and find my favorite seafood. Actually when the see level is low lots of people go to the sea and find seafood. But my husband is different haha he goes to the sea and finds urchins and after he done collecting the urchins he brings to our place so we together happy eating.
As you can see my son really wants to taste the urchins but he really refuses it due to he never saw that food before haha what a ego. All he wants is to play in the seashore honestly my son rarely to visit the sea because I was afraid my mine is not good maybe he drawn or something like that. That is why when we are in the seashore my eye always focuses on him.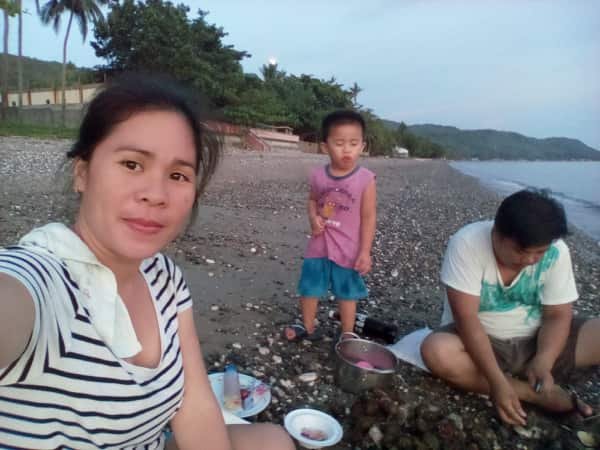 While I was capturing photo my husband can't wait to eat urchins I know one of his favorite also haha, take you time my love I know you are hungry. Thank you for the love and care to us especially to our son you are the best dad I ever had.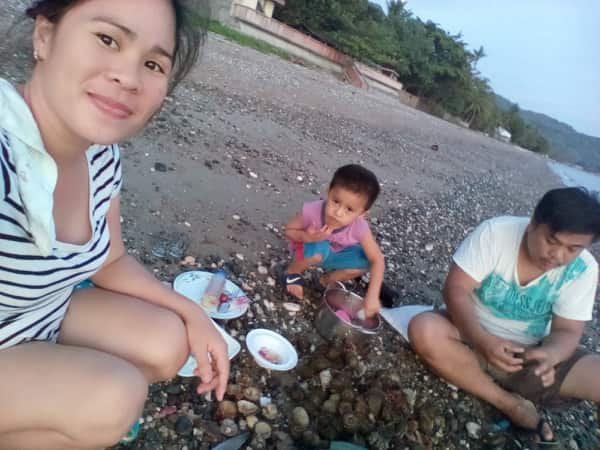 So here it is my husband found assorted urchins. Let us see what we have here Ahhm! my husband found DAPAO-DAPAO in Visaya dialect the gray one. That urchin found in the sand you can use a knife to get off into the sand. Mostly found it into mad sand or white sand to the sea. Next is DAPAO-DAPAO same as the first-mentioned but this one is different and easy to find because this one you can see on the surface or into the seaweeds the one color green. Lastly is My favorite we called here in Visaya dialect is SUWAKI, Suwaki is found in the seaweeds also and the taste is different from the other two mentioned. Suwaki is very delicious and creamy slimy and satisfies hahaha. The colorful one is the SUWAKI.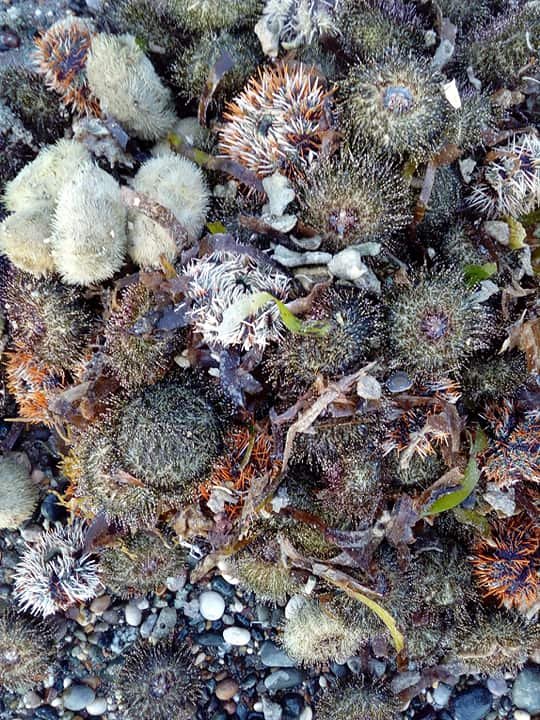 Just take a look at the meet of the urchins. What do you think? do you like it or not if not haha just comment below if yes just comment also and give me positive comments hahaha anyway just kidding.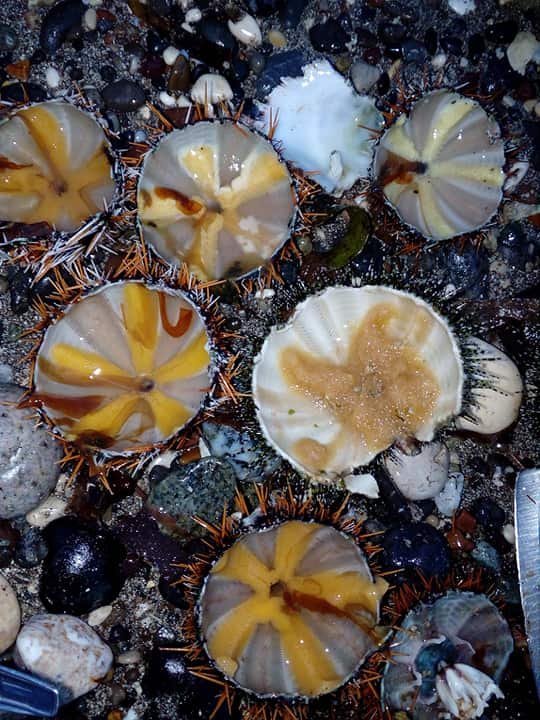 Just take a look, my husband, he really love to eat the urchin he never asks me to eat or something like that hahaha he was a focus on his eating time. Will, after I have done, take photo documentation I take my time to eat. But for now, I love to take s photo to share with all of you guys even if I am not good in writings but I am trying to be one haha sorry for my English grammar I know there are words crossing apart hahaha...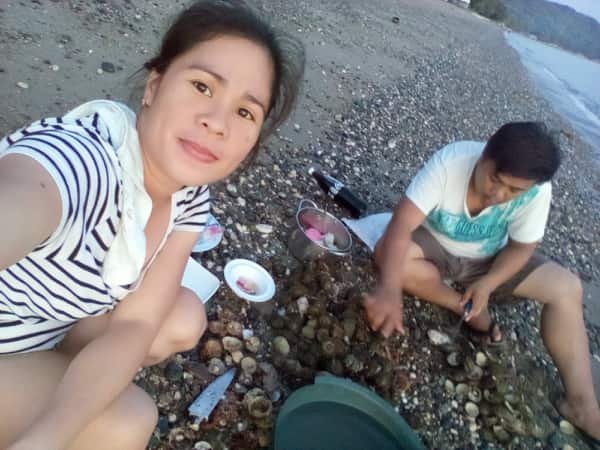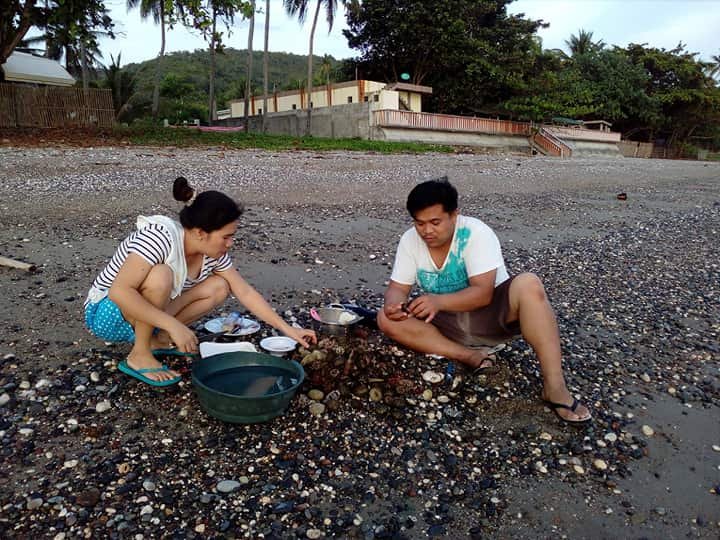 Now I take my time to eat I ask my nephew to take a photo so I started to eat urchins. How to eat the Urchins. First, you need to take your knife because the shell of the urchins is hard to break that is why we use knife to break the shell in a half. After you chap the Urchin in the half you see the meet and then clean in into the saltwater P.S slowly clean the urchin so the meat won't drop or damage haha or sea after you done clean you'll see the meat in the urchin. Different urchins different meat color. As you can see the finish urchin above. The color orange meat is the SUWAKI and the brown meat is the DAPAO-DAPAO meat.


This one is also DAPAO-DAPAO but different to other one DAPA-DAPAO mentioned this one found into the sand and the meat is light brown. This one is a sweet taste like SUWAKI too.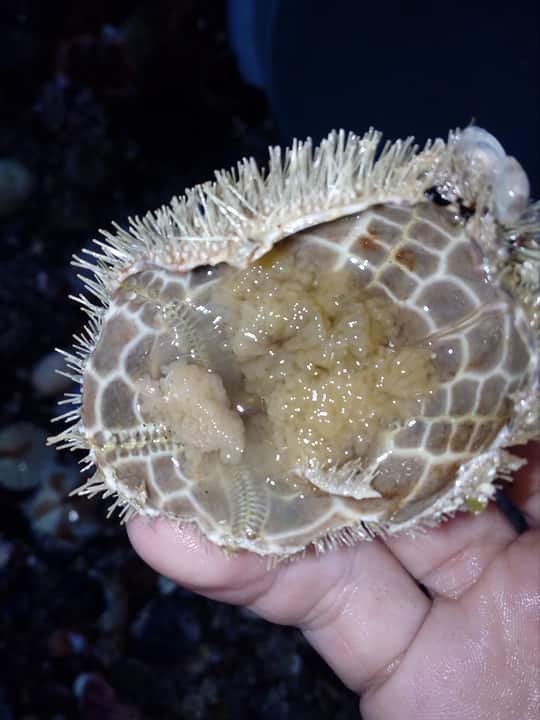 I hope I enjoy your eyes and mind to see my simple SUNDAY Bonding together with the SEA URCHINS. Thank you for your reading and have a nice day everyone!
Sincerely your's
@dcrealyn
PS. Hi, is anyone can help me to make banner hehehe I am just asking thank you once again and Happy Mondy to all.