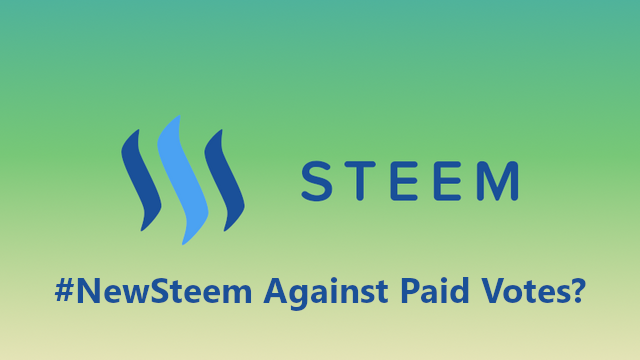 ---
For all the criticism the latest Hard Fork has received, regarding diminished payouts, it has also had a significant effect on bid bot usage. I think most people can agree that it's quite nice to see more organically upvoted posts hit the Trending page. That's not all though, SmartSteem has also decided to move away from the bid-bot model & focus more on manual curation.
I would never have thought that we'd see such a big difference so soon after the new HF was implemented. The people utilizing bid bots on a daily basis have now either stopped or they've declined payouts on their posts. The ones that still use bid bots, have seen a massive increase in downvotes. The quality of the Trending page has improved greatly, in my opinion at least.
---
Bot Vote Statistics
I'm not great with statistics, heck, the one time I tried to query the Steem blockchain I failed epically & decided it wasn't worth the effort since there are other people who are much better at it. There's one person who has been posting daily statistics for ages now, I highly suggest you follow him and upvotes his posts! I'm talking about @penguinpablo of course, his statistics show a clear decline of bot votes.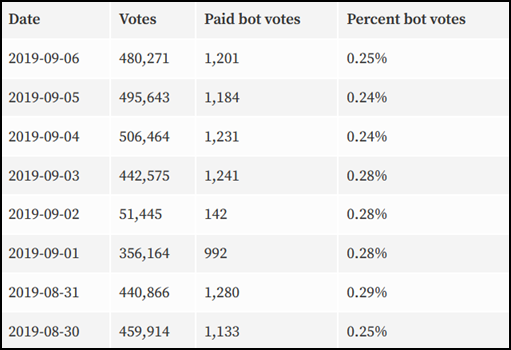 Source
The data in the image above shows the percentage of paid bot votes for the past 8 days. Do check out his original post, it includes much more statistics, plus you can also see the decline on a graph. I'm not including everything here, so you still have a reason to have a look at his post.
Now, compare those stats with these ones from the beginning of August, pretty significant difference I would say. We're not even at the 2-week mark yet from when the new HF was implemented and yet we're seeing such a decline in paid votes already.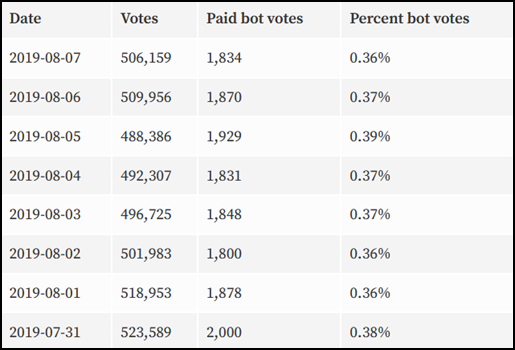 Source
I'd actually suggest to @penguinpablo to also add downvote statistics to his posts, that would be very interesting to look at these days! If anyone has access to those statistics from the previous months, so share them, I'd love to be able to compare those.
Need for Promotion
I do understand that there actually is a need for people to promote their posts, but it's clear that the Steem community is now stepping away from the bid bot approach. This recent post from @theycallmedan had some really interesting discussion about that in the comments below.
One interesting suggestion I had seen there, was basically to revamp the native Steem promotion mechanism, to include posts from the Promotion page on the Trending page.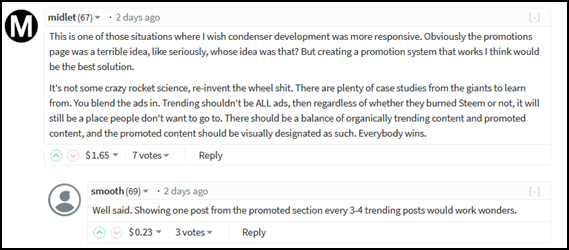 Source
In general, I do think Dan has made a great overall point with his post. Now, I personally think that there needs to be something better than bid bots in place, but his general plea for a promotional tool that takes quality into account does resonate with me. It's these sorts of discussions we need to have at this point, now that the bid bot issue is lack into the limelight.
---
Conclusion
For me, this current HF is one of the most interesting ones to see unfold. I'm particularly stoked to see if these effects will remain in the long term or if it's just temporary. I had always been of the mindset that something had to change and while I wasn't 100% sure that this HF would be the perfect solution, I was actually completely in favour of it for a long time.
Now that I'm witnessing the effects firsthand, yes I have actually received a bit more downvotes too, I'm sure that this was the right move to make. My rewards have gone up in general and I don't mind people downvoting if they really don't like a post I've made. It's a necessary curation tool in my opinion and that's what proof of brain is all about.
While I wasn't really against all uses of bid bots, I was very concerned about the influence they had over the Trending page. It's good to see that their influence has decreased quite a bit!
Do let me know how you feel about paid votes and if you've also seen a change!