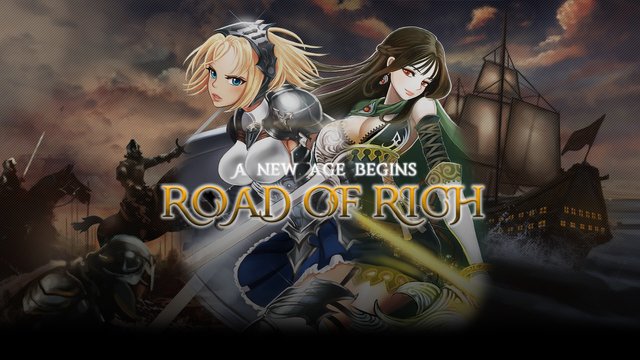 Road of Rich is a new game that you can now play, that is utilising the Steem and SteemEngine blockchain tokens. But what is this game about, who developed it and what else is being built by them?
Road of Rich is a Strategy Role Playing Game (SRPG) with the option of purchasing in-game currency (depicted by a diamond) with Steem. But why would you spend your hard-earned Steem on a game? To earn tokens of course! RORS tokens can be bought using the in-game gold you earn through gameplay. The game itself is a clicker game where you send mercenaries off to work and gain resources that can then be sold or used for crafting.
The team behind the development of this game is based in Korea and the game has a large Korean following. A good point to add is this team has already made games over the years and is looking to remake them and launch them on Steem!
The ROR Team is building much more than a gaming company; it is developing a whole new community here on Steem. They have even launched their own Steem Inventory (steeminven.com) front-end to be a hub for all ROR content.
The Token economy in the Road of Rich game is designed to compensate players and RORS token holders for 100% of their paid-in profits, this is a system that has not been attempted by any other blockchain game until now. All profits paid from ROR games are included in the compensation pool account and managed. A certain percentage of the reward pool will be rewarded to players and RORS token holders every day, and as the reward pool increases, the value of the token will increase.
The ROR team also attended G-STAR 2019, a global gaming exhibition with 691 companies and 3,208 booths from 36 countries attending the event this year providing great exposure and networking for both Steem and ROR.
For more information on the Road of Rich game and the RORS token, see the links below:
Start Road of Rich game: https://www.rorsteem.com
ROR Official Discord channel: https://discord.gg/vyPHGk6
ROR Official Homepage: http://roadofrich.com/
ROR Official Kakao talk channel: https://open.kakao.com/o/gHpYWMkb
Daily Report: https://steemit.com/@ror.pay
ROR Game community: https://www.steeminven.com
Road of Rich Promotion Videos
---
FOLLOW THE @BTUNIVERSE BLOG FOR CRYPTO NEWS ON STEEM!
| Visit our website for more! | Subsribe to our YouTube Channel |
| --- | --- |
| | |
Set it up today and contribute to building a better tomorrow!


( Want an easier way? Use our SteemConnect proxy link! )
Get support and connect with us and other BuildTeam fans!



---
Disclaimer: This is a @steemvoter subscription payment post. Thank you to Steemvoter customers for allowing us to use your Steem accounts to upvote this post by virtue of your free subscription to the Steemvoter.com curation automation service. @steemvoter is proudly a @buildteam subsidiary and sister project to @dlease, @tokenbb, @ginabot, @steemsports, @btuniverse, @steemsports-es and @minnowbooster.
Beneficiary Declaration: 20% to @ror.pay in support of Road of Rich