My fellow contributor from the same company, I came to inform you we are still surviving under the roof of MAP247. Our company currently running really slow and I could not see much activities from our 1MDB company. I have planned to shut it down, but I also promised my fellow investors we will make this happen. However, things does not go as well as we expected. Some of the event highlight here for your attention.
The great Obyte
Originally, we were signed up with the idea of playing the games and getting paid #steem. In order to gain, we first have to spend to upgrade our facilities, so we can earn more. The problem is, after we have spent thousands of precious cryptos, and the officials decided to move on with paying #futures which has very little future from the Obyte platform. Anyway, we understand this is a game, and it is under beta. So, shit can really happens.
Back to Steem Engine
Finally, the useless #futures has been removed and replaced with #DWD which has a market in our very own #steem #blockchain. The very first launch, I have decided to sold all liquid #DWD for Steem and we have a very handsome payout few months back. I did not study much about the background of the token, but I went with the gut feeling. Anything can be printed freely via games, ultimately it will loses its value over time.
Removal of big upvotes
Since 3 days ago, #fundition had stopped voting fellow drug lords. We, as one of the late comer that had spent thousands are still half way through digging back what we have invested in. Set aside the amount of time we spent infront of the computer screen trying to scrub pieces by pieces of extremely cheap #DWD, getting upvote virtually is the only source of income for #bossku. That however, is no longer available. In exchange, is a much smaller scale form of upvote. The latest we obtained was yesterday, and it was only $0.20. You can click here for further detail.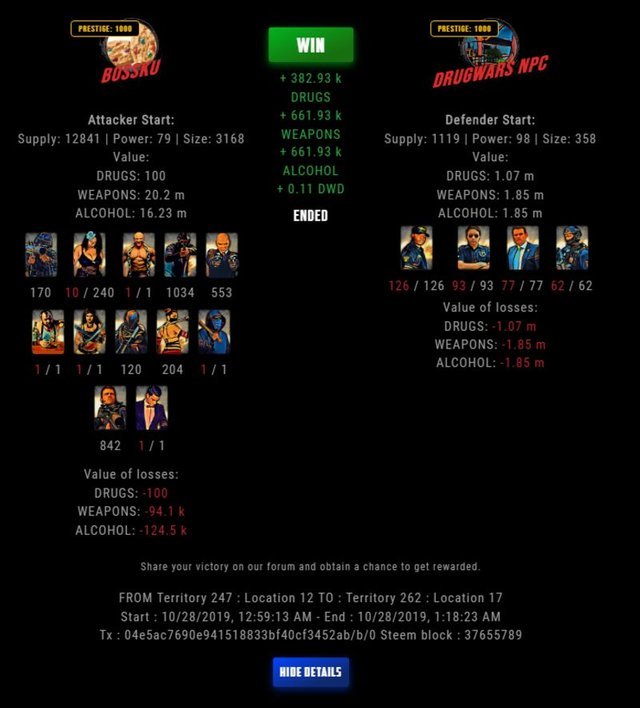 Moving forward
We are indeed at survival mode. The initial #sports token we took in, is not getting us anywhere close to a sports dolphin just yet despite the number of token increased, but it devalued faster than ditching a jumbo jet. We will be continue to attack the NPC, claim some rewards and sell our DWD for liquid #steem. The account will continue to power down and we shall have another payout in 6 weeks time. I will try to come back more often to give you guys some detail report.
Thank you for your past contribution my fellow investors
@bitrocker2020
@davidke20
@joannewong
@littlenewthings
@elizacheng
@bboyady
@wilhb81
@janicechua
@wilsonkoh
@joelai
@zord189
@auleo
@foodblogresteem
@craftsofluv
@kimzwarch
@itrmarcusliew
@beverlyjoe
@djlethalskillz
@ericet
@cherryng
@bsfmalaysia
@qurator
@scrooger
@francesaw
@kaerpediem
@iamjadeline
@jaysmasterpiece