It's been a loong day. Here's the raw upload of the meeting that just concluded between Steem Witnesses and Tron and Exchange Representative Roy Liu.
I'll edit this post with more info and thoughts after a nap.
There are some gold moments in here, but unfortunately not the sort of concrete actions we would like to see from Tron/Steemit.
Discuss :) <3 There will be another meeting in approximately 24 hours
Edit: I'm not sure the witnesses viewpoint needs to be repeated here. We just did it for nearly 3 hours on repeat. I think there's some valuable self incrimination to be found here and I'll mostly let the recording speak for itself.
Here are some other relevant events for context that day
Previous Meeting with Justin Sun (March 4th)
In which Justin declares that he has no interest in interfering with governance on the Steem blockchain (among other things)...
Justin Sun appeals to the Korean community for votes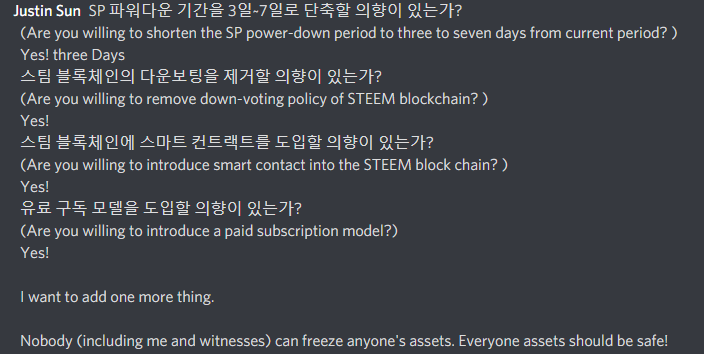 Justin started trying to buy the votes of the korean community by saying he will implement any changes they want, as long as they vote in his witnesses. J came for a short discussion full of happy platitudes, vague hype and claimed he would do anything they want if they just vote for steemits puppet government and let them rush through a hardfork on their own. He left eventually, seemingly to go to bed.
Justin Sun flips out and rage posts
Despite public assurances of not wanting to interfere in governance issues, and then reaching out to Korean stakeholders appealing for votes for his puppet witnesses, for some reason Justin Sun felt this immutable blockchain transaction was a great idea.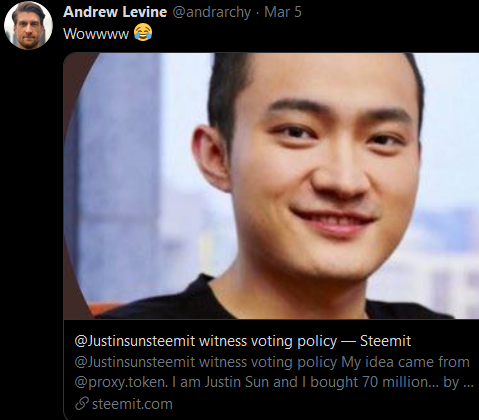 Here's an image - thanks to bernies spam bot (that feels wrong to type)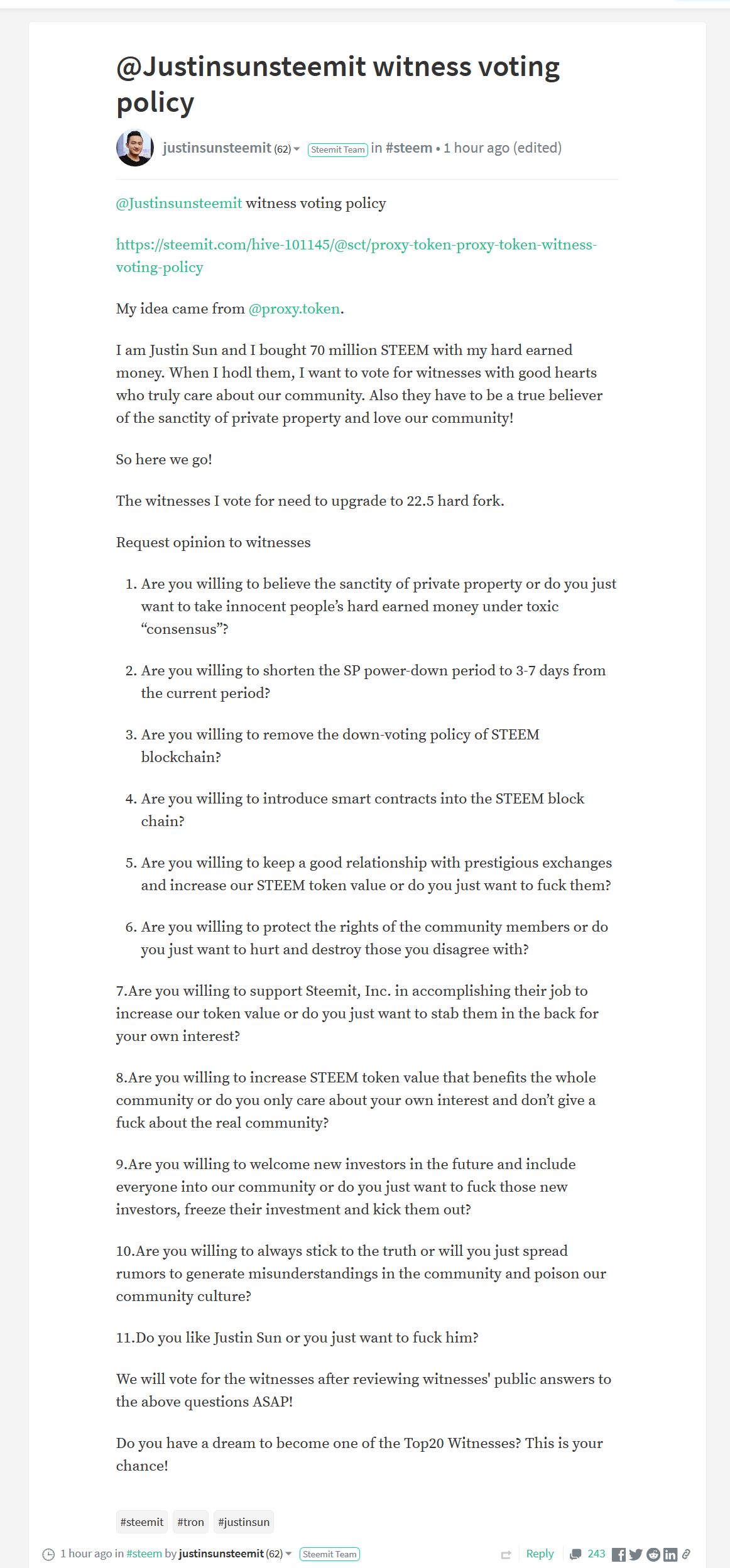 A new tactic, lets just make new witnesses out of anyone that agrees to rush through his exchange bailout fork asap.
He seems angry, desperate, and confused about what he's even trying to do at this point.
The memes will sustain me through the winter ahead.
I answered his questions, and watched the chaos as people tore him apart in the comments, discords, slacks and twitter. I even sent his updated statement to John Mcafee who has publicly aligned with our community (alongside Vitalik Buterin, Dan Larimer, Andreas Antonopolous and many other respected minds in crypto).
Once things had hung for a while, I pinged Roy Liu on the Steemit slack. I've done this dozens of times (more politely usually) with no response since he was invited not long after the "Partnership" announcement weeks ago.

Next minute we got a panic edit the post to just "Happy to talk to community".
I immediately commented to him with a copy of his own original post again :)
MSP Town Hall
We've been doing some intense, long public discussions on all aspects of Steem for years now, but more often since the hostile takeover started. Unfortunately I don't personally have a recording of yesterday's town hall but it exists. If you have it please link below.
We were deep in a town hall with hundreds of participants when lots of this drama went down live.
Not long after the post edit, Roy Liu (Tron) and Eli Powell (Steemit) appeared in the town hall and we got to see an attempt at damage control. Lots of (but not all) witnesses were present, and there were some interesting moments but it was announced that an immediate meeting was required. With emotions high, wiser minds insisted on a short preparation period (and time to contact other witnesses). That meeting is the original point and embedded at the beginning of this post.
Ned.
Ned is a bad steemian, and should power down.
He's recently been trying to assist Justin with their disinformation campaign against Steem and it's governance system.
One of his last replies was actively calling in the SEC among others ..
Ned deleted his whole twitter history a few days ago.
Ned blocked 90% of the "steemitans" who disagree with him on twitter.
Next he started actively spreading misinformation in a twitter thread.
Somewhere around @justinsuntron's post edit, @ned posted a "come to discord" thread announcing he wanted to talk.
What transpired was a surreal clusterfuck of incompetence, lies and confusion.
I begrudgingly turned up to record these 39 minutes.
I had a lot more, but I removed a heap of his "technical difficulties" as he figured out discord.
I commented with the recording on neds post, gave him a final "fuck you ned" and moved back to meeting prep.
I've seen him doing the rounds on a bunch of other discords, asking people to vote for the steemit puppet government. He seems pretty desperate and lonely to me these days. If only he had engaged with the community before he decided to fuck us all, maybe things would be different.
Final thoughts (for now)
I have no interest in freezing or interfering with the funds of random exchange users.
My priority is the security and sovereignty of the Steem blockchain.
I don't appreciate being bullied into accepted untested, rushed code from unknown developers , with no public discussion, in order to "do a favour" and bail out the corrupt colluding exchanges who are still holding us hostage
I'm struggling to see how todays meeting will be different, but I'll still try.
Please follow me on twitter and help spread the truth about the #steemhostiletakeover .
Please vote for my witness along with other trusted witnesses or set me as your witness voting proxy.
We still need as much stakeholder support as we can get in order to stop a rushed hardfork against community consensus.