Ladies and gentlemen, allow me to introduce you to Potcoin who joined the I ❤ Steem campaign and is advertising Steem to over 30k followers.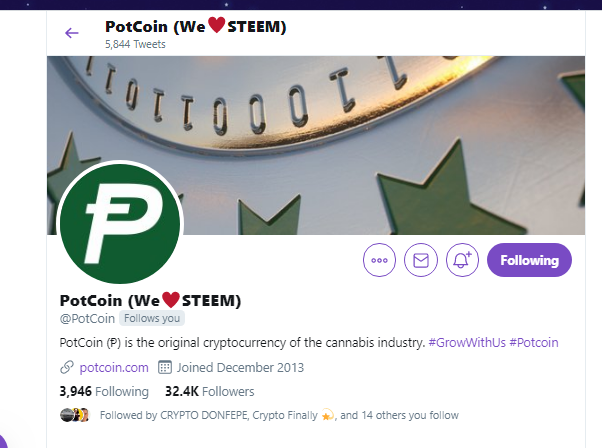 is an ultra-secure digital cryptocurrency solution for the $250 billion dollar global cannabis industry.
PotCoins are digital coins you can send via the internet, which allow cannabis enthusiasts to interact, transact, communicate and grow together. PotCoin is a global community based effort.
source
Potcoin is currently worth approximately $0.0052 according to Coinmarketcap at the time of writing. They are also among the early members of Steem community, here's a link to their Steem Page
Promoting Steem on Twitter
Promoting Steem is a collective effort and people like @stephenkendal @theycallmedan @ocd @clixmoney and a host of others are constantly spreading the word about the platform. If you're on Twitter, please come join the party. All you have to do is include or follow either of #steem, #posh #steemit, and #steempeak tags to meet other Steemians there and keep the conversation flowing.
Join the "I ❤ Steem" hosted by @stephenkendal by including the phrase "I ❤ Steem" to your Twitter name


Gained 10 more followers to get my follower count to 1036.

Promote your Steem content on Twitter using #posh and #steem or #steempeak tag. Sponsored by @ocdb @ocd

Use the tag #promo-steem on your steem articles and posts that have to do with promoting steem on other platforms. Sponsored by @theycallmedan
In the last 24 hours, my interaction with Steem content on Twitter has created 1,645 impressions

link to tweet
My Strategy is to;
Interact with tweets related to steem
Interact with people promoting their Steem content on Twitter
Here are some tweets to come and interact with