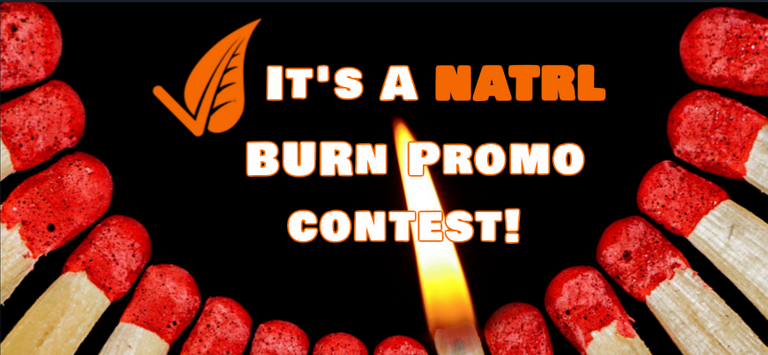 Almost one week in and we are ready to Burn NATRL! Any rewards that @naturalproducts has earned on our posts this week is going to be sent to @naturalpromo and it's gonna burn baby!
But not so fast!
We're going to send it to burn through @naturalpromo by promoting your posts! Here's how to get a NATRL Burning-Promo! It's pretty simple, create a #naturalproducts post.
Follow these simple rules:
Create a relevant, quality-based Natural Products post and post it in the #naturalproducts tag.
Please refer to the posting guidelines:

Natural Products Posts: Guidelines when using #naturalproducts in your posts!

Make sure you add an appropriate subtag - (see the list of tags on the left-hand side of our main page at http://naturalproducts.today).

Do it before noon (EDT) on Sunday.

Paste a link to your post below in the comments.
(We're gonna exclude recipes and garden photo posts for this one)
That's it. We'll select a few from the submissions and promote them on the front-end as a NARTL burning-promos during our burn party! You'll earn a ton of NATRL on the promo page. It's a two-fer.
It's going to be HOT!
We can't wait to see your posts!!

Join fellow #naturalproducts lovers on naturalproducts.today
---
Become a supporter
Become a supporter. We're looking for like-minded individuals to help support the #naturalproducts front-end project through delegations. Your delegations will help to support contributors and the further development of the front-end. Your support will also allow us to help ensure that the quality of content is high and consistent with the expectations of the community and industry and that posts are rewarded.
You can use these custom links to delegate to us on steem:
30SP, 50SP, 100SP, 250SP, 500SP, 1000SP
Join #naturalproducts on https://www.naturalproducts.today!
---
The NATRL token is a utility token specific to the NaturalProducts.Today site (based on Steem) used for curation, rewards, and contest promotion. The token price is market-driven and may never have any value.
images:pixabay