A video can tell a thousand words, Right? And in this digital era video-sharing became one of the main trends. But in centralized platforms, we always have to worry about our control over the data. This is when a decentralized video sharing platform creates interests.
You may already familiar with the decentralized video sharing platform but what I'm gonna introduce today is a step ahead in this technology. The name of the platform is Antube. It shares the ecological value and profit through blockchain technology to the effective contributors in the ecosystem.
What is Antube?
Antube is an innovative mobile video community. It shares its ecosystem value and profits back to users who effectively contribute. Time is money, so make your every second count and valuable.

Antube is the first ecosystem application that DATA has incubated with GroundX, the official blockchain platform of Kakao (Korea's largest social media company).
It is a blockchain-based mobile video community that combines DATA's wallet, SDK and M3 mobile decentralized distributed storage framework, allowing users to mine coins based on the effective attention spent on viewing mobile ads and videos. Yeah, you can get rewards by creating high-quality content, effective contributions within the community, content viewing and sharing.
How to get started using Antube?
Antube is a mobile based video platform. That means you only can get access to this community through your mobile by downloading the apps.
They have Android and iOS versions available. Just download the app and launch it.
Android app download link
iOS app download link
You can see the User Guidline for more details.
There are different options for signing in, just choose one and you will be ready to go in a minute to earn rewards.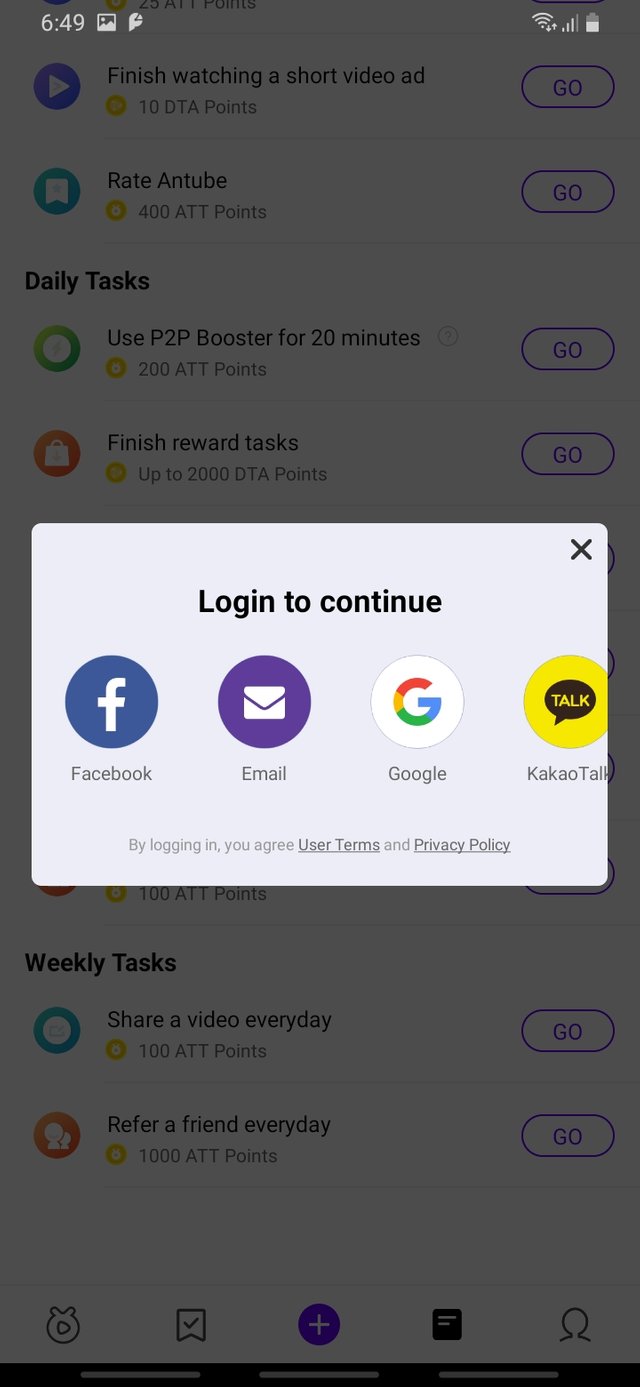 Main components of Antube
To be honest I really like the useful features of this app. For me, it's not just a video sharing platform or something to earn rewards; it's more like a social media platform which can connect us with the world through videos.
The best thing is you can get a synchronized feed, like you can go on different categories directly what interests you.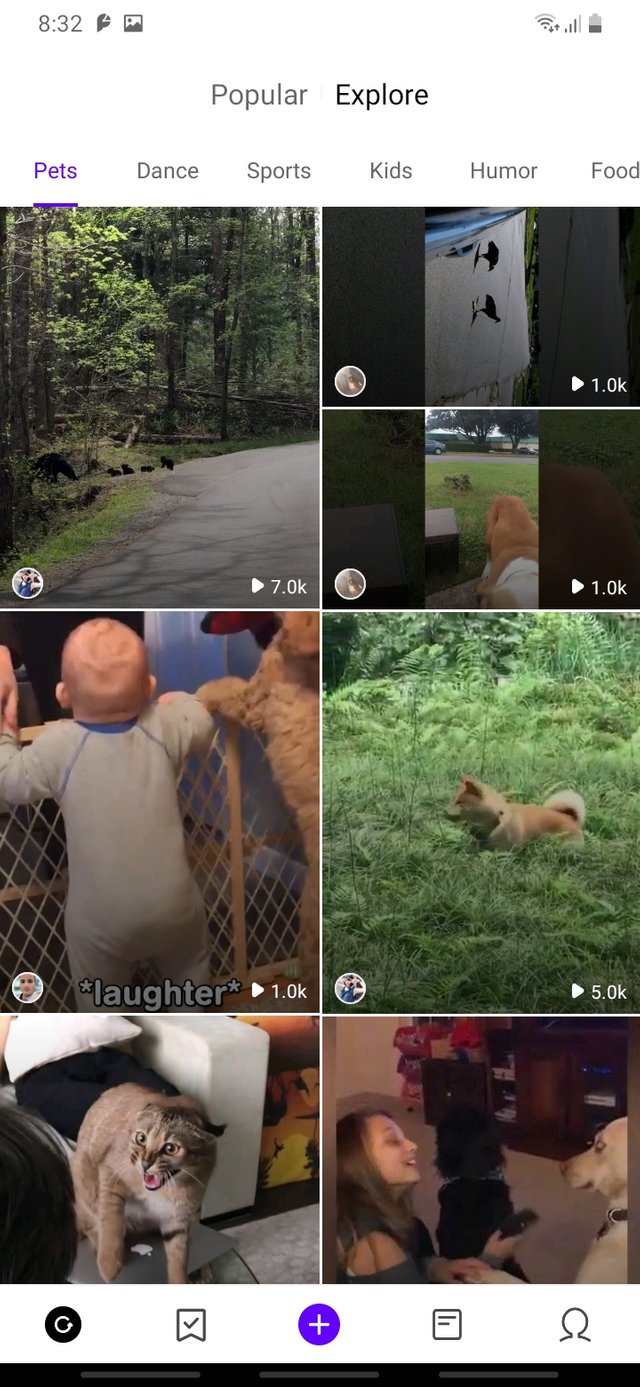 Earning Rewards
Earning rewards through watching video was never been easier, I feel so after launcing this site.
As you can see the loading button on the right bottom corner. It will auto-fill after watching a video and will load again.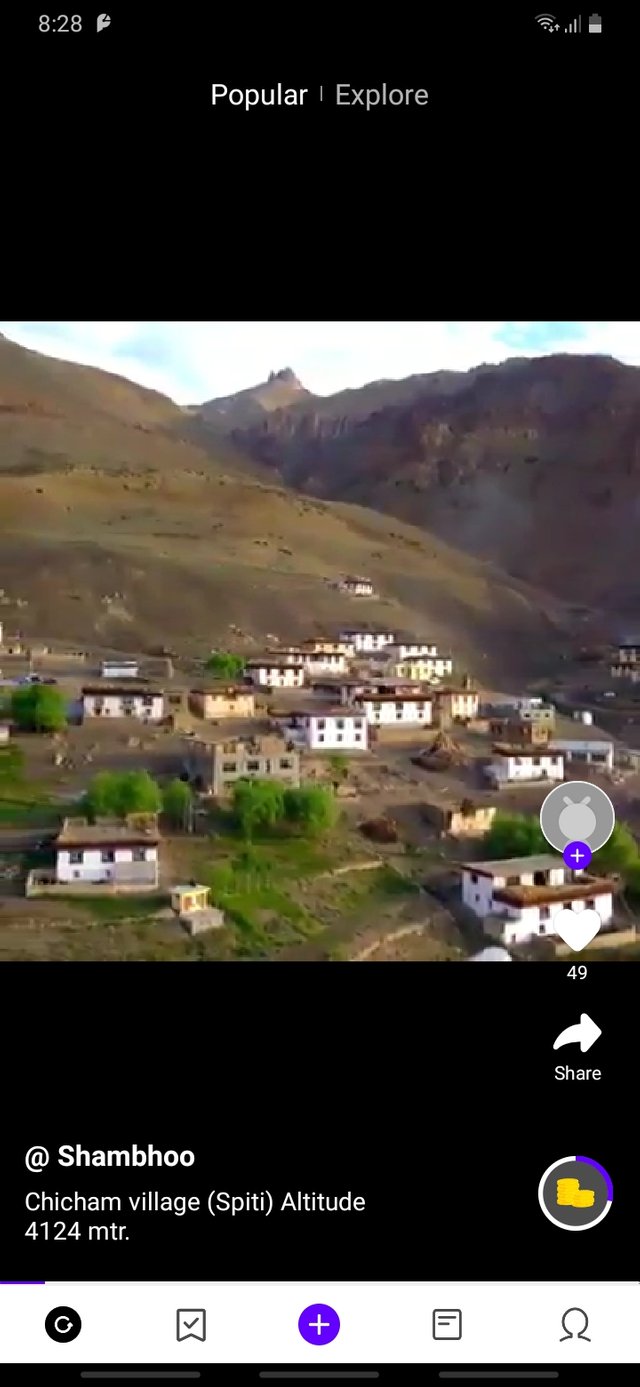 Also by checking in every day and inviting friends you can get rewards. There are also different features to earn rewards.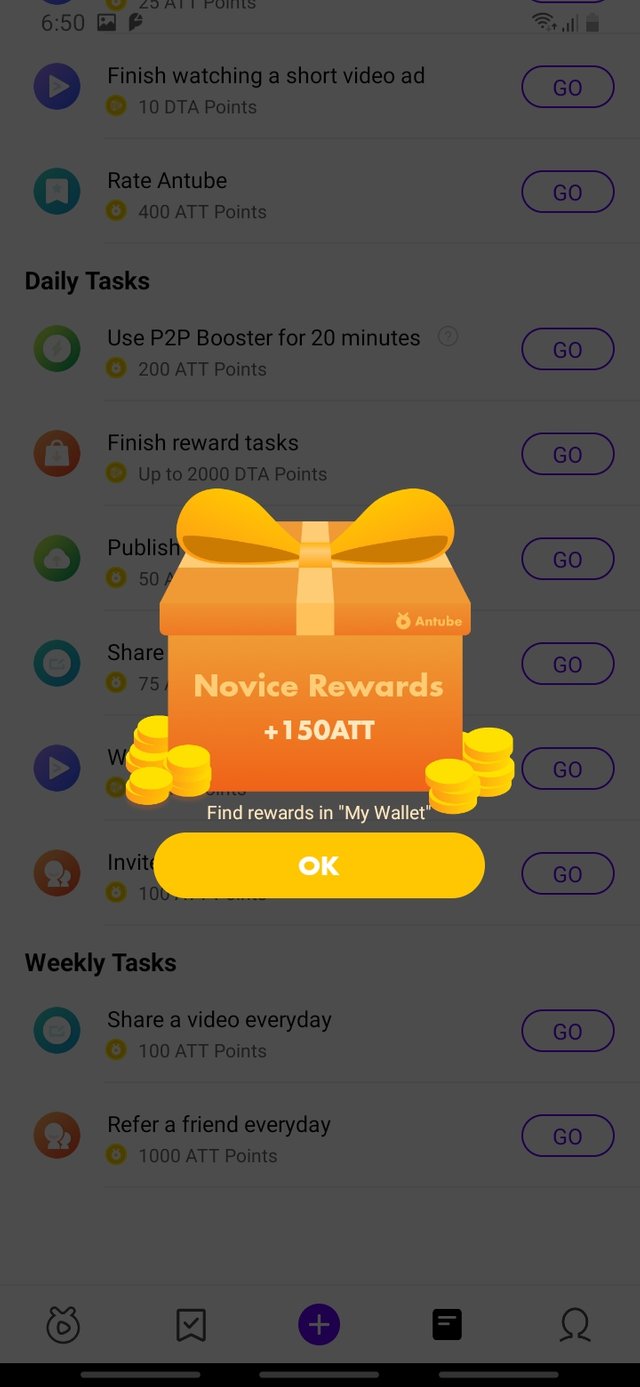 The wallet option is like any other smart wallet. You can scan the QR code for transaction.


Also, the account management features are also very user-friendly. If anyone is not familier with English, they can switch in other languages.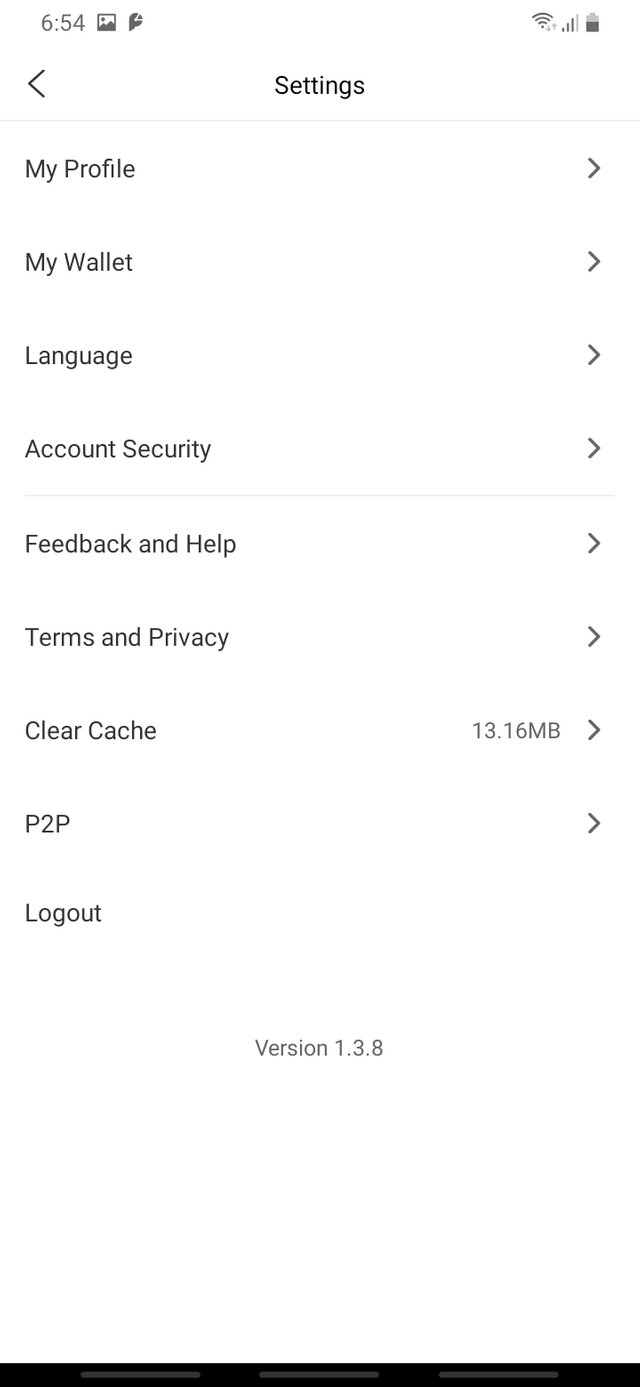 What I like about Antube
The reward system is the most attractive one for sure. Not only creating a video but also by viewing and sharing we can earn rewards/Antube Token (ATT).

I love the data privacy and data ownership of this app. You can feel the true meaning of decentralization here.

It allows importing videos from the different platforms which are really helpful.
What I think are not good enough about Antube
I hate ads and while scrolling through this app I got several pop-up ads and those can't be closed until it finished. Which I feel really irritating.

Ads!

Another thing, I couldn't find any search button. We have to watch as per their suggestions! Which I felt a little uncomfortable with.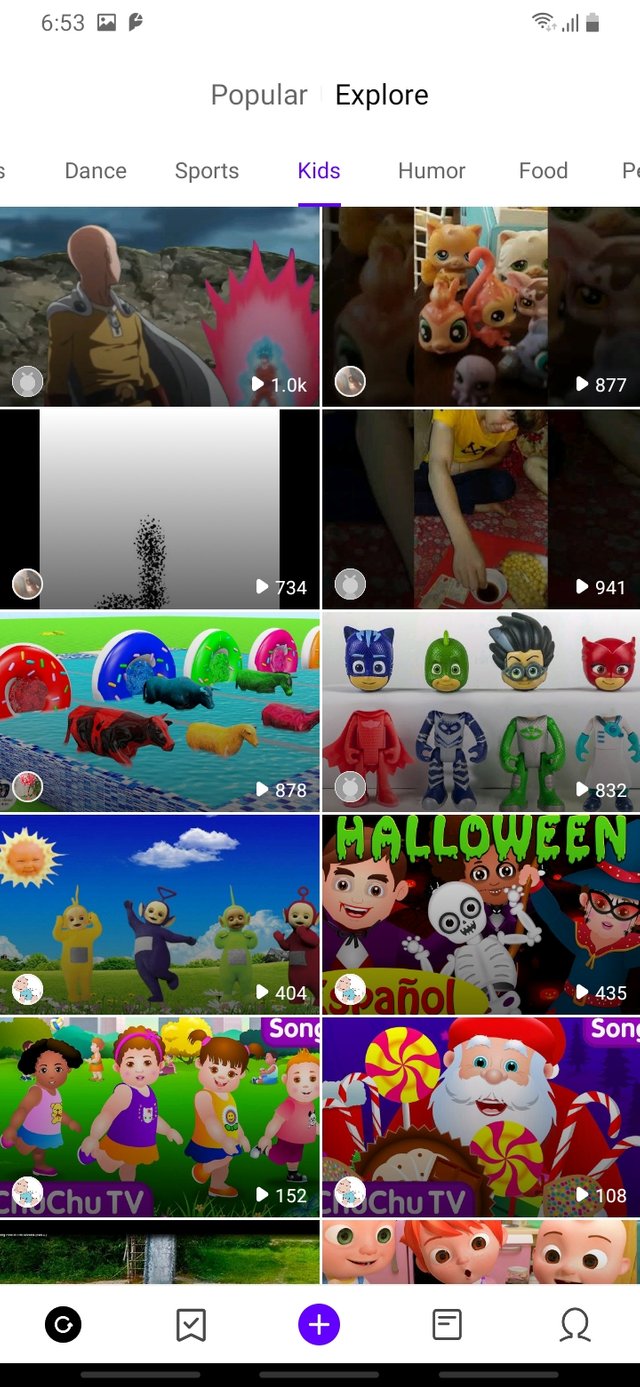 Final words
If the tokens got listed and become tradable this platform will become more meaningful. And I think there's a space of improvement in the interface. Also, ss it's more like a social platform where we can grow followers and earn rewards; than just a video sharing community, so I think, they need to follow a good marketing technique to attracts more users.
My rating
I'm gonna give it a 4/5 rating.
Enjoy your freedom of data and earn rewards!
Find the original contest post here- https://steemit.com/dapp/@dapplovers/review-a-data-dapp-and-earn-rewards-ft-state-of-the-dapps
Find other stats of dapps here-https://www.stateofthedapps.com/dapps?tags=data
Find the stats of Antube here- https://www.stateofthedapps.com/dapps/antube
Antube official page: antube.io
THANKS FOR READING