Hi there my Steemian friends and followers!
Originally, I was thinking about making two separate posts to cover both topics mentioned in the title properly and separately but I don´t want to clutter your feed (especially now with all the cross posting going on) so I am going to fit it all in just one post ;)
Traditionally, Sundays are reserved for golden hour photography here on my blog and since I took a really good one just yesterday, I didn´t want to deprive you of that shot so here it is :)
---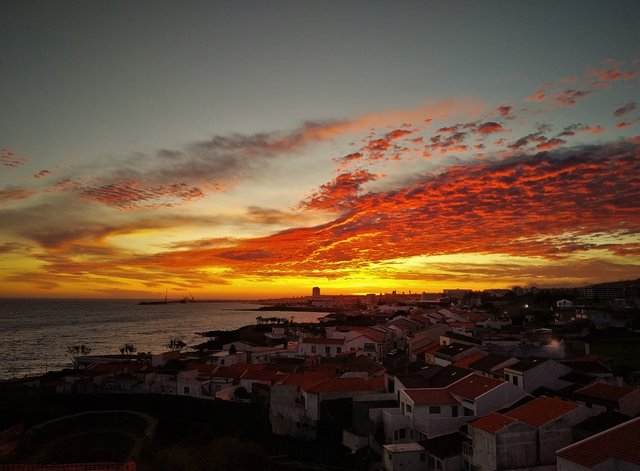 ---
I captured this fascinating sunset over Ponta Delgada, the capital city of the Sao Miguel Island, from a little lookout spot in the neighborhood of Sao Roque. Definitely one of the most impressive sunsets I have seen here in a while. Enjoy this colorful spectacle conjured up by Mother Nature herself.
---
And now the other topic - the latest SPUD. If you are not familiar with this term, let me tell you it stands for Steem Power Up Day and yeah, it´s about powering up Steem :D
This great initiative was created by @streetstyle and its point is to motivate members of our community to power up some Steem on the first day of each month. Today is March 1 and from what I have found out at the #spud tag, it seems that we are celebrating the 11th SPUD today.
You might know that some time ago (7 months ago to be precise), I set a goal for myself - to increase my SP by at least 1,000 Steem every month.
Today, on March 1, I am proud to say that February, in spite of being the shortest month of the year, was the 7th consecutive month for me to meet that monthly goal successfully. Unlike some previous juicy months when accomplishing that 1,000 Steem power up was pretty easy, February was a struggle for me and I literally had to power up like 99% of all my rewards to make it. A very close call indeed but to the delight of my (OCD-ridden, perfectionist & number loving :D) mind, I could enjoy this view of my SP being increased by 1,000 Steem throughout the month and thus rounded to exactly 19,000 in the last hours of the last day of February :) See you at 20k at the end of March! :D
---

---
I know that technically speaking, I miss the SPUD by one day as my major power ups usually take place on the last day of the month to meet my monthly goal and not on the first one but I pretty much power up all the time so hopefully, this post would be a legit (and inspirational) contribution to the SPUD initiative ;)
Enjoy the rest of your weekend everyone and have a great start to the new week tomorrow!
---
Don´t forget to submit your nominations to my latest upvote giveaway where I reward great but undervalued posts and if you like guessing challenges, stay tuned for the next round of my Monday tipping contest where you can win 5 Steem for guessing the price of our beloved crypto ;) Let me also remind you that I have just launched a brand new weekly series where you can share yours fresh natural photos.
---
This post was created by me for the Steem blockchain exclusively.
---
---
---
---
Thank you for visiting my blog. If you like posts about #nature, #animals, #ecology, #crypto, #traveling, #photography and discovering secrets and beauties of the #world, feel free to follow me as these are the topics I mostly write about. Have a wonderful day and keep on Steeming! :)