Today we celebrate the 3.1 or March 1st 'Manse' Movement for Korean Independence. I will also discuss #Mar2020SPUD, Coronavirus in Korea, and some random stuff I've been up to that wouldn't make an interesting blog on its own.
As usual for random stuff, I'm using photos and Titles, so just find whatever you are interested in if you don't want to read everything.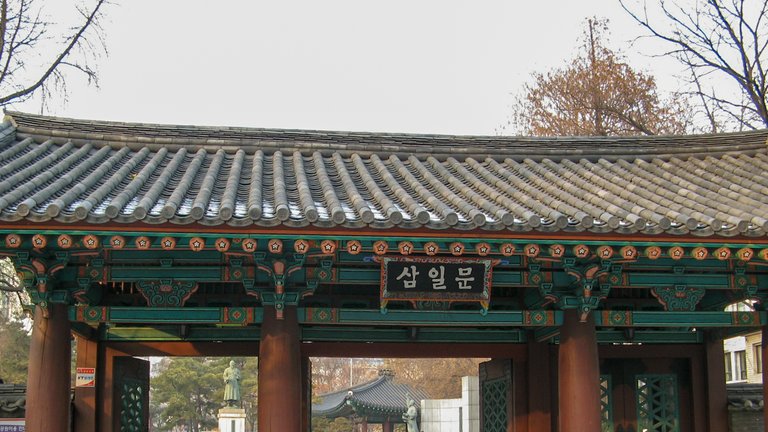 This gate literally says "3 - 1 Gate. It marks the entrance to a park with many statues recognizing Indepenence Activists. Many gates are written in Chinese characters, but this is a purely Korean movement so using Hangeul (the Korean script is fitting).
The Korean Independence Movement
On March 1st, 1919, Koreans got together and protested Japanese Colonialization of Korea. Although Korea had been a colony of Japan since 1910 and some people were upset about Japanese influence even before that, 1919 is considered the start of mass organized resistance. Unfortunately, Independence wasn't realized until August 15th, 1945 which is WW2, Victory Japan Day in Asia.
A few weeks ago, I wrote about Hyochang Park, that is where the Independence leaders and martyrs are honoured. The 3-1 Gate pictured above is the entrance to a park called Tapgol Park. It's honouring mostly scholar-activists from a generation before the militant resistance. Actually, I'll write about this later.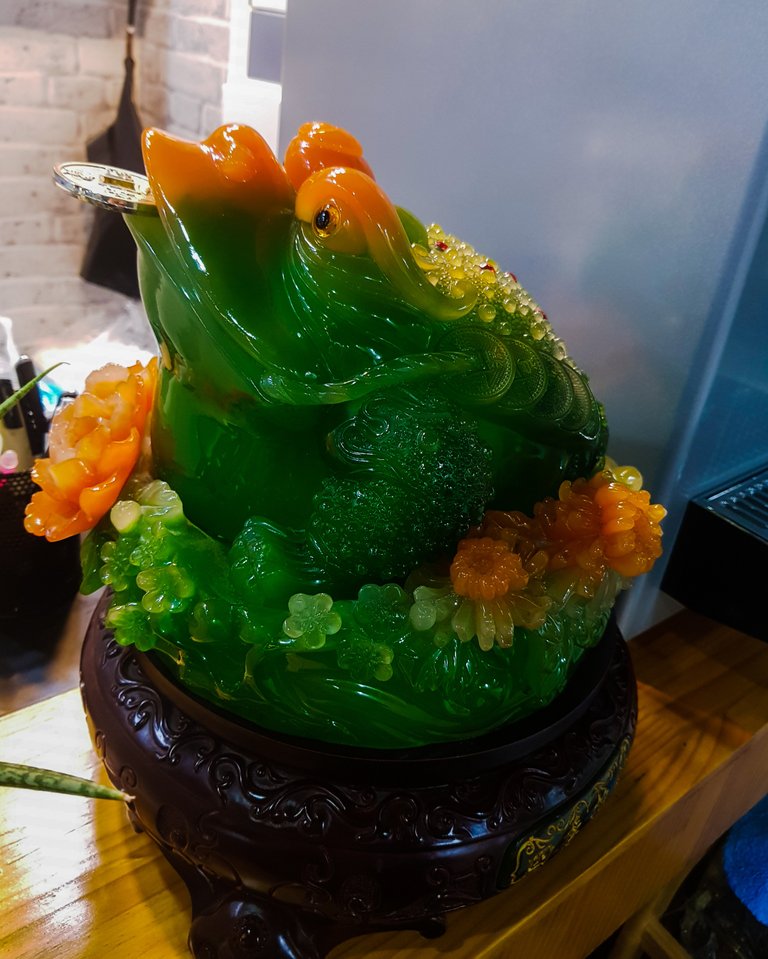 This has nothing to do with 3-1 movement, I just think its a lucky crystal toad.
The important thing to note about 3-1 movement is that it is now the 101 anniversary. Last year North and South Korea tried to have a joint meeting, but a disappointing result of the summit in Vietnam between Mr. Trump and Mr. Kim brought those plans to an abrupt halt. I hope we don't have to wait another 100 years to have Korea back as an independent and unified country.
The 3-1 movement is a popular day to wave flags and shout Manse which means 10000 years. It is similar to the Japanese war cry of Banzai in both meaning and use. These days a lot of Koreans just say fighting actually and patriotism isn't as strong as it was before. I hope people don't forget about how important freedom is.
Well, because of Corona Virus Covid-19, we have had a rather boring 3-1 movement. No one wants to gather in a large crowd and cheer. There aren't even as many flags out as usual. Hopefully, this business is over with by the next popular flag day 6-6 (memorial day).
3.1 MAR2020SPUD
I would never forget a SPUD day. I am proud to say that despite all the drama with Steem I didn't start powering down or anything and I am confident as ever. I had a busy month powering up in fact and I wrote 12 posts which is the perfect amount in my opinion.

It looks like I powered up 185 Steem today for SPUD11. I powered up a total of 354 Steem during February.
Looking at the numbers, I did really well this month. I'm sitting at 18,945 SP this month and it looks like I was at 18065 last month. Wow, that's 880 Steem Power more than I had for SPUD-X. I just try to write quality blogs and I don't abuse the system or the reward pool. What the hell is the point when I'm doing this well?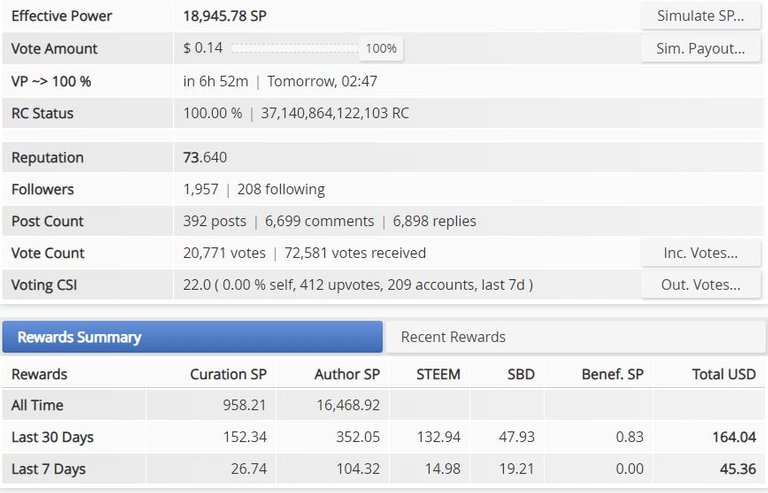 $164 in a month isn't enough to quit my day job, but I like where this is headed.
I know my rep and SP are way too high for @streetstyle's #SPUD11 contest, but I hope I can encourage people nonetheless. I'm not going to say how high Steem would have to go for me to stop SPUDDING and quit my day job, but we've got a long way to go still. I've never seriously considered that as an option anyway.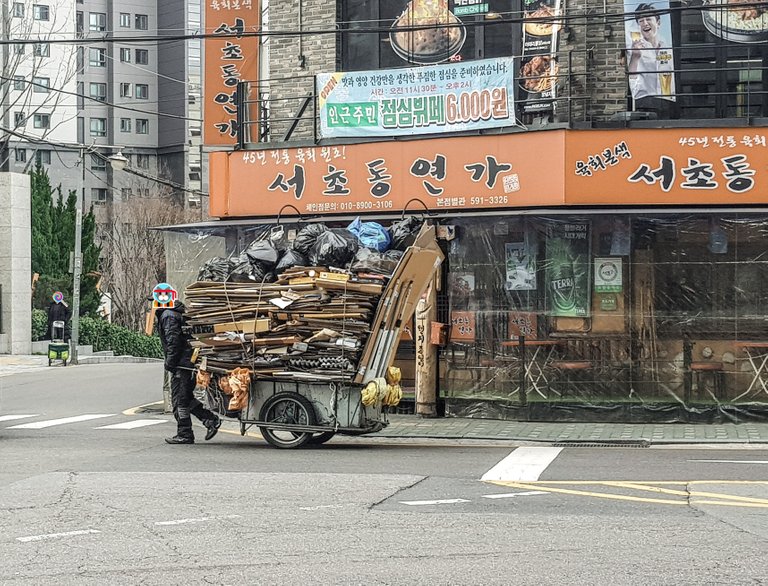 I have tremendous respect for the people collecting recyclables, the city would be a mess without them. It blows my mind that they make like 10~20$ a day when official sanitation workers hired by the city make closer to $120 a day.
Actually, final rant on that topic. People who want to fully rely on Steem for their job who aren't developers should think twice. Whenever Steem goes up, more people talk about becoming Full Time Steemians. It may be possible for a few people, but it's like Youtube or anything else really, the more realistic this is, the more people will be doing it, the less individual rewards will be. People who post too much also reach a wall, quality could go down and the curators get bored of their content. I think Steem is best to be considered as perhaps extra income or a side gig for most people.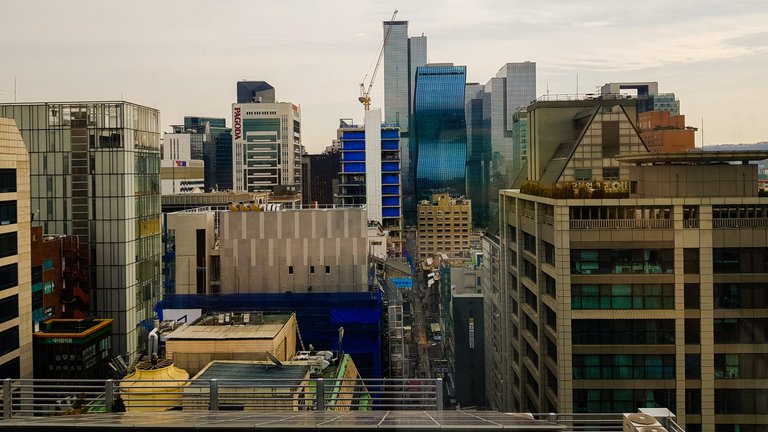 I finally found my way up on top of a rooftop in Gangnam (I've been trying since December). This building is only 15F though, but it still looks neat.
Corvid-19
It's really bad in Korea right now. According to the counter on this news site, there are currently 3736 confirmed cases. Schools are supposed to start March 2nd, but they are cancelled next week across the country. I am almost certain the delayed start will be extended until April as cases of the virus are increasing at around 500 a day!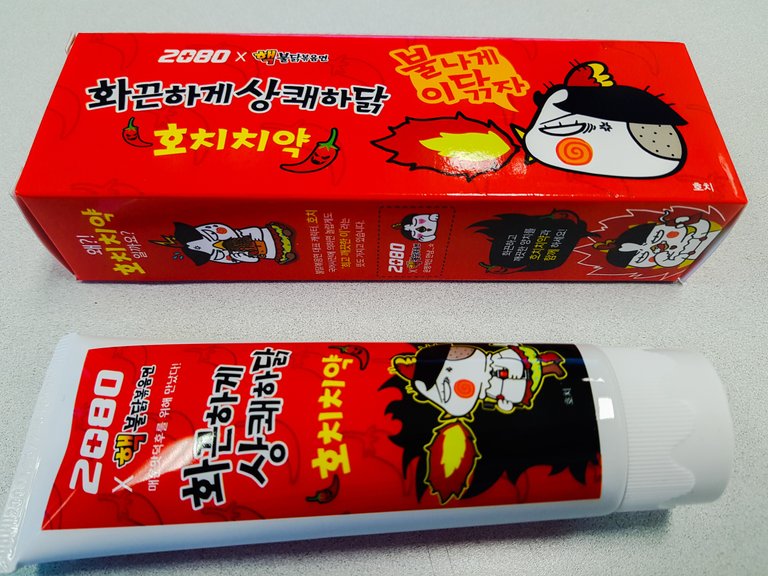 This is an odd toothpaste I bought. It looks like spicy chicken, it's bright red, but actually just cinnamon flavour.
There are signs all over the country telling people to wear a mask, cough into their elbow, no spitting and wash hands frequently. Actually, asides from the mask, I think these are good habits to always follow. Okay, maybe a mask should be worn in public if the air is dirty or if you are sick...
Actually, there are massive line ups for masks. I've heard masks aren't even that effective, so I'm not sure I would want to spend several hours in a line to maybe get a few. Fortunately, I bought enough to last a couple of months before it got worse. I especially like to wear them on public transit. If they are useless, why do doctors and the people spraying disinfectant wear them? I think they just aren't foolproof, definitely better than nothing.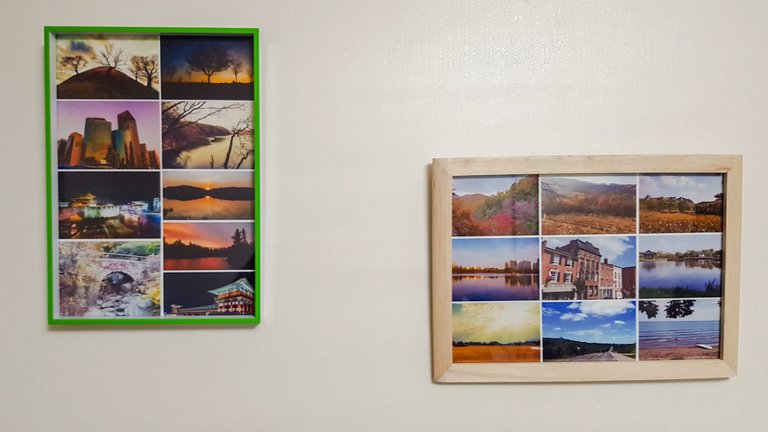 I printed out 2 more photo arrangements. I kinda messed up the one on the left, I've since moved the bridge at night photo up on the actual file.
It's bad in Korea. One of the reasons is Korea is actually testing and diagnosing patients accurately unlike a lot of other countries where it is probably at least as bad or worse. I read somewhere that America only tested 500 people while Korea is testing 10000 a day or something. If you don't seek, you won't find. Actually, this may have diplomatic consequences though as countries start banning Korea. Even China started banning Korea and the virus is already all over that country.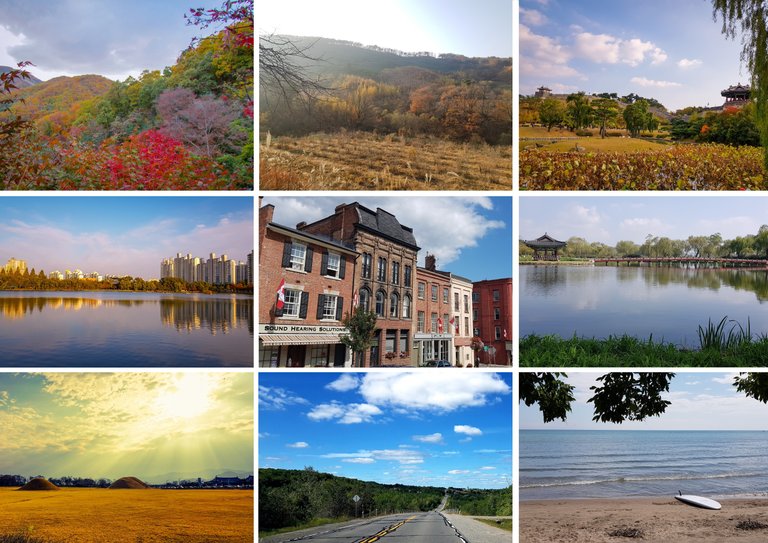 I just went with a simple grid arrangement here. It looks boring, but it's a lot easier to make especially with landscapes.
I hope this clears up by June. I don't want my summer ruined. I already cancelled 1 trip and I'm delaying another. I guess I'll have more time to look at photos. The economic damage is already pretty serious. Maybe I'll get some discounts on stocks. I don't even think the disease is that dangerous. I mean catching the flu sucks, but it's not like this is ebola or something. People are losing trust in the government and each other over what appears to just be a bald cold.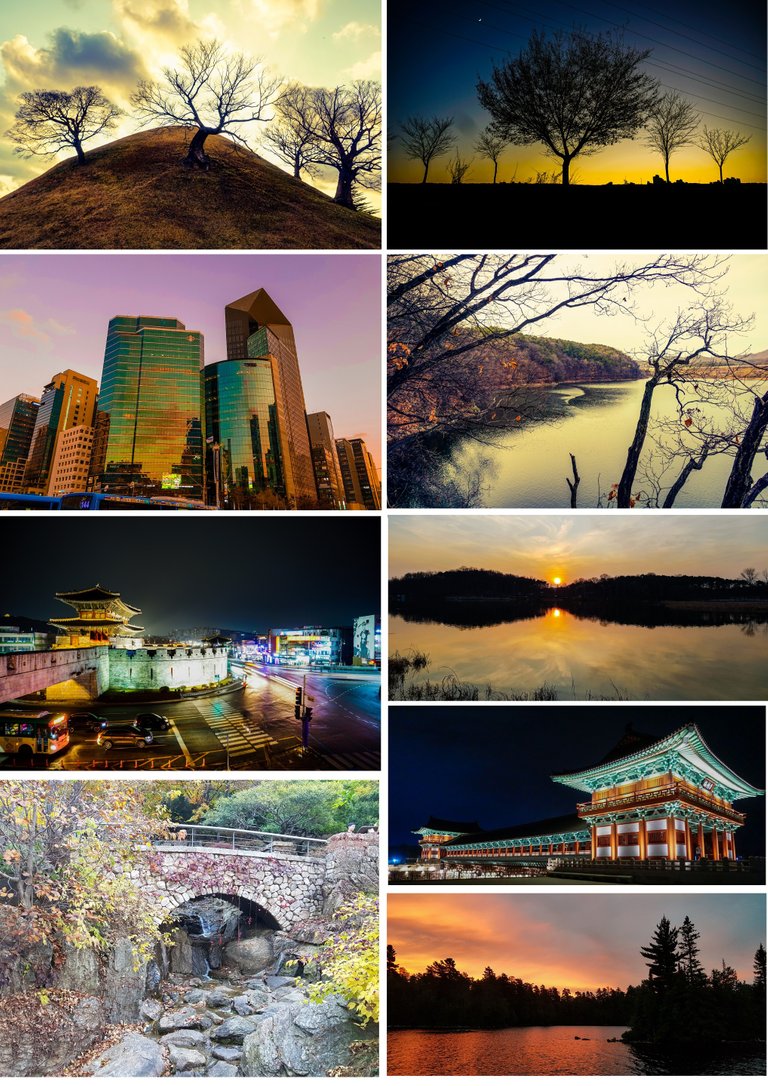 *I rearranged this photo so the bridge isn't on the bottom.
Random Photos
I guess I could just make my photo collages as large as A4 will permit or just buy 8X10 next time. 3X4 (1.33) is the closest normal ratio to A4 and 1.41 is the actual ratio. I read somewhere at 300PPI that is 2480 x 3508 pixels. I don't know, they look good when printed and on the wall.
As you may have noticed, a lot of my photos aren't random, but I did put a few in here. I still have a few blogs to write up on photos and I usually try to get 2 or 3 decent themed ones a month together. Winter is actually the hardest season to do it here because of the general lack of snow. Oh well, spring should be coming in a few weeks.