YES! No judging...
I can't help it. Steem has gone up by 0.08 cents and it is a good thing for investing a good card at the moment!
I chose the Fire Elemental today at level 2 (which I missed a better price yesterday) because I got slaughtered one too many times by this card when I face even with lower ranking players but with THIS CARD in their deck!
Even with my other level 2 cards for fire, this card was too fast before it was taken out by other archers.
---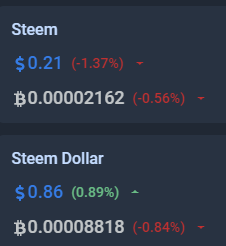 And since even with a bit of dip but it went up by 8 cents from my last purchasing in Steem (which was in $0.13 at the time) , I think it is no harm done spending almost 4 STEEM for this level 2 card.

At first I got one at level 1 with DEC before I spotted this level 2 card; and I managed to trade off for some Steem Power for the card. It's still a win win for me even though I wasted a lot of DEC.
It's okay. I hope I can get some leverage with higher leagues since I am now in Silver I.
---
Next... the new looting chest after every quest!

I was quite surprised yesterday after completing the quest I got 4 cards and 5 alchemy potion chargers!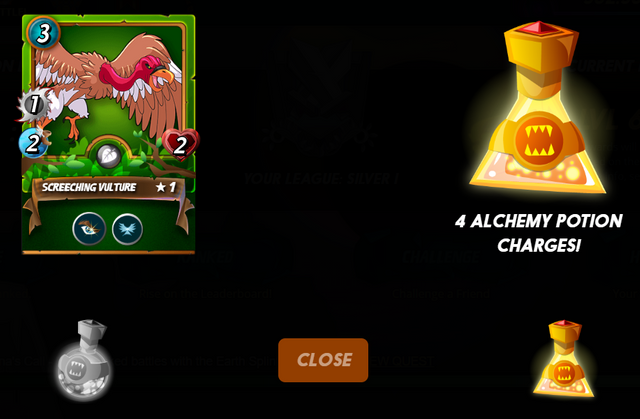 But surprisingly even though at the same level, after completing the quest, I only got one card with 4 alchemy potion chargers....
I am now wondering did the logic change again after 24 hours?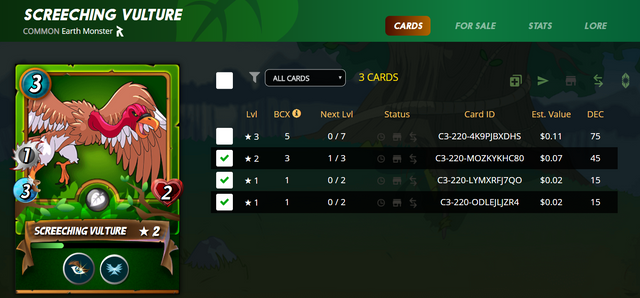 Anyways, trying not to feel too down I looked at the optimistic side that now I have 2 level 3 Screeching Vultures; and if I can accumulate another 2 more cards of the same level, then they will be ready to be set aside as wedding presents while being least out until they are ready to be given away.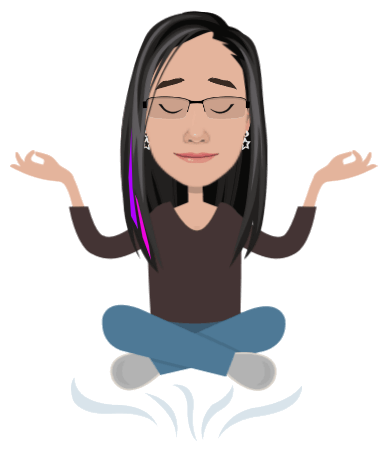 Yes... I am a very responsible adult. I will leave some head start for the little munchkins in the future.
That is.... I don't suddenly need to pawn them away for emergency use...
Let's hope I don't have to do that!
---
Until Then
---
1% of this post goes to null in the support of keeping STEEM alive