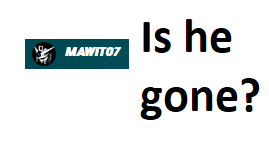 I have recently slow down in my steemit posting and communication through Splinterland's official discord channel. Why? Have I lost or given up in the game since it has consistently dropped in value for the past couple of weeks? I am very much still playing the game Splinterlands. As a matter of fact I have went straight at least 2 hours a day for the past couple of weeks playing. Weekend days I do at least 4 hours. The game has now taken so much time out of me that I am likely about to give up on other side steem games I have been playing.

I have lower my quantity of posts as a whole is because I am currently playing three accounts daily. The volume of matches is just taking more time out from me to making Splinterlands posts. Also on the side watching the stock markets doing crazy up and down moves is not helping the cause.

I do intent to continue playing Splinterlands for the definite future but since I am way out of wack with my schedules I need to plan on curbing my activities else where.

If you are playing the game you may be seeing me daily and just not know it ;) See you in battle.
If You have yet to take part in playing this great game called Splinterlands please click on my referral link. It is free but in order to earn real assets such as cards and token you would have to invest in a starter deck or purchase game cards. Join the discord to learn more. Good luck!

THANKS FOR READING! CONTINUE TO SPLINTERLANDS ON!