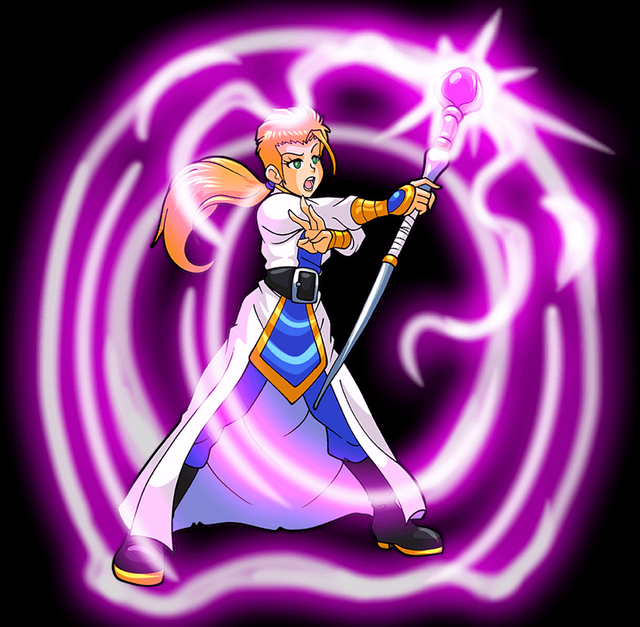 Divine Sorceress
I remember earning this rewards card when I first started playing Splinterlands. As I got into building my life splinter deck the Dvine Sorceress was mostly left out. Currently I have sold all my Divine Sorceress cards and had to rent one to participate in Splinterland's
Weekly Battle contest post.
I prefer self heal and tank heal cards versus Dvine Sorceress. Although the card's Shielded ability to avoid damage for first time seems unique.
The Battle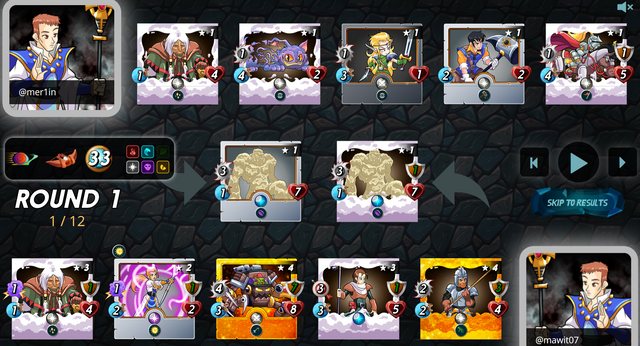 I had a match where the rule sets were slow and range attack can hit at front position. This I thought suited well for the Life Splinter since I had a few good range attack monsters such as Peacebringer and Wind Elemental. The match up turned out to be Life versus Life splinter so my opponent may have thought similarly. The results of the battle as follows.
My Formation
I started with Clay Golem due mainly to its lack of speed and defense ability of void. Then I went with Silvershield Warrior and Peacebringer as backup attackers. I decided not to use Wind Elemental as it would be a handicap for having a higher speed value. I filled int Mech Goblin in the middle of the formation for sack of using as much of the mana I had left over and placed Divine Sorceress and Divine Healer at the back. Not an ideal formation but sufficient for battle.
My Opponent's Formation
My opponent had all level 1 monsters so off the bat I had the advantage. However the formation they setup was decent where as they similar to me had the Clay Golem as tank while putting Silvershield Knight at the rear to boost melee stat. Filling in the middle of the formation with Divine Healer and a couple of sneak ability monsters in Feral and Elven. Round out the middle with Armorsmith for a decent defense. I believe if their monsters were greater than level 1 than I would not have won.
Battle Results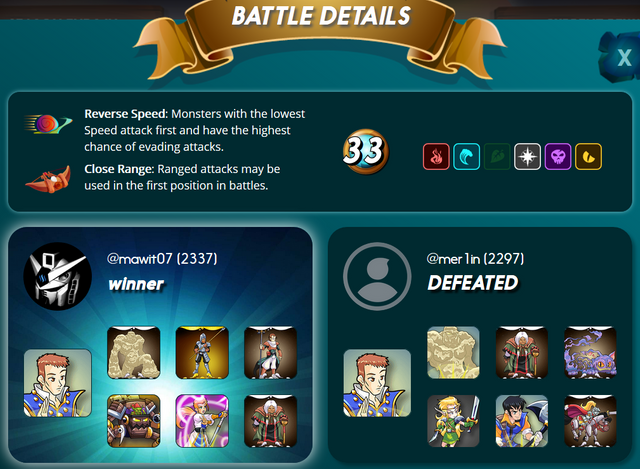 The match started out in favor of my opponent as both my Divine Healer and Divine Sorceress were knocked out. However my Silvershield Warrior and Peacebringer assisted with Golem in knocking out the remainder of my opponent's formation. The Mech Goblin was not even needed in the battle while my opponent's Armorsmith was an all-star as it held up their formation for most of the battle. If you are interested the battle link
here.
If You have yet to take part in playing this great game called Splinterlands please click on my referral link. It is free but in order to earn real assets such as cards and token you would have to invest in a starter deck or purchase game cards. Join the discord to learn more. Good luck!

THANKS FOR READING! CONTINUE TO PLAY SPLINTERLANDS!