When I first started learning to play chess, one of the first things my teacher told me was that I should always try to face stronger opponents than myself, because we learn so much more from our losses than from our victories.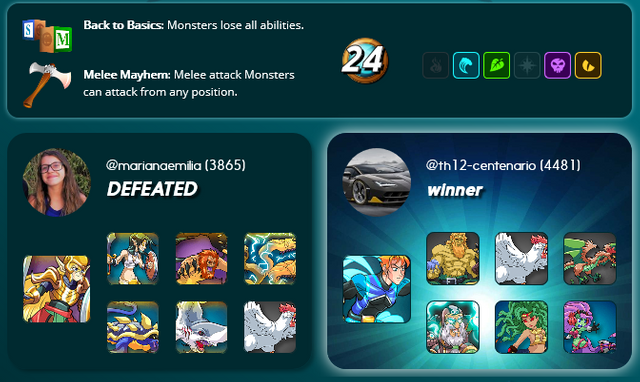 I have never forgotten this advice and has been helping me a lot to evolve and develop as a player, and more than ever now in
Splinterlands
.

In today's "League of Champions" tournament where I finished in eleventh place with a prize of 5,000 DECs, I got some important lessons.
Addendum: Unfortunately I started playing Steem Monsters not long ago, I wish I was one of the pioneers because today I could own have many valuable Alphas cards that I think are beautiful and would certainly I have more experience and know-how to play better, but let's make up for a lost time!
And as a beginner, sometimes I am surprised by certain strategies still unknown to me. At the moment, I can play like a genius and beat some very strong player, and then in the next battle commit the biggest mistakes. I hope to correct these failures over time for better results.
Today I bring a battle of the round of 16, which I lost, but it was positive for me to discover certain things, which may seem obvious to more mature players, but which for me, and I believe, for many beginners, are important.

@marianaemilia versus @th12-centenario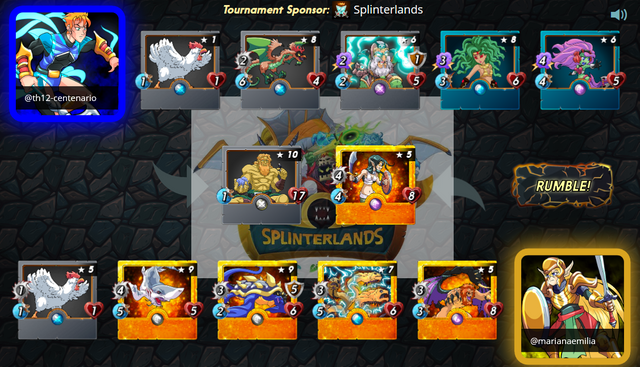 In the
Back to Basics
(Monsters loses all habilities) rule, I already knew how effective it is to use the
Pacific Giant
as a tank, followed by ranged and magic attack cards, to gain time absorbing damage.

However, in this battle, we have together to the Melee Mayhem rule (Melee attack monsters can attack from any position) and I automatically ended up choosing to place a bunch of pure beating creatures along with summoner Daria Dragonscale to further increase the damage of the cards.
It turns out that in Back to Basics, the Sneak ability doesn't work and everyone needs to attack the tank, similar to the Fog of War rule (Monsters loses de Sneak and Snipe habilities), and time and initiative are crucial, almost always It works better to choose a + speed summoner, and that's exactly what my opponent did.
My opponent also used a strategy very similar to Back to Basics and thus managed to win easily. If I had considered this and also put my cute Giant in the first position, I would certainly have more chances to win.
The difference is that in this rule melee cards also attack the Giant, so their use is not so disadvantageous compared to Back of Basics, in this case, one should use the math and check if the amount of melee cards used and the amount of damage applied by them, outperforms the offensive cards of the opponent, no matter what type they are, and so they can be as effective as ranged or magic attack cards.
The last observation is that low-cost mana cards such as Chicken, Creeping Ooze, Brownie and Cockatrice also help a lot in this type of battle when placed in front, as they can absorb high damage at low cost, causing the opponent to waste precious time, so my Furious Chicken in the last position certainly was a mistake too.
This is it for today, I hope you enjoyed it, and that my text had some clarity. See you in the next battles and tournaments!

---
Images: @steemmonsters
---