Splinterlands Untamed | Epic Lvl 2 WAR CHAANG, and Lvl 2 TORTISIAN CHIEF Evaluation
Okay, I lied when I said my previous post was the last of the Epics, because I found two more! They are the Epic Neutral monsters, the WAR CHAANG, and the TORTISAN CHIEF. Ether way we are closing in on 2500, so my last post will cover the remaining Legendary Cards.

Cards 2467-2475/2500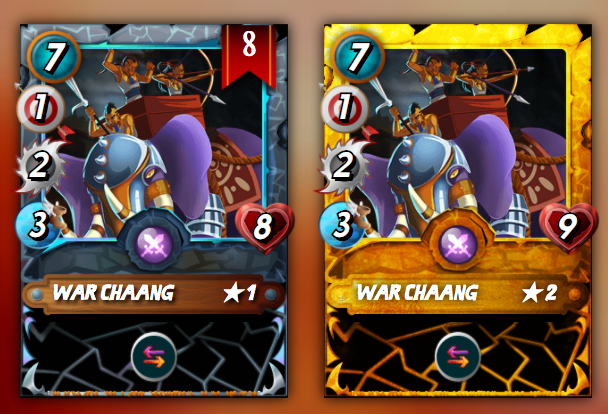 First up, we've got the WAR CHAANG. I believe chaang is Thai for elephant, so basically what we have here is a war elephant! It's a 7-mana combo card, meaning the elephant itself does melee damage, and the little ranged guys on his back can plink at the enemy from a distance.
---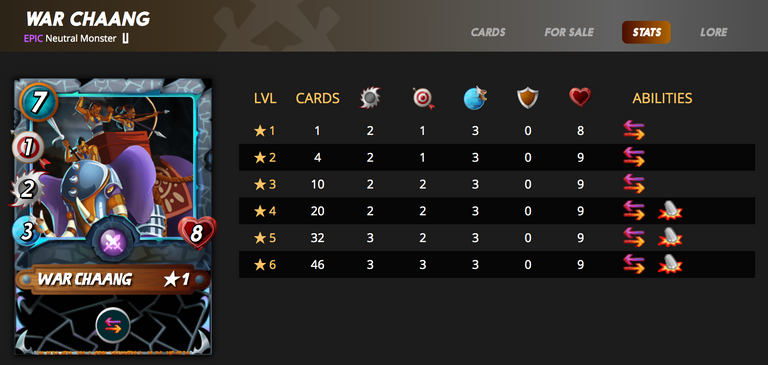 This card is a good one to have near the rear. He can plink at the enemy with a ranged attack. If the cards before it happen to die, it can engage with melee attack. In Melee Mayhem type rounds, you get the best of both worlds. It gets the retaliate ability right away, so it can be useful against opponents with the Sneak ability. Against multiple sneakers it's going to get shredded due to the lack of armor, so try to pair this card with another card with the Shields ability. The damage for each attack increases to 2x2 at level 3, and 3x3 when maxed out. It also gets the Trample ability at level 4, because yes, elephants tend to trample things.
---
The Dragon Splinter has a very similar 9-mana Legendary card called THE VIGILATOR, which I like in addition to this one. We will review that card in my next post. I would definitely upgrade this one first because it's both cheaper in terms of mana, and trading cost.
Since I'm pretty close to reaching level 3 at this point, I'll be looking to get there for that extra damage on ranged attack. After that I will probably sit on it for a while.
Verdict: Keep and upgrade to level 3. Sell the gold foil.

Cards 2476-2482/2500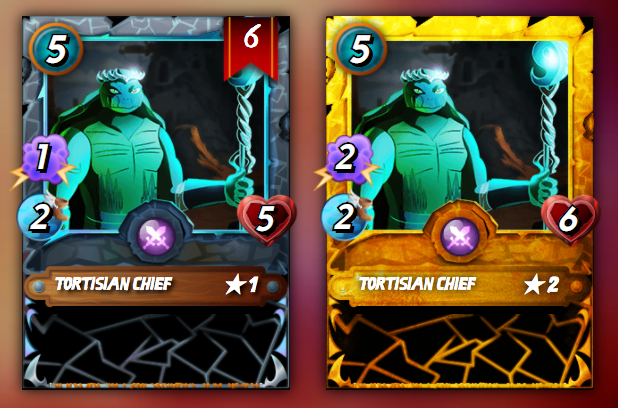 The last of the Epic cards (I promise this time) I will review is the TORTISAN CHIEF, a 5-mana card that fills a very big hole as a general purpose tank healer. I wonder if he's a teenager?!
---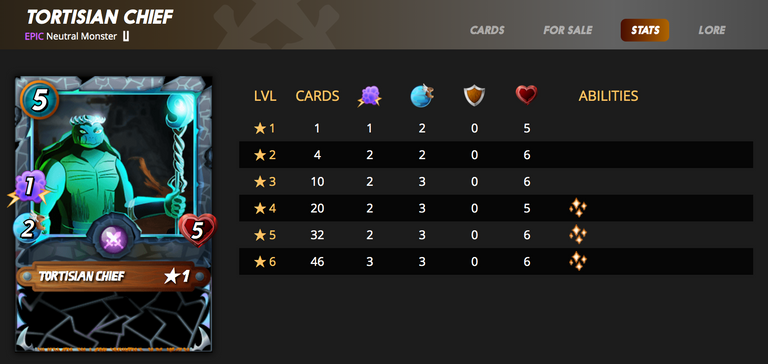 This card is unremarkable for half of its life, then level 4 arrives and you get tank healing! Maxed out it even does a respectable 3 damage with 6 health. The only thing that could make this card truly epic, is if was a 4-mana card. Oh well, you can't have everything!
---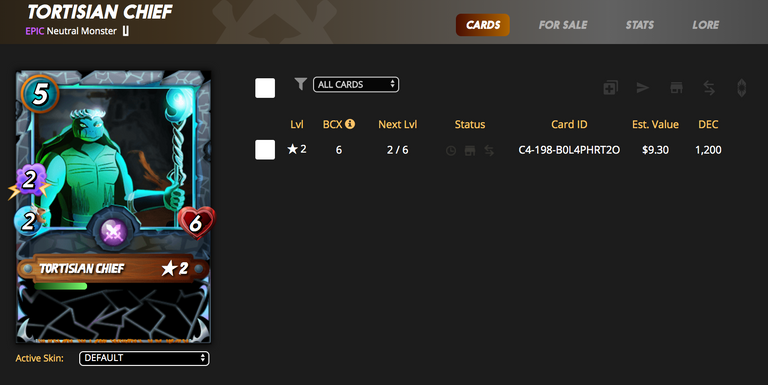 The 6 cards I received from the Kickstarter doesn't get me very far at all. I still need 14 more for tank heal! I'm not sure how fast I'd be able to get it there, but it will definitely be in the back of my mind in every situation I'm wishing for a neutral healer.
Verdict: Get this to level 4. Sell the gold foil.
---
---