Splinterlands Untamed | Epic Lvl 3 MITICA HEADHUNTER, and Lvl 2 SPORCERER Evaluation
In this post, we will evaluate two Epic monsters from the Earth Splinter, the MITICA HEADHUNTER, and the SPORCERER.

Cards 2417/2427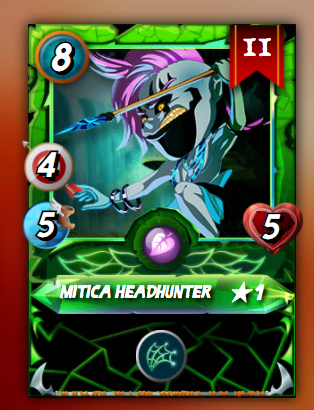 First we've got the 8-mana nuker, the MITICA HEADHUNTER. It does a lot of damage right up front, but it's also very expensive to run.
---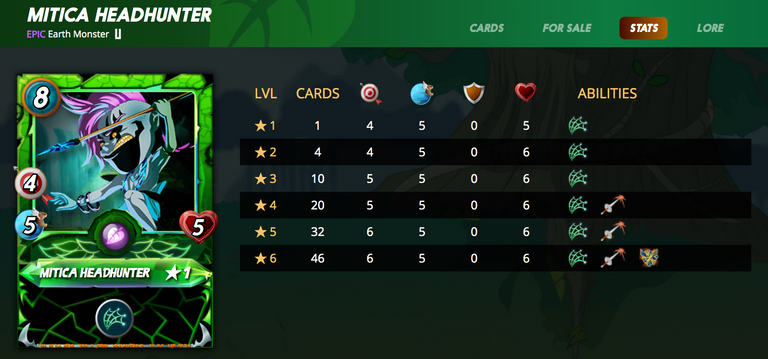 At level 3 the damage reaches 5, and at level 5 the damage caps out at 6. On the ability side of things, it starts out with the Snare ability, gets Piercing ability at level 4, and Shatter at level 6. This card is nothing less than a tank shredder! Luckily it can only be used in higher mana rounds. This card maxed out with a ranged summoner bonus would be crazy. 7 damage anyone?!
---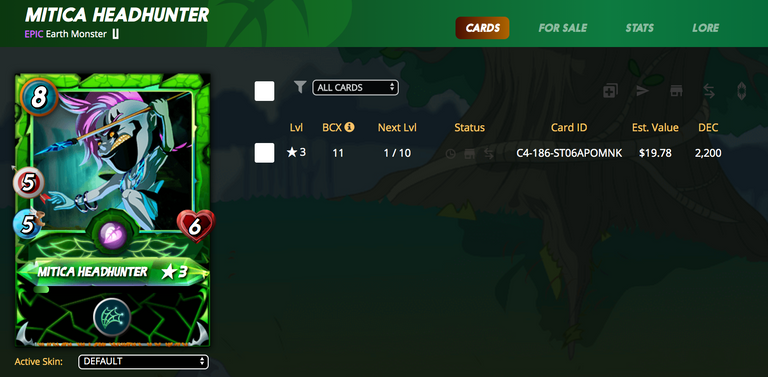 I like this card, and my 11 cards gets me to level 3 and 5 damage. That's good enough to be useful now. I really really want to try this maxed out paired with SELENIA SKY, but I have too much to upgrade ahead of it, so I'll have to wait.
Verdict: Keep and eventually upgrade.

Cards 2428-2436/2500
The SPORCERER is just an okay card to me. It has some interesting debuffs, but it's expensive at 6-mana, slow, and not very meaty.
---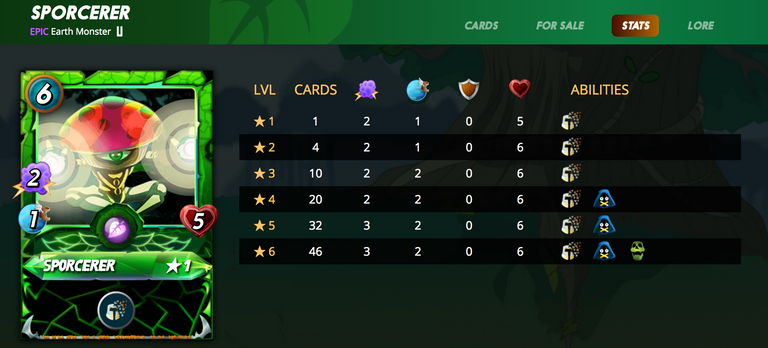 This card is similar to the MUSHROOM SEER (Reward Card), which I actually prefer to this one. The MUSHROOM SEER costs one less mana, does the same damage, and it's quicker. On top of that it has the same Silence ability as the SPORCERER. Unless there's a strategic use for the Rust ability, I really prefer Poison and an extra mana to spend. Time will tell.
---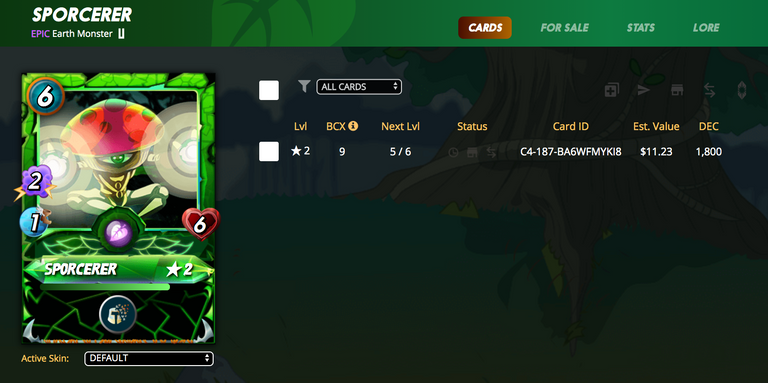 This isn't an awful card, but I'd really prefer to max out my MUSHROOM SEER before even thinking about touching this one. For now on the verge of level 3, it isn't very useful at all.
Verdict: Keep for now and who knows.
---
---