Splinterlands Untamed | Epic Lvl 2 SOULSTORM, and Lvl 2 DARKEST MAGE Evaluation
For this post we have the last of the Epic cards from my Untamed Kickstarter drop. They are the SOULSTORM, and the DARKEST MAGE, both from the Death Splinter.

Cards 2453-2460/2500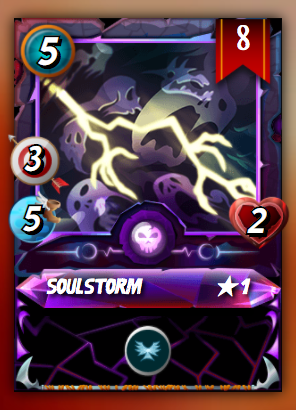 First up we have the SOULSTORM, a 5-mana ranged card, and a fairly decent one.
---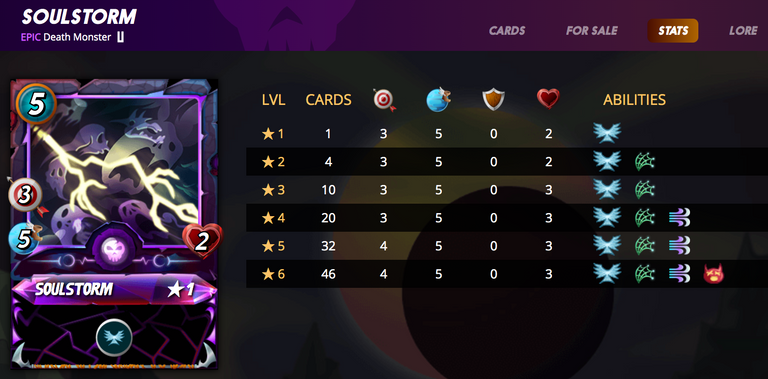 Right away this card is useful at level 1. It does a respectable 3 damage, and also flies. Its health never goes above 3, so you're going to want to bury this card behind some meatier ones. This card maintains a brisk speed of 5 throughout the levels, and its damage gets boosted to 4 at level 5. Where abilities are concerned, at level 2 it gets the Snare ability, at level 4 it gets the Headwinds ability, and at maxed out it gets the Stun ability. While vulnerable, it's a solid card that can be plugged into all sorts of situations, but I probably wouldn't choose it over the TWISTED JESTER or HAUNTED SPIDER from the beta if mana was an issue.
---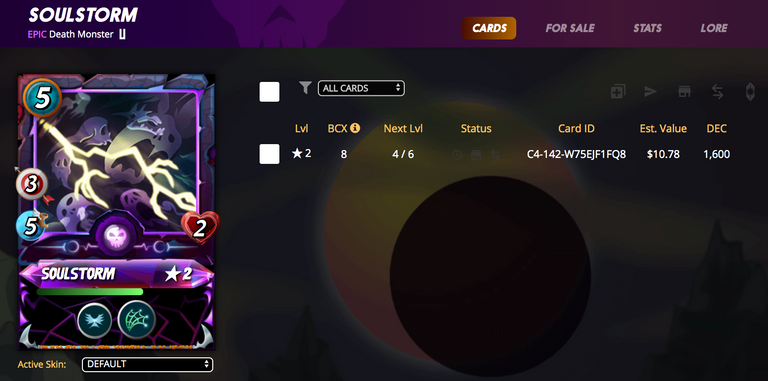 My 8 cards gets me well on the way towards level 3. I probably won't be using this card very much in this state, because I have so many available alternatives. I can definitely see using it here and there when I have some extra mana to spend on a ranged monster with decent damage.
Verdict: Keep and eventually upgrade.

Cards 2461-2466/2500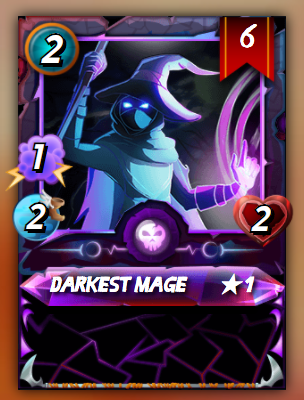 Next up we have the DARKEST MAGE, a 2-mana magic caster.
---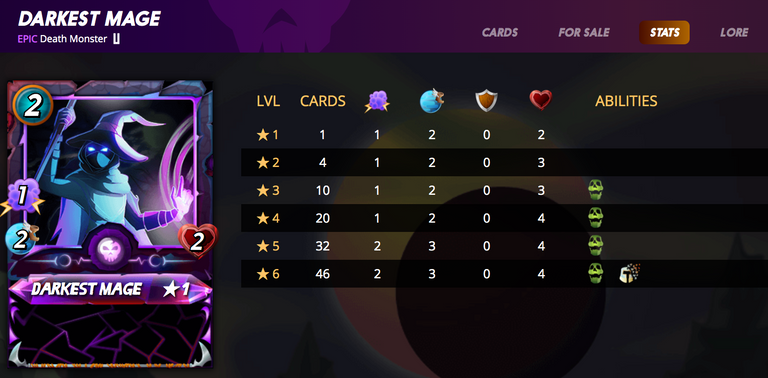 I like the small mana cards because they can be very versatile. This card is no exception. Its closest competitor of the beta cards is the UNDEAD PRIEST. While in most cases I would chose the UNDEAD PRIEST for its Slow ability, this card might actually pair well with it in low mana situations. Ability-wise, this card gets Affliction at level 3, and Rust when maxed out at level 6. At level 5 it can do two damage, so a maxed out card is very efficient in terms of mana/damage. I can imagine pairing this card with DELWYN DRAGONSCALE (Promo), who offers a bonus to magic damage. A 2-mana card doing 3 magic damage will be pretty insane in some instances.
---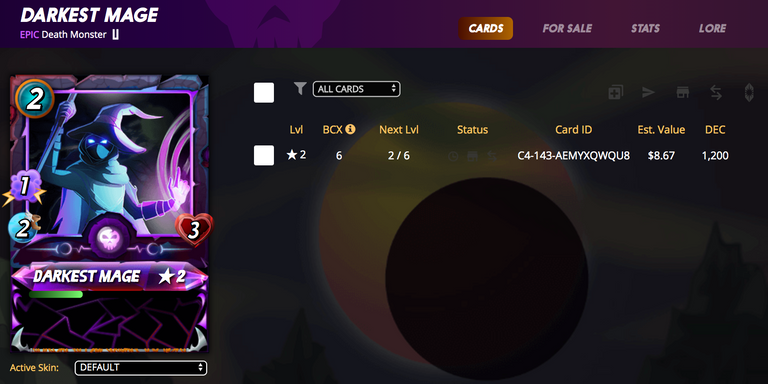 I like this card, especially since my win rate has been so good in lower mana matches. I'd like to get this to level 5 ASAP to take advantage of the 2 damage. My 6 cards doesn't get me very far though.
Verdict: Keep and upgrade to level 5.
---
---