Change My Mind: 2-Mana Summoners Are A Must Have!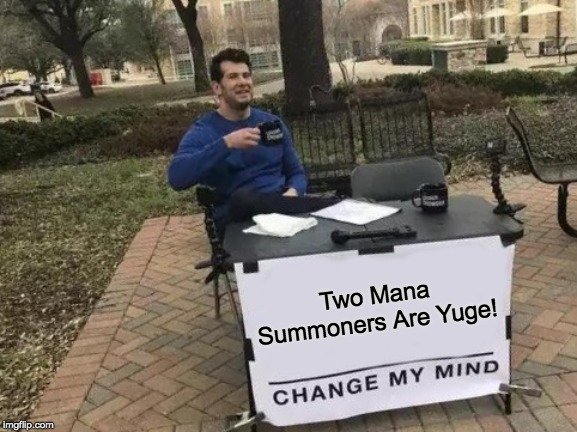 Introducing the 2-Mana Summoners

Your run-of-the-mill rare summoners cost 3 mana to use. For those of you that don't know, the Beta offered some 2-mana summoners for each Splinter (except for Dragon). These summoners give no bonuses to your cards, so therefore cost less mana to use.
Trade Offs
Some rare summoners are more useful than others. For example:
How useful is the melee attack debuff of ZINTAR MORTALIS (Beta) in a fight that doesn't allow melee? How useful is the ranged attack debuff of CONTESSA L'AMENT(Untamed) in rounds that don't allow ranged attacks?
What A Waste
What about rounds that only offer you between 12-16 mana? Wouldn't you rather have an extra mana to put towards attack, than say the additional health offered by LYANNA NATURA (Beta) or MOTHER KHALA (UNTAMED)?
When You Don't Even Need Them
What about the Silenced Summoner rounds where extra mana spent on summoners goes entirely to waste?
One Mana Can Make A Huge Difference Over Time
You may think that having an extra mana to choose cards is no big deal, but it could be the difference between choosing a mediocre card, and that specific card you need. Over time, the more efficient your mana use, the bigger your positive expectation is. That is, the more mana you can use that's productive, the more matches you will win over time.
Dare I Say, Some Of The Most Valuable Cards In The Game!
This is why I believe in the absence of new 2-mana summoners being created in future editions, the Beta ones will only get more and more valuable over time. This is why I've maxed out all of mine. I would even be bold enough to claim that, all else being the same, I will win more matches than someone who doesn't have them.
---
---