Welcome to another Splinterlands giveaway!
Recently we've seen a lot of the original Reward edition cards go out of print. That means you will never be able to earn them again in you daily quest or end of season rewards. Not suprisingly, after a card goes out of print the price of that card starts to slowly increase.
One of the Reward Edition cards that is getting close to it's mint limit is the Silvershield Archers. Currently over 96% of all Silvershield Archers cards have been printed. Within the next couple weeks, this card will also reach it printing limit and be forever discontinued.
If you've been selling or burning all your Silvershield Archers cards up to this point, you may want to rethink that strategy and start building a powerful Silvershield Archers monster of your own before this card is a thing of the past. To help get you started with this powerful duo, I'm giving away this Silvershield Archers card to one lucky winner when this contest closes at post payout time.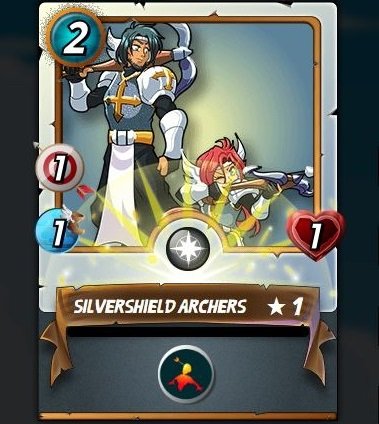 If the Silvershield Archers doesn't fit into your master plan for Splinterlands domination, you can always melt the card and extract the 15 Dark Energy Crystals locked within the card.

How To Enter The Giveaway
For a chance to add this Silvershield Archers to your Splinterlands deck, just leave a comment with your Splinterlands account name. Only 1 entry per person. The contest will end at the 7 day point of payout for this post, when I will use a random comment selector to choose the winner.
Good Luck!

Be sure to check out my other Splinterlands giveaway:

I am a proud member of