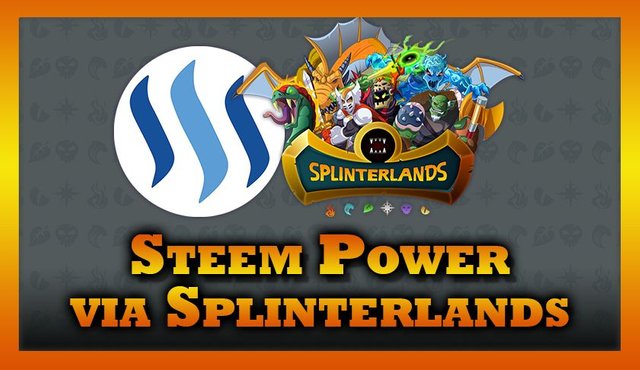 This is pretty much the lowest price I have Steem ever seen. That is amazing because earning tokens now is easier than ever. Even though Steem has been in a very bad downward trend for so long, we all need it for Resource Credits, delegation power to earn more tokens (Steem, Steem-Engine Tribes, etc.) or the good old upvote value, which is getting more valauble with the upcoming hardfork 21. If you are playing @Splinterlands, you have an incredible chance to boost your Steem Power. Here is how.

Selling Dark Energy Crystals
Every day, we can earn Dark Energy Crystals (DEC) in the game, by winning ranked matches. This quickly adds up and can be several Dollars per day. At the current Steem price, you get 5.5 Steem for each 1 USD, so that could actually be a lot of "free/cheap" Steem every day. If you just swap a little bit of your daily DEC for Steem, you can grow your account as fast as with posting - if not faster.

Selling Reward Cards
The next part in making a daily amount of Steem is with the Quest and Season Reward cards. Every day, we get free cards by playing the game, which can be sold on the decentralized market place for Steem or DEC. That can be immediately used to power up your account. If you sell the cards for list prices, it takes longer to sell but you get more than with the bid prices.

Renting Cards
This is another really cool way to earn with your cards, by renting them to other players who pay you for it! There are two popular ways to do so: You can either renting them card by card via Peakmonsters and earn Steem/SBD, or you delegate an entire playable deck to a @herons-unlimited account (not the main account, get in contact with @tcpolymath first), where another player will play with your deck and share the earned DEC from both playing and automatically selling all reward cards to @ottermaker for 101% of their burning value with you.

Posting About Splinterlands
I find it very rewarding and fun to create articles and videos about Splinterlands. You can earn Steem but also #spt, #steemace and #battle, which are all Steem Engine Tribes for games (SPT is specific for Splinterlands). Additionally you can earn all the general tribe tokens like #palnet and #neoxian (what else are out there already?). When you post from Steempeak, you can set up to ten different tags with your posts, meaning up to ten different tokens next to Steem.

Conclusion
18 months ago, everyone wished that they would have been here at Steem's lowest lows. Well, we are nearly there again and this is the chance we have been waiting for. And swapping some earned tokens from a game we play is much easier and less risky than putting our hard earned money into the highly volatile and speculative crypto market. Since Steem is providing for me for so long now, I am planning to grow my account further and put some of my Splinterlands rewards into Steem Power. I do believe in the future of this technology!
---
Get in the Game with my Referral Link: https://splinterlands.io?ref=flauwy

This post and all your comments are eligible for the following upvotes: