Today was the first time I noticed true signs of spring in my neighbourhood.
Although the Covid-19 Virus is still raging and the Economy is Tumbling, I do not give up hope.
As for Steem, the stalemate continues, but at least positions are obvious. Actually, the most devastating blow for me all week was that I need a new garden plot. A lot has been happening and in my opinion, this is the worst.
I'll get into all 4 issues below under the appropriate headings.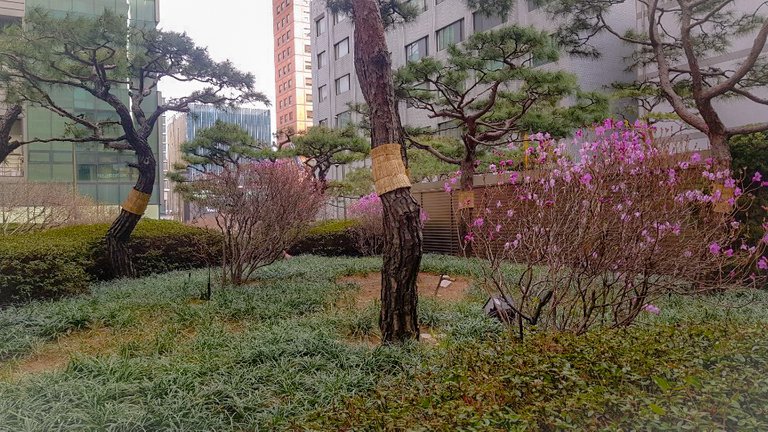 I noticed these guys popping up in a garden near my workplace, others should follow soon.
Spring is in the Air
I like going outside and taking photos. Unfortunately, I was unable to travel this winter to escape, so all my recent photos have been a little dreary when it comes to plants. I kinda like the cold ~ 0C-10C, it's been a while since I lived in Canada, so winter isn't a bad time of year for me. However, this winter was a little too mild so the ski season was wrecked (I am a snowboarder). So because it has been a useless winter (I think one of the warmest on record), I've been awaiting spring. Fortunately, it's landing a couple of weeks earlier.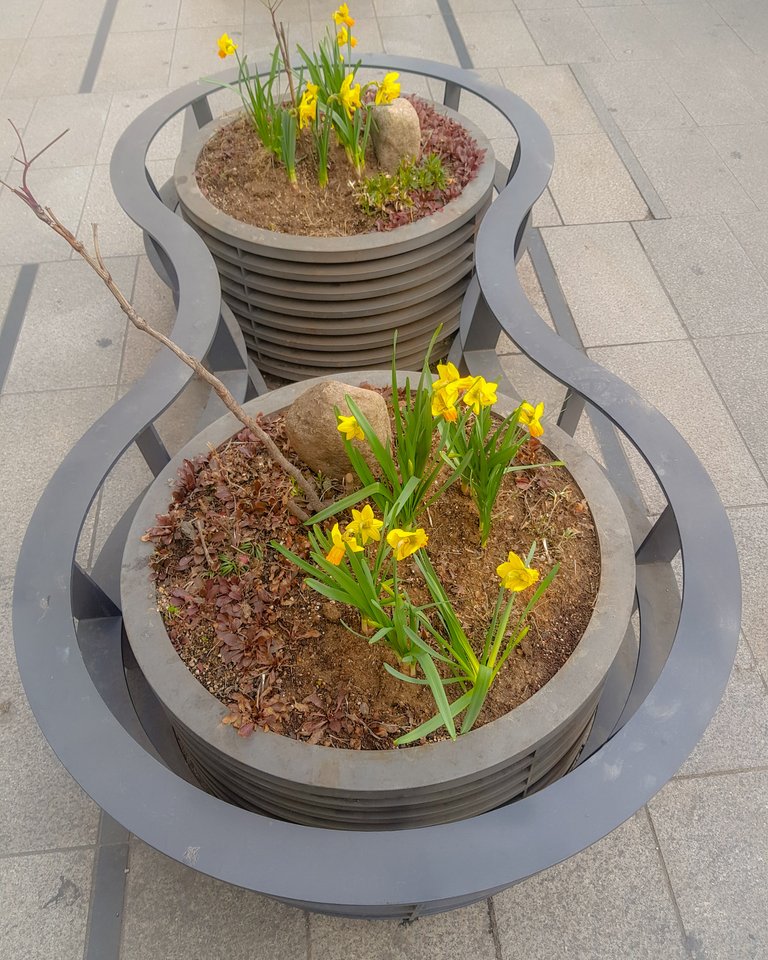 On my way to work along the street, I noticed the dreary winter plants were replaced with what appear to be tulips to my untrained eye.
I've seen early signs of spring in my area of Korea (37.5° N) for about a week. I've noticed green things popping up and work being done on the farms. That means it's time to start smelling the good smells again and seeing more colours. Life is coming back. Not that I was actually worried it was gone. Seasons come and go and return. The stability is good.
I'll be going to a few places to enjoy spring soon.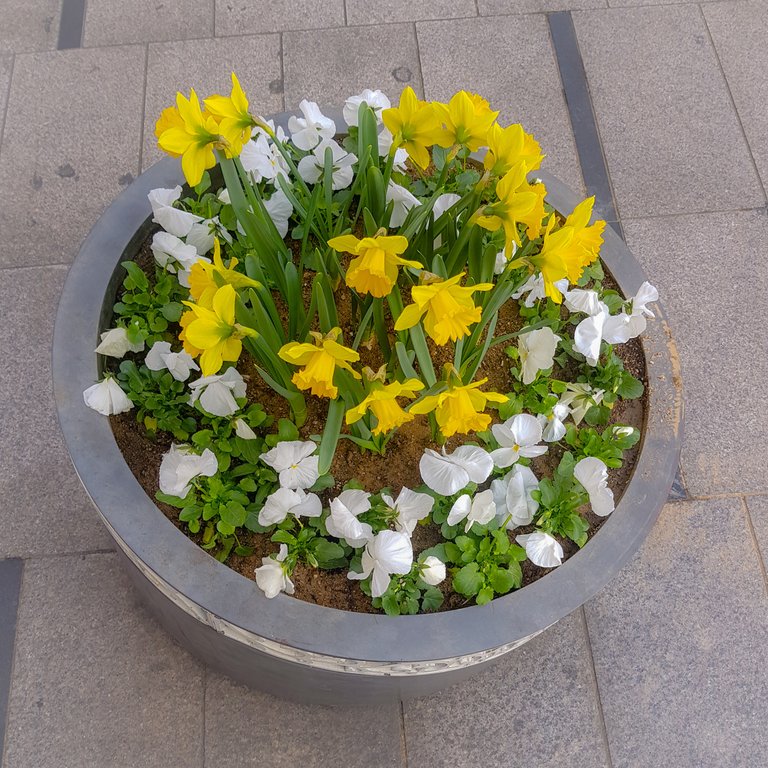 Here is another planted arrangement. This one includes some white flowers. There were others, but I got bored with this subject matter.
Covid-19
It seems on this issue everywhere is loosing. Tom Hanks is sick. US blocked EU travel. The NBA is cancelled. News just keeps getting worse. In Korea, it is still bad but new cases are slowing down. Although testing is good, I think they just don't know where to look anymore. They checked everyone in that cult already. There is also the possibility of an outbreak in Seoul. Other than wearing masks and seeing fewer crowds outside life here was pretty normal.
Ok, not completely normal. A few cult members killed themselves sparking concerns that intensified pressure may push more of them over the edge. Also, a call center in Seoul just had an outbreak and over 100 people have been discovered to have the virus and counting. Further, there are massive lineups for masks everywhere and a weird socialized system to get them. For example, on Monday people born in years ending in 1 and 6 can show their ID and get 2 masks for 3000 KRW.
In any case, I feel the Korean government is doing an alright job. They could do more to stop and discourage immigration temporarily. They are trying to make Vietnam accept 500 Samsung Engineers for a business trip without quarantine (they will be tested or something). But domestically their response is good. Korea has mobile testing centers and is probably testing more per capita than in most countries. But at the end of the day, all that will matter is the election coming up in mid-April. I don't think the death rate will spiral out of control here or the economy will collapse before then(it took a beating this week).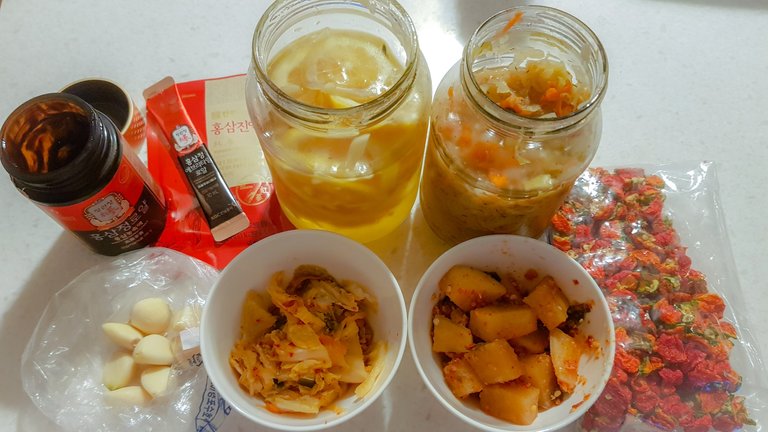 Everyone knows eating healthy is important. Fresh fruits and vegetables are probably the best. But there are also superfoods and fermented stuff that will definitely taste delicious and keep your body working well. It prevents covid-19 until it doesn't.
So rather than sit around trying not to catch it, I've been eating good foods. Above I have (clockwise from top left) ginseng, lemon ginger tea, sauerkraut, ghost peppers, radish kimchi, cabbage kimchi, and garlic. A few of these I use for cooking, but some I just eat straight. Actually I had cabbage and radish kimchi (not the standard Korean stuff) for dinner just now. I wrote about how to make kimchi before if you are curious. My recipe is a little odd.
I'm not sure if any of this stops covid-19 virus, but I do think eating healthy, exercising, fresh air and taking basic precautions is always good. With that said, I've barely changed my habits at all. I'm just worried about the economy, my company and coworkers, too. Let's hope everyone gets over this like a common cold.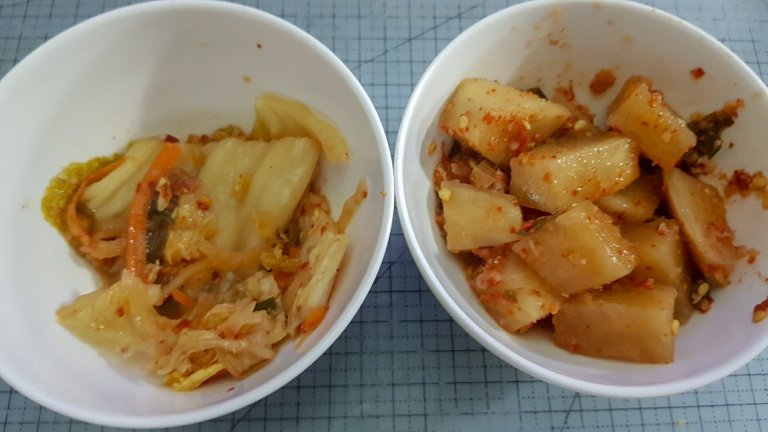 I ate some of my homemade cabbage kimchi and radish kimchi for dinner. Although it is probably nonsense, I haven't caught covid-19 yet so I can only assume it works.
Steem Negotiations
Last week, I said the only thing that matters is Whether Steemit stake is private property. I've been following developments closely and it still seems to be the main issue. Justin thinks it is his, other people think it isn't and most people don't care. I've been trying to think about other things too, but it is so difficult. So I've been following the situation quite closely.
At this point I think, from a legal view, it doesn't matter. Justin bought Steemit, he has an NDA and we can be fairly certain he has no evidence that the Steem is legally his. Actually, I don't think the term legal really matters here. If he can take it, it's his. If he cannot, it's not his.
I don't think that Steem is his. Why the hell would I? He is being dodgy and dishonest and I don't think this impacts other people's property rights. If he wants his money back, he should discuss this issue with Ned.
The main issue aside from ownership now includes:
Changing the number of witness votes from a maximum of 30 to 1SP = 1 vote: I think this makes sense, but it should be done slowly so we can study the impact. It wouldn't be inconceivable to band together and get enough power for 4 witnesses which could block a hard fork so the consensus numbers may need to change too.
Removing 'free downvotes: Well this is better than removing all downvotes which may have been a misunderstanding, but I think we should keep free downvotes. There is just too much incentive to exploit and practically no incentive to stop exploiters. SMT will bring untold developments in this field and eventually Steem can become a utility token without inflation eliminating the need for downvotes.
Reducing the Powerdown period to 1 week: I am also against this for now, but not strongly against this. We should probably discuss it more and consider several related changes like a scale, a cost, options, and various permissions impacted.
Develop Tron and Steem together: Nope, if you want Tron go for it. The community will decide what to develop. Let's do SMT first then adjust communities then consider another EIP and future road maps. That said atomic swaps are cool, but this should include several coins, some before Tron.
Anyway, a few like my ideas surrounding turning Steem into a utility token deserve more discussion and I'll reserve that for another post.
What Remains:
The problem is @proxy.token (the 'Korean' community) seems to want to use the precarious situation for leverage. Those ideas above have been around for a while, but no one feels comfortable discussing t with knives drawn. Let's settle the important issue first.
Personally, I think we should release SMTs and then discuss those issues related to economic improvement or witness voting. One thing at a time.
If the people behind @proxy.token (the 'vote-selling' community) and Justin truly are invested in the future of Steem, they can wait. What's the rush? What are they afraid of?
Time to put on my tinfoil hat. I'll also be putting on a stainless steel pasta strainer because aluminum is non-metallic and doesn't block lower frequency radio waves.
Justin knows about the claim, Ned told him, but they will not release details of the discussion because of a legal agreement. If these two individuals are honest, they will release information about what was disclosed regarding ownership of the public stake. It was not overlooked unless they are both complete idiots. This is why we can assume they are lying. If they weren't they would have disclosed discussions on the matter. End of story.
That is why I can morally justify that the stake belongs to the community. It is clear who is being dishonest here. Getting everyone else to agree is impossible, but at least we can agree they are using a legal agreement to avoid discussing details that would really compromise their position on the ownership of the Steem. I'm also pretty sure the agreement includes the ability for a specific or certainly both parties to break the agreement.
SO I am calling them out. Tell the truth! Stop these lies of omission if you really want an understanding to be reached.
Actually, I think the timing was right too. If SMTs work as I think they will, Steem is headed for a golden age. More attention being paid to Steem would have made stealing from the community that much more difficult.
I hope this is settled soon. Let's see what happens.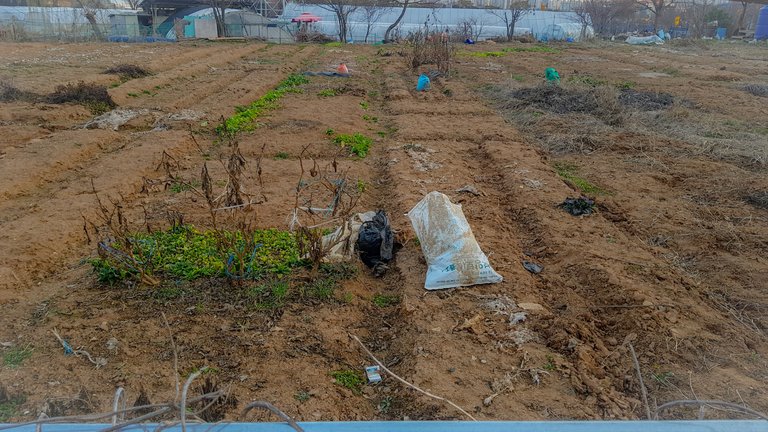 Here is where my garden plot was last year. It's hard to tell exactly where it is (far left side).
Planting Season
I walked past my garden today. It looks like a lot of plants are coming up. This mostly seems to be lettuce and spinach. I guess it just grew from seeds in some cases but people could be planting. I only own one row and it's to the far left of the top pic and the far right of the bottom pic. There is nothing green in my row.
Actually, I have some ghost pepper seeds I'm trying to sprout now and I'm planning my garden. Maybe I'll write a #2020gardenjournal later in the month.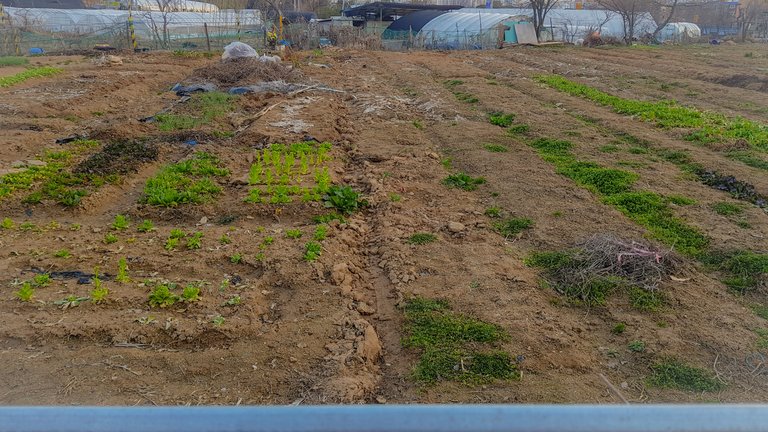 This is a view with my garden on the far right side. Sadly, I cannot use the garden plot this year. My search is reignited.
I got some bad news the other day from the owner of the field. He doesn't want to rent out plots this year. It bothers me because the location is so convenient being close to my house and on my way home.
Maybe he will change his mind or maybe I'll find another one that is better. There are a few others in my area and I also know some people to ask. I'll find something.
Gardening really helps me relieve stress and anxiety. Between life, work, Steemit, the economy, covid-19 and being unable to travel abroad... I really need to relieve stress in a positive and healthy way.

Let's prevent and stop the virus of FUD and anxiety. Let's spread the virus of hope and understanding (lol the Korean president actually said something like this today).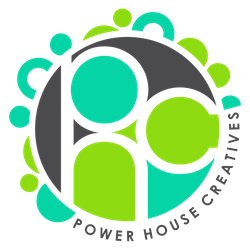 #spring #gardening #covid-19 #steem #TronIsNotSteem #SteemitIsNotSteem #POSH #OC #Twitter: