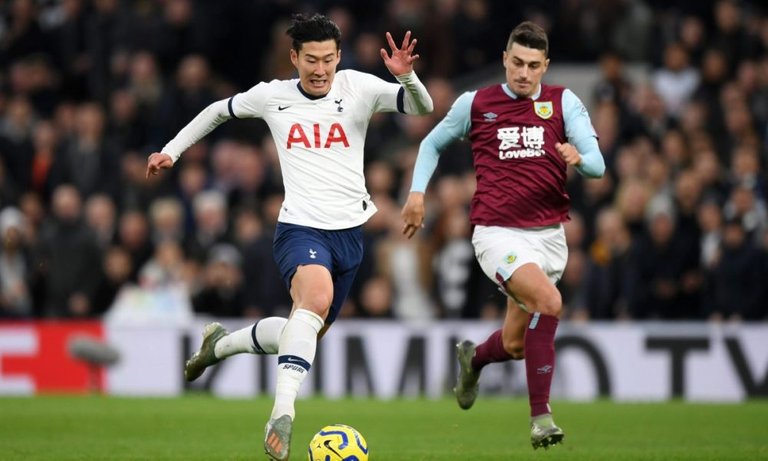 ---
It's no longer news that Tottenham Hotspurs are experiencing resurgence under Mauricio Pochettino and some individual players like Serge Aurier, Dele Alli and even some players like Son Heung Min are becoming even better and just some days ago I saw one of the most bizarre goals in the history of the EPL, for what it's worth Heung Min Son, took the ball from just the left hand side of the pitch just after the eighteen yard box and ran past 5 Burnley players or more while covering like 70 yards of the blades of grass on the pitch till he got to the goal keeper, side stepped him and slotted cooly into the bottom corner and it's even more difficult than I painted it to be. The reason why I would call it bizarre is because it's Outcome on a normal day wouldn't result into a goal especially in the most difficult and challenging league as the EPL, take no offense I definitely do think that it takes courage to do what Heung Min Son did, but how alarming was it considering how such a rub could result into a goal?
I have analysed this goal over and over again and I discovered that it wasn't even trickery, guile or dribble, it was more of an individual goal that needed much courage, it would even be difficult for a winger who is very skillful to take on that many players and not get brought down and for Son to actually go all the way, I think the Burnley players shouldn't even get their salaries for that particular week because take away the fact that Son's goal was beautiful it was totally shambolic for a premier league side to conceded such a goal expecially when the move started from the Tottenham's immediate eighteen yard box. From all indications counter attacks are not always blamed on players, but this even wasn't a counter attack. It was a half sprint initially which resulted into a full sprint by Son and it was after going past like three players that he actually felt he could go on to score.
In all honesty, I've hardly seen a player go on such a run and that's why this goal might go down as one of the best goals of this current EPL campaign. The mentality that he could go past that number of player is only a mindset similar to that of Lionel Messi, before a player could develop such a mentality he must've gotten this feedback from the opponent, that is he must've sensed something really weak of which he could exploit and what opposition teams starts getting this fatigued and lackadaisical attitude it gives other team that morale which is needed to do the unthinkable and my goodness! what a courage there from the diminutive midfielder who is amongst one of the most underated players in the world. So the mentality behind the goal is what I'm actually applauding, if Son had stood in front of a player in the calibre if John Terry, hell attempt to grab a foul and give the committing player a yellow card because it's either he falls or he gets an injury while trying to beat a player in the Calibre of John Terry.
Without a doubt Burnley were poor, has been poor for most of the season but to conced such a goal was audaciously stupid and it was something I haven't seen in a really long period of time. Make no mistake I'm not analysing to rubbish Son's goal I'm only analysing how such a run would result into a goal, urz hardly logical considering the fact that Son went past more than half of the Burnley players from a position which only fouling Kane would only result into a yellow card. Then what were Burnley thinking? This is more trickish should it have been outside the eighteen yard box but it wasn't and it's totally degrading and also school boy errors. So like I said earlier son's goal was more of courage and I believe that it's against a team with better defence he won't go on that run.