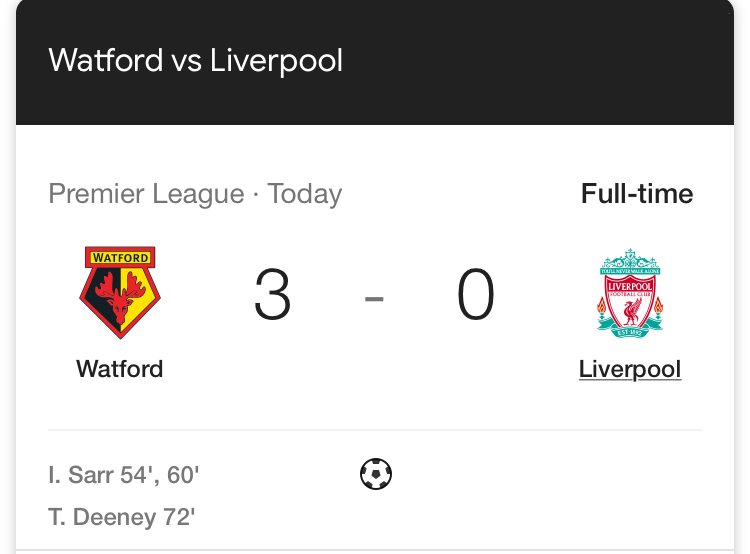 Rekor tidak pernah kalah Liverpool di English Premier League akhirnya terhenti di Vacarage Road, kandang Watford Minggu, (1/3/2020). Liverpool babak belur dihajar oleh Watford dengan skor akhir 3 : 0. Bintang kemenangan Watford adalah pemuda 22 tahun, Ismalia Sarr. Ia mencetak 'brace' serta satu gol lagi dicetak oleh Troy Deneey untuk mengunci kemenangan bagi tim nya.
Bagi Liverpool ini adalah kekalahan perdana di English Premier League musim 2019/2020 ini setelah melewati 27 kali laga tanpa disentuh kekalahan. Kekalahan ini tentunya terasa menyakitkan tapi The Reds masih memuncaki dan kokoh di puncuk klasemen. Kekalahan ini hanya sedikit gangguan dalam perjalanan mereka dalam meraih trofi lebih awal.
Pada pertandingan ini Liverpool benar-benar tampil sangat buruk dari lini bawah sampai lini serang sekalipun, permainan mereka tidak bisa berkembang semenjak peluit kickoff dibunyikan oleh wasit. Terbukti sepanjang 90 menit laga berlangsung The Reds cuma mampu mencatat satu tembakan tepat sasaran, itu pun terjadi pada menit-menit awal babak pertama.
Bagi Watford tentu ini adalah hasil yang sangat memuaskan, selain karena mereka bermain di hadapan publik sendiri, kemenangan ini juga menjadi rekor tersendiri bagi Watford. Mereka akan diingat sebagai tim pertama yang mampu mengalahkan Liverpool di ajang English Premier League musim 2019/2020.